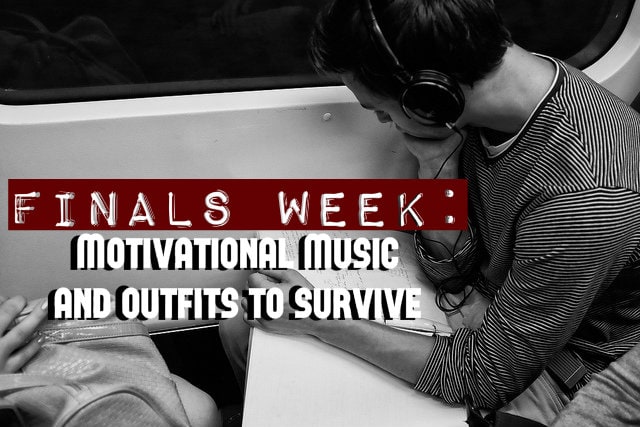 You know what week it is – dead week. The exhausting last run you need to survive before you buckle down, knock finals out of the park, and then finally get a break! Everyone's wandering around campus in a zombiefied daze, messy top knots are abundant, and no one bats an eye at someone wearing what is obviously their pajama bottoms.
Now, there are certainly those days when you can barely find the will to sling your backpack over your shoulder, let alone give a second thought about what you're wearing. However, I think it's important to put in that extra effort, even if it's just a smidge. After all, just like forcing yourself to fake a smile has been proven to actually elevate your mood, dressing like you care can make your confidence soar and help you tackle those dreaded finals.
So today, I'm sharing an upbeat, focus-filled playlist that you can play in the background to help you find your motivation, along with three simple yet polished looks for finals week.
Motivational Mixtape:
Look 1: Library Study Session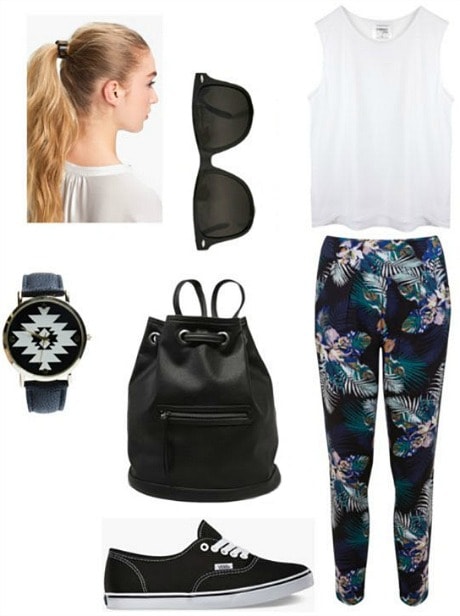 Top // Jogger Pants // Backpack // Sunglasses // Watch // Sneakers
For your cram session at the library, stay comfy with some staple pieces, but include a fashionable flair with a pair of floral print jogger pants. This is one of the best trends in recent years, especially for college students. No longer are yoga pants the only option for those lazy days where you just want comfort over style. These combine both! Slip on comfy sneakers and a fun watch to keep you on time, and you're ready to go.
Look 2: All-Nighter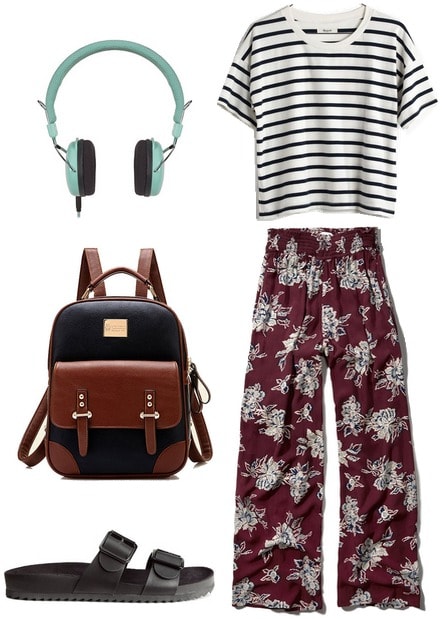 Top // Palazzo Pants // Sandals // Headphones // Backpack
Remember what I said about seeing people in their pajama bottoms during finals? Well, I've been guilty of doing just that, which is why I had to create an " all-nighter" look for my fellow struggling peers on those days when it's just too hard to get dressed.
Palazzo pants (or wide-leg pants, or whatever you want to call 'em) are another comfy yet trendy option for finals week. Do some stylish print mixing by pairing florals with stripes, then slip into a pair of sandals for an effortless outfit (seriously, you could sleep in this look!) that'll carry you all through the night and into the day.
Look 3: Zombified Cutie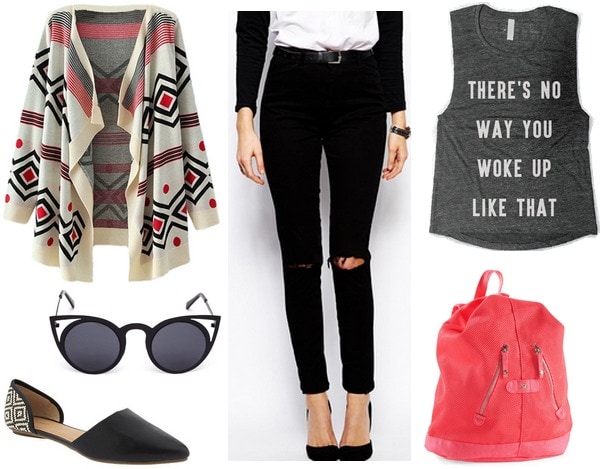 Tank // Jeans // Cardigan // Sunglasses // Flats // Backpack
This outfit is definitely the most polished look, but it still incorporates that "casual comfort" vibe that's necessary for the most stressful week of school. Slip into your reliable pair of skinny jeans (destroyed is preferable, since it represents how some of us may be feeling at this point) and layer up on top with a funny tank and a cute printed cardigan. Pointy-toe flats keep the look polished, while stylish sunnies will hide all those dark circles.
Final Thoughts?
What is your game plan for finals week? Any looks jump out at you? Good luck– and may the odds be ever in your favor!