This post may contain affiliate links, which means we may receive a commission if you purchase through our links. Please
read our full disclosure here
.
What kind of women do you look up to? Fashion Role Model is here to inspire you to dress like the woman you want to be, whether it's the next great physicist or a successful fashion blogger. Keep on the lookout – your role model may be featured next!
This week's career is the closely related cousin of last week's post – we're going to cover writing careers, which, as you'd probably expect, is something near and dear to my heart.
Before there's stuff to be edited, polished, and fact-checked, ideas need to first bloom and then be written down. Writing is a career that usually requires either technical skill, lots of creativity, or both. Innovation is a great skill to have as well, and organization is a must.
And what kind of writing careers are out there, you ask? There's everything from being a bestselling ghostwriter to being the person who writes the summary of famous paintings on those little placards in museums. Everything that you read, anywhere, has been written by someone, whether it's their major career path or a side-duty of another job.
Writing is a tough industry, and many of these jobs have minimal opportunities to move up because of the contract or commission-based way in which most of these careers are designed. But any writer, including all of us at College Fashion, would say that the payoff of having people read your work is so incredibly rewarding and fulfilling that it overshadows tons of other job benefits.
Writing is such a polarizing task that you can be sure that a majority of people who actually choose to write love it, or at the very least excel at it. Without further ado, here are three looks inspired by writing careers.
Note: Please keep in mind that these looks are meant to serve as fashion-forward inspiration and may not be what women in these professions should or do actually wear in their line of work. If you work in one of the fields I feature, you can and should modify each outfit to your personal style and office dress code.
1. Blogger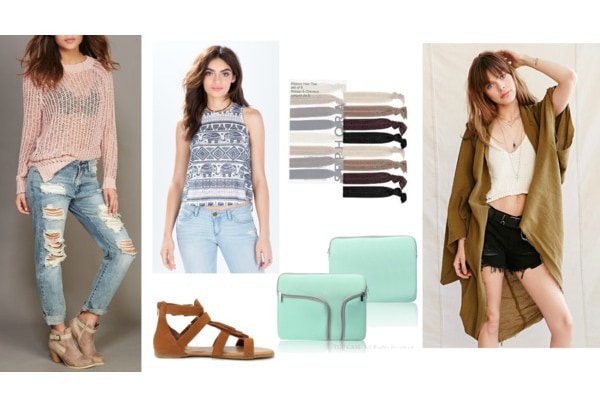 Product Info: Top – A'GACI, Cardigan – Urban Outfitters, Jeans – Wet Seal, Shoes – Lulu's, Laptop Sleeve – Amazon, Hair Ties – Sephora
Blogging is an up-and-coming career option that is becoming more and more viable as a sustainable job choice, due to the explosive reach and influence of the internet. Many books are now marketed through things like blog tours, and fashion trends often start with bloggers sharing their favorite looks.
Following blogs is a great way to absorb the awesome thoughts and ideas of people who are really passionate about the topics they blog about. Blogging is an independent job without a need to listen to other people or adhere to strict deadlines, although there is certainly a lot of responsibility and discipline required to keep busy blogs running. This is almost a fusion job, combining editing and writing, and while it may seem fun and effortless, a lot of sweat and tears goes into making a blog a success.
The outfit that I have created for this look is inspired by the innovative nature of being a blogger, since fresh ideas are extremely important when it comes to keeping readers interested. A laptop is an absolute must-have for any aspiring blogger, so I included a cute sleeve, but the actual outfit isn't too complicated.
In this case, I envisioned a travel blogger, so I started with base of boyfriend jeans, then added the exotic-looking cardigan and printed tank because they evoke a sense of travel for me.
2. Screenwriter/Novelist/Poet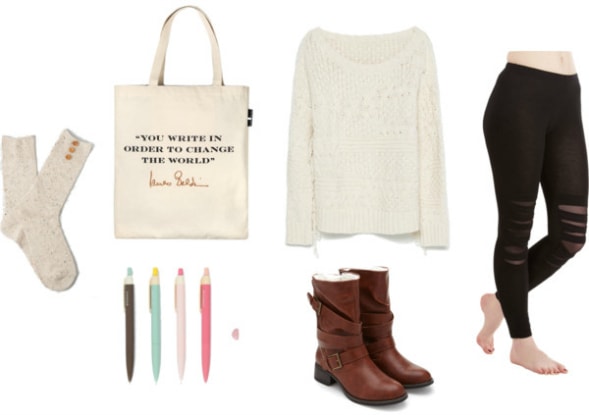 Product Info: Sweater – Zara, Leggings – Modcloth, Socks – Francesca's, Boots – Forever 21, Pens – MochiThings, Tote – Out of Print
These three careers all fall into the creative writing category, because above writing technique, grammar, vocabulary, etc. is creativity and imagination. A flair for entertainment is always helpful, too.
These career paths are almost never found as stable positions in a company. The most "secure" position is one in which the writer has several commissions lined up, or a contract set up for a number of works.
For the most part, screenwriters (or scriptwriters), novelists, and poets don't need to subscribe to any sort of dress code, because the writing setting is typically at home, or in another comfortable location. For example, J.K. Rowling famously wrote in a café, as many writers do, which entails nothing other than warm, comfortable clothes that won't get in the way.
Having had the fortune to meet a bunch of writers in my life, the only kind of dress code that they ever seem to follow is semi-business attire during large conventions or special talks.
For this outfit, I was inspired by that idea of writing in a cozy little nook somewhere in the house, trying to relieve oneself of the stress of strict deadlines and hard-to-please editors/agents while letting those creative juices flow.
This sweater was literally the coziest-looking one I could find, and I actually own these super-cute socks! I also threw in the pencils and literary quote tote just for fun, because I love being surrounded by writing-related things.
3. Technical Writer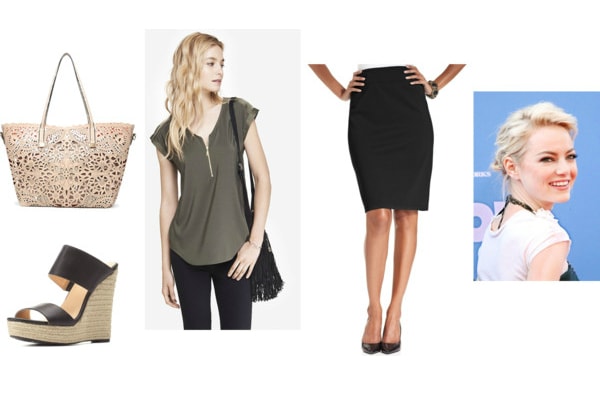 Product Info: Top – Express, Skirt – Macy's, Shoes – Charlotte Russe, Bag – ALDO | Hair Photo: ELLE
Technical writers are usually incredibly skilled and knowledgeable in both writing itself, and in the topic for which they are writing. Many technical writers have specialties, such as engineering or medicine, and need to be organized and thorough in order to pass on their knowledge to consumers.
Technical writers tend to be employees of a larger company, and will often do things like write operating manuals or assembly directions, so clarity is extremely important.
I think technical writers are underrated, because what they do is truly important – how many of us rely on our instruction manuals when troubleshooting any and all problems?
Because technical writers have a greater tendency to work in offices, this outfit is much more professional than the stay-at-home writing careers I covered above. The top in particular, however, is not as formal as a button-down blouse, and the espadrilles are a fun alternative to heels.
The bag is large enough to accommodate tons of stuff, and as always, I love to emphasize the importance of keeping hair out of the face, so Emma Stone's awesome updo is a great example of a not-so-stuffy bun.
Your Thoughts?
Do you love to write, and want to pursue a career in it? Or do you already write for a living? Let us know what you think of these writing career-inspired looks in the comments below!