This post may contain affiliate links, which means we may receive a commission if you purchase through our links. Please
read our full disclosure here
.
What kind of women do you look up to? Fashion Role Model is here to inspire you to dress like the woman you want to be, whether it's the next great physicist or a successful fashion blogger. Keep on the lookout – your role model may be featured next!
Welcome to Part 2 of our series on fashion inspired by travel careers! Last time, our Fashion Role Models were the women who worked on the ground to keep things running smoothly for tourists, whether as a part of the hotel staff or as a tour guide. This time, we're covering the women who are involved in not just the final destination, but in the journey itself.
Some of these careers are very strict regarding dress codes – and by that, I mean wearing the same exact pressed uniform whenever you're on the job. So, I'd like to once again reiterate that this is fashion inspiration, not replication, and that these looks represent both the sentiments roused by these careers and the visual aspects gleaned by their jobs, uniforms, lifestyle, and more.
I've expressed my love for travel before, and I'm going to do it again, because it really makes me appreciate everyone who works in the travel industry. There's so much complex organization that goes into a lot of these jobs, and it's tough to keep up, especially during that dreaded tourist season, when the number of people traveling skyrockets.
Although I wish I could explore many more travel-related careers, I've again focused on the three that I think are the most prominent. Now, off we go!
1. Flight Attendant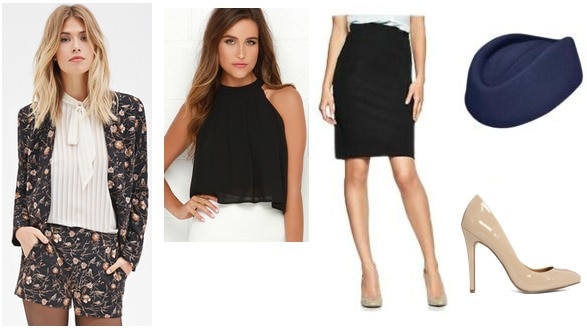 Product Info: Blazer – Forever 21, Top – Lulu's, Skirt – GAP, Heels – ASOS, Hat – Amazon
You knew this one was coming. And why wouldn't it be? Everyone who has ever been on a plane has encountered flight attendants, who do their best to help people settle in during a long, possibly turbulent flight. There's a lot of training that goes into being a flight attendant, which we're all grateful for –after all, it's so much easier to relax if you know you're in good hands when you're in a giant metal machine thousands of feet above the ground.
Flight attendants are usually the face of an airline, and are thus encouraged to be well-groomed and poised. They strive to have crisp, clean uniforms that represent the entire airline and all the people behind it. Interesting fact: many beginning flight attendants have to pay for their first uniform set, which can cost hundreds of dollars!
According to Business Insider, the best rated airline for the second year in a row is Singapore Airlines, topping other powerhouses like Emirates and Lufthansa. The beautiful uniforms their flight attendants wear isn't like anything I've ever seen, so the blazer in this outfit is heavily inspired by the colorful floral print in their 40+-year-old uniform design.
The rest of the outfit is simple and understated so the awesome floral/bird print can take center stage. No, flight attendants can't actually wear this on-the-job, but the rest of us can wear it to work. (Maybe minus the pillbox hat, though!)
2. Pilot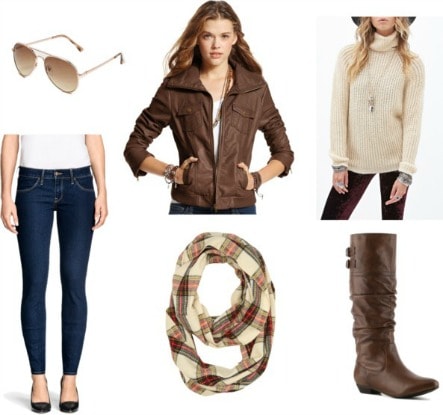 Product Info: Jacket – Macy's, Turtleneck – Forever 21, Jeans – H&M, Sunglasses – American Eagle Outfitters, Boots – DSW, Scarf – ALDO
From the minute Amelia Earhart became known to the world, women around the globe have gloried in their capability to fly a plane just as well as a man, despite a shortage of opportunities and discouragement from peers.
According to Women in Aviation International, the number of women in aviation has risen over the past 20 years, although today, women make up just 6% of all pilots. But this just gives us all the more reason to respect and support these strong, independent women who have pushed themselves to reach a position that few do.
Traveling on the mass scale that exists today would never be possible without the skill and effort of pilots today. They are often forgotten in the travel industry, with most attention being given to pilots in the Air Force for non-touristic purposes, but for the millions of people that fly every day for non-combat reasons, these civilian pilots are an invaluable resource that enable this type of modern travel to flourish.
This outfit is inspired more by the classic image we have of aviators, rather than present day pilots. Why? Because pilots, just like flight attendants, have a strict required uniform. This look is instead much more accessible for the average person who goes out and about – and travels. Most of us have these pieces in our closet already, and can put them together to emulate Amelia Earhart without it looking like a Halloween costume.
3. Travel Agent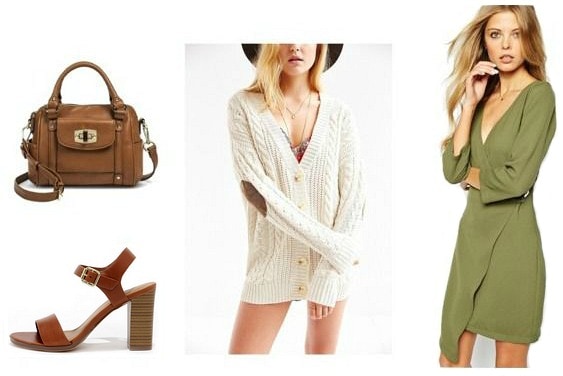 Product Info: Dress – ASOS, Cardigan – Urban Outfitters, Heels – Lulu's, Bag – Target
This is definitely a more behind-the-scenes kind of travel job, but travel agents have access to huge databases of travel knowledge, which is extremely helpful for most people who'd like to travel the world at lower costs. I know I consult one every time I plan to travel, and they work hard to ensure you have up-to-date information on all the places you want to go. Travel agents tend to have a lot of personal travel experience as well, which can come in handy if you want more personalized advice.
Travel agents work in a sales environment, which means that standard professional attire is required to maintain a clean look for potential clients. It's not too strict, but strong, tailored pieces are always a plus (although I've definitely met a few travel agents who work in jeans and a polo). There's lots of variation here, and it can also vary a bit if you're a corporate travel agent as opposed to a leisure travel agent. After all, planning for a large business is very different from working with a young family, and this is sometimes reflected in the clothing of choice.
This outfit is on middle ground, because the dress itself is a slightly formal long-sleeve wrap dress, but the cardigan is more casual. Similarly, the heels are not overly fancy, but not too casual, and the purse finishes it off with a bit more of a professional edge.
The earthy tones are also in-between super-professional and super-casual; they're not monochromatic like the typical black/gray/white that you see in a lot of business outfits, but they're also not too bright and over-the-top.
Your Thoughts?
Do you work in the travel, tourism, or hospitality industry? What do you think of these looks inspired by this field? Let us know in the comments below!