This post may contain affiliate links, which means we may receive a commission if you purchase through our links. Please
read our full disclosure here
.
What kind of women do you look up to? Fashion Role Model is here to inspire you to dress like the woman you want to be, whether it's the next great physicist or a successful fashion blogger. Keep on the lookout – your role model may be featured next!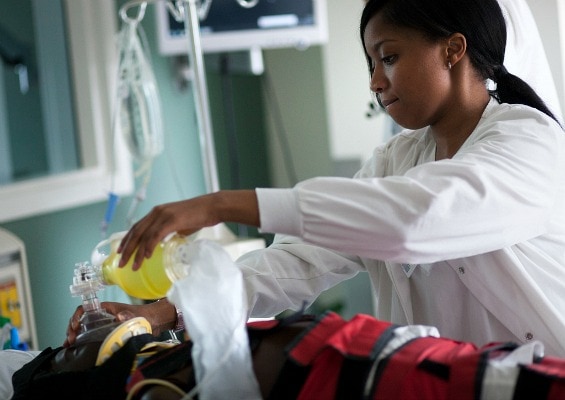 We've all heard that clothes make the (wo)man, and in my experience, my clothes truly do help me embody the image that I'm presenting. Today, I want to cover a woman who not only needs to look capable and credible, but has the brains, heart, and drive to back it up: the Health Professional.
Health Professionals go through a tremendous amount of education and training – and become role models for girls (and boys!) everywhere. From Doctors Without Borders, who risk their lives on a daily basis, to your local optometrist who prescribed your first pair of glasses, Health Professionals are helping people everywhere, every day.
Below, I've put together three looks inspired by these women's classy sensibility and practicality – when not restricted by scrubs, white coats, and uniforms! (Note: These looks are meant to channel these women for everyday fashion inspiration – they're not intended to be worn to work in these professions, as strict dress codes often apply for Health Professionals.)
1. On Her Feet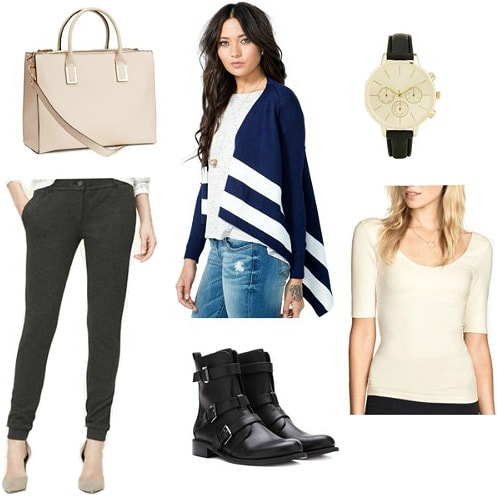 Product Info: Cardigan – A'GACI, Shirt – H&M, Pants – LOFT, Shoes – Forever 21, Watch – ASOS, Bag – H&M
The Health Professional never knows when she'll have to rush off to help someone out. This look is inspired by all the professionals that are constantly on the go, like nurses, EMTs, paramedics, trauma surgeons, and so on. This outfit has sensible shoes and no distracting accessories; practicality will have to be high on the list for these women, but that doesn't mean style should be pushed aside!
Comfort and ease of movement is absolutely crucial for careers as hands-on as these. There's no button-up shirt or complicated mess to get into – everything is streamlined and easy to pull on. The joggers are professional, but stretchy and comfortable. The shirt, while clean and simple, has a built in shelf bra to save more time and cut down on bulk. The cardigan is also easy to throw on, and has the advantage of layering, which is great in a time crunch. It lacks large, distracting prints, and keeps the look from being too basic.
Realistically, a watch could get in the way, but this watch has a classic look without any over-the-top, studded embellishments. The bag has a similarly minimalistic, versatile feel, and the boots finish off this practical, but chic ready-for-work look.
2. Calm and Collected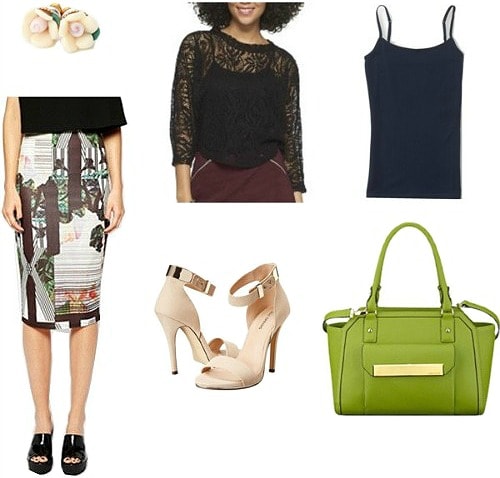 Product Info: Top – Target, Cami – Aeropostale, Skirt – ASOS, Earrings – Forever 21, Shoes – 6pm, Bag – Carsons
A huge quality of many amazing Health Professionals is their ability to be a soothing, respected presence. In some professions, it's crucial to maintain this balanced, calm aura – animal behaviorists, mental health professionals, and forensic scientists are great examples. In this look, there is much more room to incorporate personal style, while maintaining a professional image.
This outfit is not strictly business. With its polished vibe, it would be ideal for a dinner out with colleagues or friends. There is artistic freedom with the print of this skirt and ultra-feminine blouse, but nothing about the outfit outwardly clashes or seems out of place. The rose earrings and shoes are subtle, and the green bag is just bright enough to cheer up the look. The colors, for the most part, are muted, without any distracting neon or fluorescence.
All in all, this ensemble allows personal style to shine through while remaining balanced and easy on the eyes.
3. Woman in Charge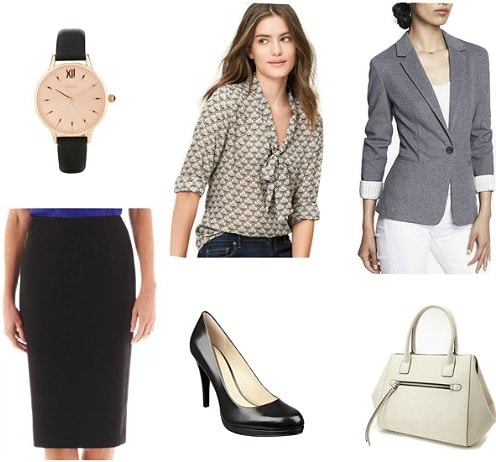 Product Info: Blouse – LOFT, Jacket – Express, Skirt – JC Penney, Shoes – Nine West, Bag – Forever 21, Watch – ASOS
Some Health Professionals are constantly scrutinized by others, whether in a one-on-one situation like some dietitians and chiropractors, or by crowds like many health administrators. This outfit is inspired by their poise, outward strength, and assertiveness.
To maintain a respectful, credible stance, the pencil skirt is long and not skin-tight. The blouse has a great mosaic print that isn't too loud, but is far from basic. The look is finished with classic black pumps, a practical watch, a heavier knit blazer, and an off-white bag.
These pieces are definitely pricier than those featured in the other two looks, but I strongly believe that every woman should invest in high-quality business pieces that won't be tossed aside next season. When it comes to looks that you can see yourself wearing repeatedly, it's reasonable to splurge to ensure you're getting a wardrobe that's built to last.
Your Thoughts?
Do you want to be a Health Professional? What do you think of these looks inspired by such a noble, well-respected career? Let us know in the comments below!