This post may contain affiliate links, which means we may receive a commission if you purchase through our links. Please
read our full disclosure here
.
What kind of women do you look up to? Fashion Role Model is here to inspire you to dress like the woman you want to be, whether it's the next great physicist or a successful fashion blogger. Keep on the lookout – your role model may be featured next!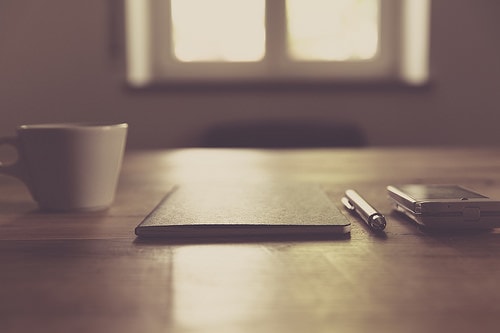 No role model is better than another role model, but there are certainly role models that are more well-known, such as world leaders, rocket scientists, and inventors. But what about the women who not only work incredibly hard, but also sustain themselves without a large support system? The women that make a living by honing their craft, while also dealing with job instability and an unpredictable workday? Today, I want to showcase that woman: The Busy Freelancer.
Freelancers are everywhere, and are involved in practically every field out there. Writing, the visual arts, education, marketing, accounting – you name it. This is a more broad overview, in a way, of careers that I would like to more thoroughly delve into in the future. Don't worry if you've requested a certain career already, because I hope to eventually cover it!
For now, here are three looks from three very different fields that encompass the world of freelancing.
1. Business Savvy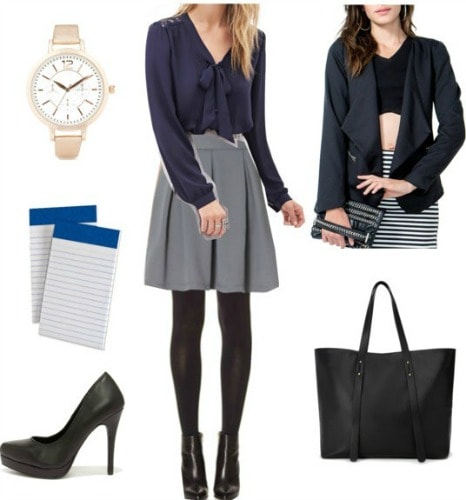 Product Info: Blouse – Forever 21, Skirt – The Limited, Jacket – A'GACI, Heels – Lulu's, Bag – Forever 21, Watch – ASOS, Notepads – Amazon
The Busy Freelancer might be involved in marketing, accounting, and real estate. These women have to look professional at all times – first impressions matter, and clientele could make the decision to work with these women based on a polished and professional appearance.
This outfit is very business-minded, but not ultra-formal in any sense. It still has a relaxed feel because of the loose sleeves of the blouse and the construction of the jacket. Tights keep the look modest, and I threw in the cute (and affordable!) watch and notepad to emphasize that these women are busy and on the move.
2. Artistic Souls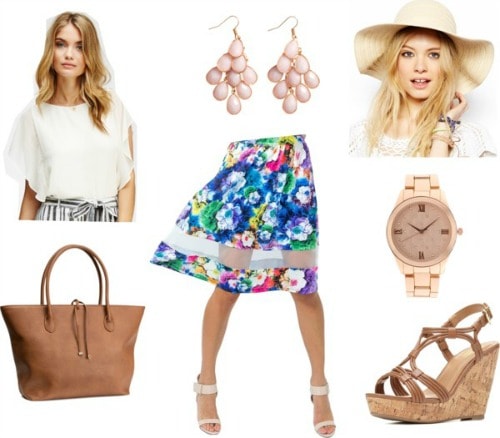 Product Info: Skirt – A'GACI, Top – Forever 21, Bag – H&M, Hat – ASOS, Watch – Forever 21, Wedges – Charlotte Russe, Earrings – H&M
Shout-out to the Busy Freelancer who is involved in photography, graphic design, fashion, and/or writing – you guys are the artistic backbone of society. Art is truly under-appreciated, and this is especially true for freelancers in the art field. It seems like the "stable," employed art/writing job is always considered "better" than the freelancer job, but oftentimes that isn't true at all, especially for those who really want to express their creative spirit.
A lot of Freelancers in this industry wear what is comfortable, and for artists in particular, okay to get dirty/damaged while at home or work. This outfit is targeted more for when this Freelancer is out and about – a last-minute portfolio presentation, a meeting with an editor, or even a small art show.
This look has a bit of a professional edge while retaining a colorful, artsy vibe. The skirt's flowy shape and the fluttered sleeve of the blouse also means it's not too restrictive. No heels here, but cute wedges add a bit more comfort to the artistic Freelancer's busy day. The hat, watch, and earrings add some final little touches that make this look feminine but not over-the-top.
3. Education First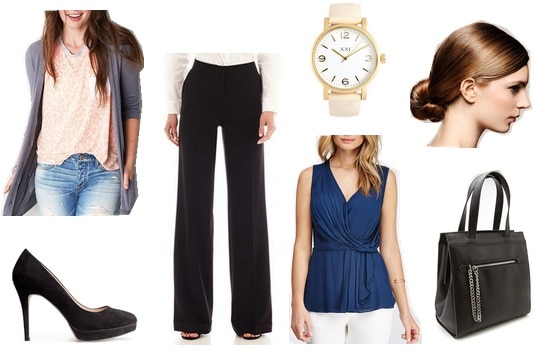 Product Info: Blouse – Forever 21, Cardigan – American Eagle, Pants – JCPenney, Bag – Forever 21, Shoes – H&M, Watch – Forever 21 | Hair Photo: ELLE
A huge chunk of Busy Freelancers out there work in some form of education: teaching music or a foreign language, tutoring students at home, or even instructing others how to cook. These women not only have to look presentable to students, but also need to emulate that powerful responsibility of being a role model more than many other Fashion Role Models. Why? Because in this case, the clientele are often young children who will look at you for far more than just fashion inspiration.
Because you'll likely be working hands-on with kids, you don't want your hair all over the place. It's a good idea to put it up in a bun.
These wide-legged statement trousers look classy, but more importantly, they close the visual gender gap a bit more than a super-feminine skirt would. This visual element is important for children and lessens, to a certain extent, the "men vs women" image these kids often have. But that doesn't mean this outfit isn't feminine – the blouse is girly and elegant, and also leaves the arms bare for some freedom of movement.
A large bag is important because freelance educators usually have to carry around a lot of papers and/or materials. A watch is useful and professional without adding much bulk or inconvenience. And of course, glancing at a watch looks much more professional than pulling out a cell phone to see the time!
Your Thoughts?
Are you a freelancer? What do you think about these looks inspired by the various types of freelancers?
Next time, I'm going to start using actual reader suggestions, so look for the next edition of Fashion Role Model. Also, be sure to comment and let me know what you want to see in future posts!