This post may contain affiliate links, which means we may receive a commission if you purchase through our links. Please
read our full disclosure here
.
This week, we're diving into a career field that I know a lot of fellow English majors are aspiring toward: literary careers.
This specialization covers so much more than what we'd expect, but it predominantly focuses on careers whose primary job description is to read, read, read. Throw in a bit of research, editing, lots of business knowledge, and then – more reading! To some of us, it may sound like the most boring of careers, but for others – myself, included, and probably you, dear readers – it entails the expansion of our foundations of knowledge, creativity, and lots more.
Can you imagine being the first to read the next Harry Potter book? And to be the one that can suggest (or even demand!) changes to the manuscript? Sure, not every literary career involves doing just that, but it's certainly not out of the picture for those of us who would like to work with budding and established writers, whether they are novelists or nonfiction researchers.
There's a lot of expectation and responsibility in this field, and books have more influence on us than we think. So, without further ado, here are three looks inspired by literary careers:
1. Editors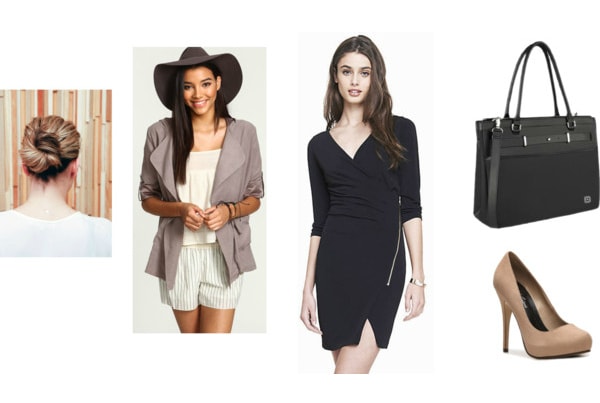 Product Info: Dress – Express, Jacket – Love Culture, Shoes –DSW, Bag – Best Buy | Hair Photo: ELLE
Editors, in any kind of publishing organization, are the people with the most experience, who usually do a great deal more reading than writing because of their responsibilities to their company, readers, and writers. All publications (with the exception of some self-published work) involve an editor working with writers to complete a novel, article, advertisement, etc. by making sure that both content and orthography are up to standards.
Of course, there are different kinds of editors, such as copy editors whose main duties are proofread, fact-check, and rewrite material that seems out-of-place, awkward, or simply incorrect. Copy editors really have to understand the material they are reviewing, and it's much more than just checking for spelling errors. At a smaller company, without a titled copy editor, the editor-in-chief might have this responsibility, in addition to all the other things editors need to watch out for.
Editors, therefore, often have extremely high workloads that involve a lot of off-the-clock time spent making sure things run smoothly. This outfit keeps that in mind with comfort at the forefront, although there should still be some level of professionalism, since an editor is the role model for nearly every other figure in a given organization.
The jacket and dress both avoid stiff, uncomfortable material, while the suede shoes maintain a comfortable yet sophisticated look. I chose the laptop bag for its size and sturdy construction, which is super-important for any editor – and the fact that it looks good doesn't hurt, either.
2. Literary Agent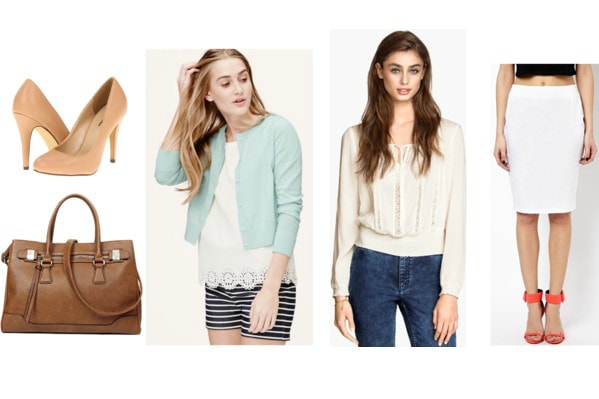 Product Info: Blouse – H&M, Cardigan – LOFT, Skirt – ASOS, Shoes – 6pm, Bag – ALDO
If you're an aspiring writer, then you already know how important it is to work with a literary agent. Literary agents act as the liaison between writers and the aforementioned editors, and handle negotiations and book deals for many first-time writers. Unlike other literary careers, literary agents work (for the most part) solely with books and scripts, and not with magazine articles.
In a way, agents and editors are opposites: one is responsible for pitching awesome books and the other is responsible for acquiring awesome books. One thing this makes clear is that both of these professions, but agents especially, require strong professional connections and networking skills.
Literary agents receive manuscripts via e-mail or through snail mail – either way, they don't meet authors face-to-face at first, and certainly not if the manuscript is rejected. This does allow their outfits to be more lax in terms of a work-oriented look, but it still needs to be dressy enough for those times they do need to (physically) appear for meetings with, among others, editors and writers.
This outfit considers the fact that many literary agents sit all day, and therefore includes comfortable fabrics and a looser blouse. The shoes and bag are pretty standard for a day at the office, and I kept the colors soft and muted simply becomes it seems more relaxed than the traditional black and white.
3. Book Reviewer/Critic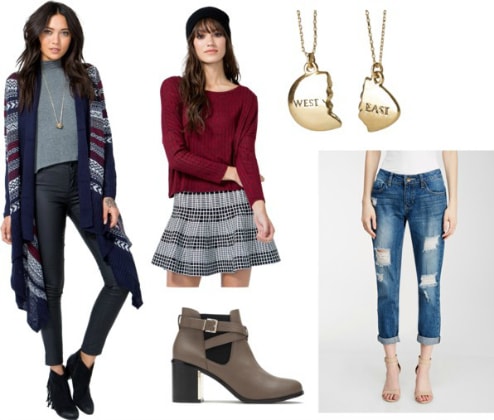 Product Info: Top – A'GACI, Jeans – Forever 21, Cardigan- A'GACI, Necklace – Out of Print, Shoes – Forever 21
According to the U.S. Bureau of Labor Statistics, more than half of all book critics are self-employed. This means that this career offers lots of freedom, both in terms of fashion inspiration, as well as day-to-day life. Sure, book critics spend the vast majority of their time either reading books or writing reviews, and on the surface it might sound monotonous, but as someone who used to be a book reviewer (back when I had more time!), I loved being able to read books that I would have never otherwise picked up. Whether or not I actually liked the book didn't matter because of the happiness I got from reading and receiving books to review.
But don't underestimate this position: It's extremely competitive, and a book critic likely requires another job to supplement the usually meager earnings the average book reviewer receives. It's definitely one of those jobs that you need to love in order to succeed.
Additionally, book critics are more influential than you would think. You probably read at least a couple of snippets from book reviewers every time you search or pick up something to read. In fact, it's probably impossible to read a book without reading any part of a review before starting it!
It's immediately obvious that this book critic-inspired outfit is really laid-back, and this is because a lot of book reviewers work from home. Most of them freelance, or simply work independently, so I created a look based on what I could see myself wearing while intently reading a book.
However, this outfit is a lot more dressed up than sweatpants and a t-shirt, which makes it more desirable for running errands and other miscellaneous things that one could do outside of the office environment. (Of course, this outfit is inspired by an average day and not a day when a book critic is invited to appear at a large publicity event!)
Of course, I had to finish off the outfit with this amazing necklace inspired by The Great Gatsby. It doesn't take away from the comfort-oriented look, and also isn't large/ornate enough to be distracting.
Your Thoughts?
Do you want to work in the literary industry, or are you already a part of it? What do you think of these looks inspired by the three of the best-known jobs in this field? Let us know in the comments below!