What kind of women do you look up to? Fashion Role Model is here to inspire you to dress like the woman you want to be, whether it's the next great physicist or a successful fashion blogger. Keep on the lookout – your role model may be featured next!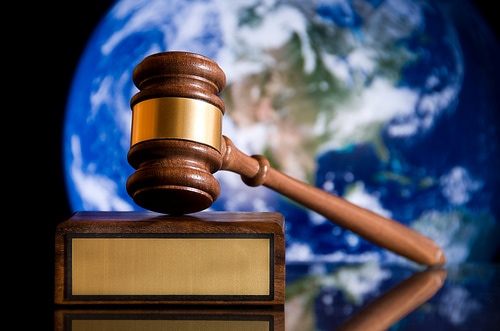 Careers in law are incredibly versatile, and you'll meet an endless variety of amazing people in this profession. But what's the single quality that connects all of these incredible role models? It's a sense of justice and the need to make sure that people are in the place they should be – and not somewhere else.
These professions easily span the entire spectrum of physical activity, from those who are constantly sitting down in front of a computer to the busy women who can never get a spare second to relax. All of these people, however, need to use their brains to make sure nothing slips through the cracks. In this field, the tiniest details can make a world of difference, and it is generally a fairly high-stress job.
I admire these women (and men!) so much, because society would be a complete mess without their intellect, power, and integrity. I've created three looks to represent outfits inspired by three prominent branches of law: Courts, Law Enforcement, and Corrections.
1. Your Honor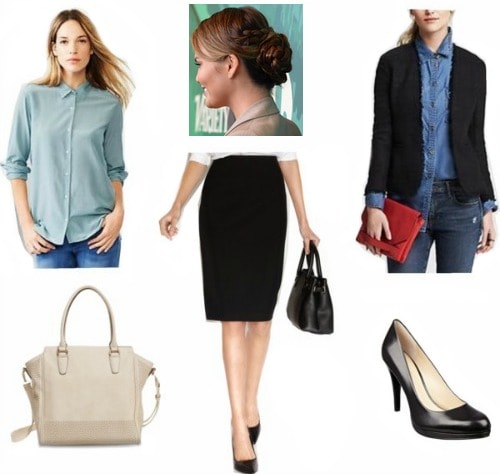 Product Info: Blouse – GAP, Skirt – Macy's, Blazer – Banana Republic, Bag – Target, Heels – Nine West | Hair Photo: ELLE
Lawyers have a reputation of being sharp, aggressive, and merciless. While some lawyers do embody these characteristics, most lawyers are compassionate and determined to make sure they do their part in the justice system, whether they're a family law practitioner or a cutthroat lawyer representing huge companies in criminal cases.
Working with law and justice means respecting your clients, their families, and everyone else who is involved in a case. Because of that, an outfit inspired by a lawyer needs to be both presentable and respectable, without having any potentially offensive elements. A lawyer doesn't just have to represent herself – she is the visual figurehead for everyone she represents, so presentation is extremely crucial.
And this field consists of much more than just lawyers. Think paralegals, judges, and even court reporters – these people all work within legal courts, and are all involved in the determination of guilt or innocence of suspects, which is a huge responsibility.
This is a classic, business-appropriate look because it needs to combine simplicity with professionalism without being distracting or impractical. Respect is the key word here, and nothing in this outfit is flashy or out of place. Buying well-tailored, coordinating pieces is extremely important, because everyone needs a power suit that will showcase the wills of steel these women have.
2. Put Your Hands Up!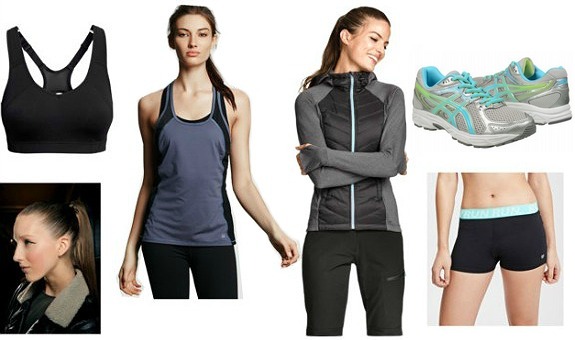 Product Info: Tank – Victoria's Secret, Jacket – H&M, Shoes – Asics , Shorts – Forever 21, Sports Bra – H&M | Hair Photo: ELLE
Law Enforcement Officers are the reason people can feel safe and secure at home – these people are the ones who will come and support you when you are having an emergency, and they aren't afraid to use both their physical and mental strength in order to make sure justice is served.
And let's not forget the enormous range of positions that someone can have in the law enforcement field: everyone from a TSA screener to a CIA agent to a border patrol officer works in this field, and these people serve to uphold peace and security for all of us.
Power, assertiveness, and presence are extremely important for someone who is upholding justice and standing up to the perpetrators of crime and violence. This outfit is not appropriate for an actual day on the job, due to uniforms and practicality, but this look is inspired by the fierce athleticism these officers have.
It might seem unusual to include a gym outfit in an article about professional fashion, but I thought this would be a great alternative for these people on their days off. Most of the women in this field are athletic and work out in order to maintain their physical strength, so I chose a simple outfit without frills that is monochromatic for easy matching.
Hair away from the face is a must, and shoes should be professionally fitted in order to make sure you're running with the best tools available.
3. Correct Me If I'm Wrong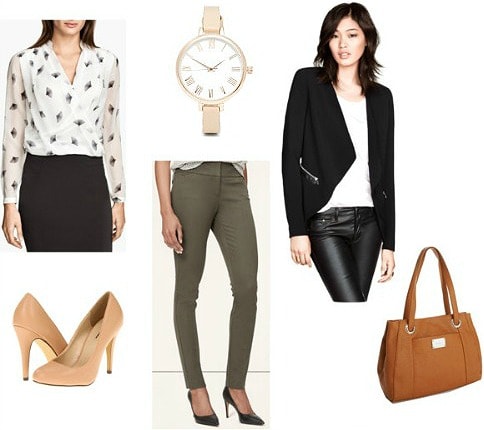 Product Info: Blouse – H&M, Pants – LOFT, Watch – ASOS, Heels – 6pm, Jacket – H&M, Bag – Boscov's
Corrections is an often overlooked area in the legal system, but is by no means the least important. This field includes juvenile corrections officers, prison wardens, and even substance abuse counselors. This career has some one-on-one interaction with people who have violated the justice system, but the intention here is correction over punishment, with the hope that they will walk free as reformed people with a new purpose in life.
This outfit is a bit more relaxed than a typical business suit because, for the most part, this career path includes close contact with others in a not-very-formal situation. As mentioned, these looks are meant to be inspired by these professions instead of being feasible looks for the job, but I'd like to think this outfit could work for those who are less restricted by uniforms.
This blouse is a bit more feminine and interesting because of the pattern, although the strong pants prevent it from being overly girly. I also accessorized with a statement handbag and stylish heels that aren't too high, then threw in a nice watch to brighten the look a bit without ruining the professional edge.
Your Thoughts?
Do you work in the legal system? What do you think about these looks that have been inspired by such a large, significant career sector? Let us know in the comments below!