This post may contain affiliate links, which means we may receive a commission if you purchase through our links. Please
read our full disclosure here
.
What kind of women do you look up to? Fashion Role Model is here to inspire you to dress like the woman you want to be, whether it's the next great physicist or a successful fashion blogger. Keep on the lookout – your role model may be featured next!
If I had unlimited free time I would spend my days with family and friends, go shopping and ultimately end up reading at a little bookstore, get some exercise in by running or dancing, and sip on hot tea while indulging on sweets. But above all else (except perhaps that first one), what I would love to do the most is to travel and tour the world, and discover places that I had never before dreamed of visiting.
Because there are just so many so jobs in the vast travel industry, I've split this post into two parts. The second part will include fashion inspired by the actual travel side of things, while today's post covers The Hospitality and Tourism Industry – those who move around a bit less and create a hospitable (pun intended) setting for travelers from around the world.
This industry is a huge part of what makes traveling an amazing experience. I've visited 14 countries so far in the span of my comparatively short lifetime, and while mingling with the locals is the best experience ever, I wouldn't have gotten very far without the knowledgeable and helpful professionals who never hesitated to give me a hand when I looked lost (or hungry!).
According to Forbes, the hospitality industry is one that has been seeing a lot of growth in the past few years, particularly because of the boom in the restaurant industry. This is a huge plus for those who are pursuing or are already a part of this career.
There's so much fashion inspiration to be found in this field. Many of these careers require uniforms or have strict dress codes, so please be aware that these are just outfits inspired by hospitality and tourism careers, and not what should actually be worn on the job!
1. Concierge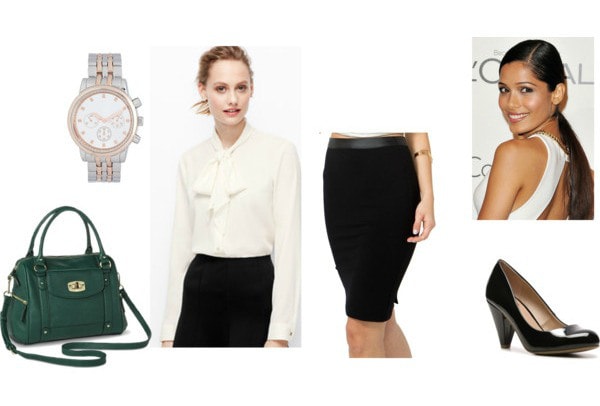 Product Info: Blouse – Ann Taylor, Skirt – A'GACI, Watch – Forever 21, Bag – Target, Shoes – DSW | Hair Photo: ELLE
Concierge is probably the first thing that comes to mind when you think of careers in hospitality, and that makes sense because these are the lovely people who greet you and help you out as soon as you walk into a hotel on the first day of vacation. But that's not all their jobs entail – these men and women coordinate everything from your room reservations to the tickets you want at a nearby show to sometimes dealing with flight arrangements, too! They'll also usually handle any mail deliveries.
Most importantly, they can help you figure out how to enjoy their city to the fullest, whether it's recommending good places to eat or making travel arrangements for you to get into the city center to explore.
These people really represent the entire hotel, and often represent the city/country as well. The outlook that concierge positions have inspired is very polished and professional without being overly formal or stuffy-looking. It has sleek lines while conveying a sense of modernity (of course, this would vary depending on what part of the world the hotel is located) and cleanliness, and above all, professionalism and customer service.
This skirt might be a little bit too tight for an actual day in this job, but it's perfectly acceptable for fashion inspiration! The sleek ponytail is something that works for both the concierge staff and everyday life because it looks very clean and sophisticated. The rest of the look consists of staple pieces: a white blouse, a nice watch, a structured bag, and comfortable pumps with a sturdy heel.
2. Marketing, Advertising, and Design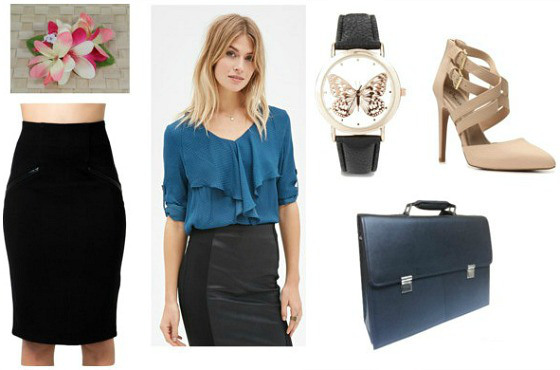 Product Info: Blouse – Forever 21, Skirt – A'GACI, Flower Clip – Aloha Outlet, Heels – DSW, Briefcase – Overstock, Watch – ASOS
You will see bellhops, room attendants and concierge staff upon entering a hotel, but what about the people behind the scenes who were possibly responsible for getting you to come to that specific hotel? The hospitality business has tons of employees working different desk jobs for the company at offices, and one prominent position is marketing and advertising.
These people often collaborate with teams of people, including designers and public relations experts, in order to convince clients that their hotel/region/city is the one to visit. This usually involves evoking a certain kind of look, theme, or message associated with the area.
For example, if you're staying at a beach-side hotel, the hotel's advertisements are very likely going to display the ocean in all of its wonder, and the hotel certainly isn't going to look like the super-sleek, black skyscraper that you'd see in somewhere in the city – it's probably going to look much more relaxed and be lighter in color. Flyers, programs, and guides will probably include seafood entrees and summery drinks, and you might see the hotel being associated with fun activities like swimming with dolphins, zip-lining, or exploring sand dunes!
This outfit is essentially a go-to office look, but I added in the cute flower clip for say, a designer who is working for a hotel that operates primarily in Hawaii. It's not too formal, but is still classy. This is a position that you could probably have a bit more freedom with fashion-wise. Again, there might be dress codes that prohibit noticeable accessories, so take this look as fashion inspiration rather than the guide of what to actually wear on the job.
3. Tour Guide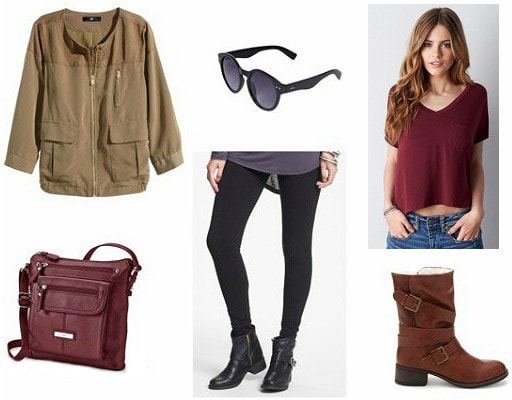 Product Info: Jacket – H&M, T-Shirt – American Eagle, Leggings – Nordstrom, Boots – Forever 21, Sunglasses – Boohoo, Bag – Kohl's
Tour guides are the people who are really going to introduce you to all of the fabulous sights and landmarks wherever you're visiting, and they're usually locals who know all the little details that will make your trip unique. Of course, there's that occasionally unenthusiastic tour guide who would much rather be doing anything else, but most of the tour guides that I've met are very friendly and willing to help. In addition, tour guides can and do frequently act as translators, which is invaluable if you're visiting a foreign country.
A lot of tour guides, especially with smaller companies, don't have to adhere to a strict dress code as long as their clothing isn't inappropriate or revealing. Because they are the experts of that area, they will probably dress like a local, but perhaps in a slightly more dressed up way (though I've seen lots of tour guides dress very casually).
Keep in mind that the location and type of tour certainly plays a huge part into how guides are going to dress. After all, a museum guide is not going to be wearing the same thing as a hiking guide!
The outfit based on this job is very simple and lightweight, but incorporates layering for the possibly unpredictable weather. The key thing here is to make sure to wear comfortable shoes because tour guides tend to do a lot of walking around – especially if they give multiple tours each day.
Your Thoughts?
Do you work in the hospitality or tourism industry, or do you aspire to? What do you think of these three looks inspired by this field? Let us know in the comments below!