This post may contain affiliate links, which means we may receive a commission if you purchase through our links. Please
read our full disclosure here
.
What kind of women do you look up to? Fashion Role Model is here to inspire you to dress like the woman you want to be, whether it's the next great physicist or a successful fashion blogger. Keep on the lookout – your role model may be featured next!
In Part 1 of Fashion Role Model: Fashion Careers, I gave an overview of three careers that perhaps have a greater impact on a smaller, more local target area– although of course, there are major exceptions.
This time, I'm going to cover careers with typically wider-reaching impacts that focus on entire populations rather than the individual; trendsetters that might not even be aware of their cosmopolitan appeal and influence, which make them all the more fascinating.
Like most others, fashion is a field which requires passion and drive in order to make it big, but creativity and innovation is equally important. Fashion really does consist of adapting inspiration (from anywhere and everywhere!) and giving it wide appeal that can really, literally change the face of society– Marilyn Monroe-esque moles anyone?
Fashion arguably also influences people, particularly young women, more than any other field simply because everyone has to wear and find clothing that they like. (Unlike, for example, the literary field, in which nobody has to pick out and buy a book to read.) Because of this huge area of influence, fashion involves a lot more risk-taking than the average job, and combined with the necessity in breaking rules to create new trends, freelance is almost always the way to go with these careers.
Another important characteristic to succeed in this realm of harsh competition and an even harsher, critical public audience? Talent. Talent is not something anyone can just come by, but talent, motivation, and perseverance is a perfect recipe to aim for the stars for the three careers I picked out for this week: a fashion model, a fashion designer, and a fashion photographer.
1. Fashion Model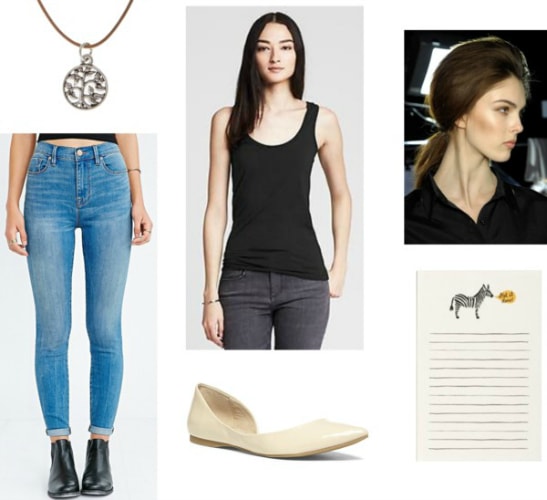 Product Info: Tank – Banana Republic, Jeans – Urban Outfitters, Flats – Steve Madden, Necklace – Claire's, Notepad – Paper Source | Hair Photo: ELLE
Modeling is a commonly sought-after job; not only because of the fame, but because of the fact that it appears to be easy money. This couldn't be farther from the truth. Booking a job is probably the most stressful thing prospective models have to go through– especially when surrounded by hundreds or even thousands of other girls who want the job just as much as you do.
This job also demands perfection, whether it be by constantly watching your weight or by making sure you can walk flawlessly in heels. It's this pressure in particular that makes it so difficult to constantly be in the public eye, and to be scrutinized and criticized by everyone about things as superficial as weight or skin tone.
The pay-off of beating your competition and getting those coveted shoots? Audiences, large or small, will be able to see your image as the representative of companies, brands, and everything else, which is a huge achievement for even the smallest organization. Experience, after all, is necessary to do well as a fashion model.
Fashion knowledge is also usually a huge plus. Aside from physical appearance, models have to sell their personality and experience in order to really convince people they're perfect for the job. Until you have that portfolio and name, any little thing to get you further than your competition is huge. This, of course, is also where talent really shines through.
This outfit is actually very basic, because, when not on the runway, fashion models need to appear like a blank canvas. Fashion, after all, is an art, and the model is the mode through which designers display and express their work.
This look is inspired by the fact that every model starts off wearing very basic clothes to their first shoots– tank tops, jeans, and flats are extremely common. A few accessories add a hint of personal style without seeming anti-complementary to any brand or design. Many models also wear their good-luck charms, and some carry a notepad to take important notes because it's a sign of an organized, responsible model. Nobody wants an unreliable model, no matter how talented.
Finally, hair should be no-fuss (either down or in a ponytail), but a little bit of volume is always a great addition to a simple hairstyle.
2. Fashion Designer: Costume Designer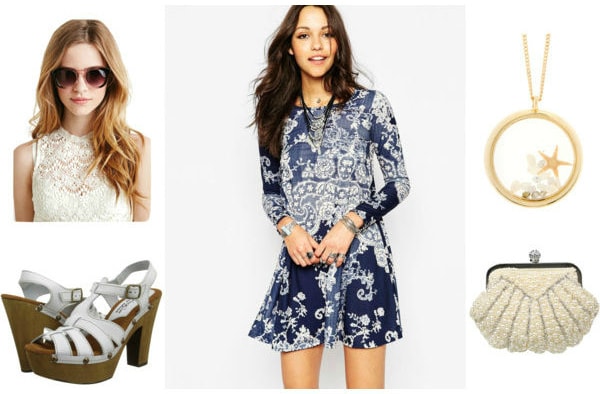 Product Info: Dress – ASOS, Shoes – 6pm, Sunglasses – Forever 21, Necklace – Claire's, Clutch – Amazon
As the creator of all the designs we wear, The Fashion Designer is massively influential around the globe (or at least country-wide!) and requires copious amounts of talent and creativity in order to succeed. Sure, a good sense for business and fashion knowledge is helpful, but there is nothing more important than sheer innovation for fashion designers to make their way to the top in setting trends.
People latch on to fresh ideas and designs, and a fashion designer without creativity in like an artist that does nothing but replicate other works of art. These people require loads of time on their own, or with a team, in order to allow their ideas to manifest into designs that will eventually be brought out to the public.
Like The Model, The Fashion Designer faces intense competition simply because there are so many aspiring designers that fight to stand out. The element of risk-taking is practically a prerequisite to becoming a well-known fashion designer, since innovation and risk are inextricably tied in the world of fashion.
Another hugely important aspect for The Fashion Designer is to have a very strong core sense of style. A brand needs to be recognizable and distinguishable from other brands, and without that consistent base, it's just a thrown-together collection of designs. Concepts are therefore extremely important, and even a chaos-themed show needs to have some sort of central idea to provide a sense of organization.
This outfit is inspired by a costume designer, which is a type of fashion designer that deals with the fashion found in productions related to the film and theatre/stage industry. This look is based around an ocean-side day party (The Little Mermaid, anyone?), with a color palette of mixed blues and sea-related accessories. It's definitely a bit quirky, with a not-so-typical print for a day dress, ombré sunglasses, a seashell clutch, and an underwater charm necklace.
The vintage-shaped shoes are a bit of a throwback, since fashion is really all about recycling and reinventing the past.
3. Fashion Photographer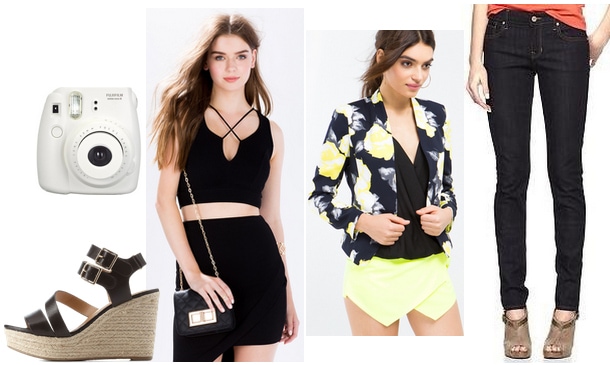 Product Info: Blazer – A'GACI, Top – A'GACI, Jeans – GAP, Shoes – Charlotte Russe, Camera – Best Buy
The Fashion Photographer, unlike the Fashion Model or Fashion Designer, is not as well-known in terms of public knowledge, but is extremely influential given that media is probably the largest mode of transferring new ideas and trends.
Fashion photography has existed since photography itself has existed, and it is through images and film that most of us are exposed to new fashions and designs. After all, most of us aren't fortunate enough to be able to attend fashion shows or major fashion events in person! We often overlook the fact that there is a person behind the lens of fashion photography, but without fashion photographers, who knows how slowly trends would come and go?
There is a lot of artistry and intuition that goes into being a unique, notable fashion photographer. Like a painter, a photographer might be recognized for things like signature lighting effects, or radical thematic choices. While not necessarily as "famous" as many models and designers, the photographer works in the same glitzy setting, making connections with the biggest names in the fashion industry (Nigel Barker anyone?). Every brand needs excellent photography, and referrals are therefore huge opportunities for fashion photographers.
Of course, fashion photography also works on a smaller scale, especially in this new age of technology and internet– every shoe, earring, and hair accessory is photographed for online shoppers to peruse from home. This might involve a bit more technical finesse and less artistic ability, but is nonetheless equally as significant in the fashion industry.
This look is based on practicality, because photography involves being able to move comfortably and efficiently to get that great shot. The combo of a stylish floral blazer and a flattering black top paired with basic skinny jeans is professional but easy to move around in. The wedges are easier to walk in than heels, but still provide a boost of extra height (and confidence!). I threw in the instant camera for nostalgia's sake.
Your Thoughts?
Have you ever wanted to dive into the risky world of fashion fame? What do you think of the three looks based on these fashion careers? Let us know in the comments below!