This post may contain affiliate links, which means we may receive a commission if you purchase through our links. Please
read our full disclosure here
.
What kind of women do you look up to? Fashion Role Model is here to inspire you to dress like the woman you want to be, whether it's the next great physicist or a successful fashion blogger. Keep on the lookout – your role model may be featured next!
This is probably the post a lot of you have been waiting for, and while I've been planning on writing it for a while, I've been lost on how to create outfits based on a career field in which breaking the rules is sometimes just as acceptable as sticking to them.
Fashion is an interest that a lot of you guys might share, and having a career that coincides with your hobbies is always an awesome way to decide how you want to live your professional life.
One thing that most people in this field have in common is independence and self-reliance, because of the extremely high percentage of freelancers who start out without any professional support. In addition, creativity and imagination are crucial to having fresh ideas and cranking them out to clients, whether the target group is a single client or the general public.
As you might have guessed, there are many different types of jobs that fall within the fashion category. It was incredibly difficult to pick just three this time, so this has ended up becoming another two-part article.
Part 1 is all about fashion on a smaller scale, with a focus on a smaller target area, and more business, less glamour: the boutique owner, the fashion buyer, and the personal shopper.
In Part 2, I'll showcase looks inspired by the bigger, glitzier, more cosmopolitan side of fashion, which is probably what most people think of when they hear "fashion career."
But, as we all know, the lesser-known people that work on the local end of fashion are just as important and sometimes just as influential. So without further ado, here is the first half of fashion inspired by fashion careers:
Note: See this article for fashion inspiration for retail careers.
1. The Boutique Owner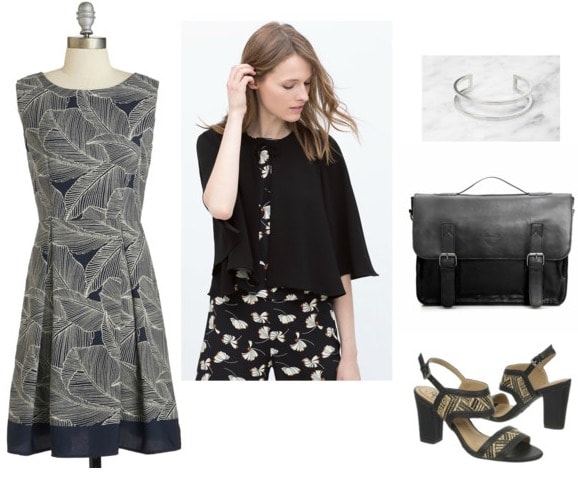 Product Info: Dress – Modcloth, Cape –Zara, Shoes – Famous Footwear, Briefcase – Amazon, Cuff – Forever 21
As a disclaimer, I work at a small boutique myself, so much of this information is based on my experience with my super-sweet boss.
What little girl who's in love with fashion wouldn't dream of owning their own little boutique one day? Being surrounded by clothes 24/7? Count me in!
Unfortunately, being the owner of a boutique involves a lot more responsibility from a purely business standpoint than one might expect. Starting any business is a gamble, and a fashion boutique is a very high risk project because more than likely, there's going to be either (a) larger, cheaper retailers, or (b) already established boutiques with faithful customers nearby. Both are strong competition, and unless a boutique has that something special to draw people in, it probably won't be able to sustain itself.
Beyond the first, incredibly stressful aspect of actually starting/re-branding a boutique, there is constantly a huge amount of stuff that needs to be done: ordering more shipments, getting paychecks to employees, making sure customer requests are being taken care of, paying bills, and so many unexpected things– like dealing with a parade that's going to block all possible traffic from going into your store!
From a fashion standpoint, The Boutique Owner has to make sure that she has a very strong look and mission statement to represent her boutique. It's incredibly important to make sure the boutique has its own defined style, and like the employees, The Boutique Owner has to be dressed to represent– think of a walking, talking mannequin!
This does not necessarily mean wearing the boutique's clothing head-to-toe, but it does mean you need to be consistent and not clash with the image you have set up. You also want to be both approachable and professional, and if you're doing any business transactions, you want to be taken seriously.
This adorable cape isn't a blazer, but still represents how much business-knowledge and experience goes into being a boutique owner. It's definitely on the pricier side, but one of the perks of being a boutique owner is occasionally being able to keep an unsold, expensive item for yourself.
Because of the dark color and subtle print, the dress as a similar understated, professional air. The shoes are a fairly low, comfortable wedge, which is perfect when you're on your feet all day, while the silver cuff adds a touch of personal style.
And for all of those scattered papers, invoices, and time cards? A classy, sturdy briefcase is a must.
2. The Fashion Buyer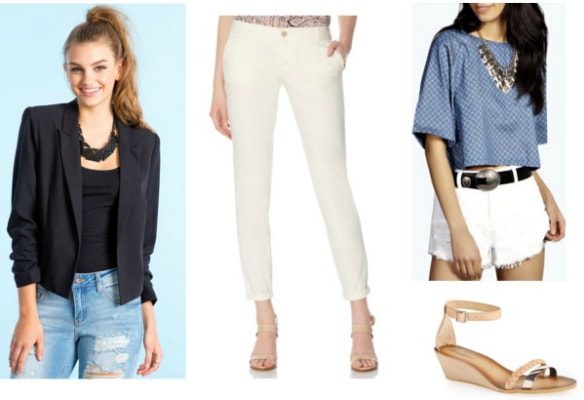 Product Info: Pants – The Limited, Blouse – Boohoo, Blazer – A'GACI, Shoes – Nordstrom
If you're a part of a small enough store, The Boutique Owner might also be The Fashion Buyer. Large companies, however, carefully hire fashion buyers because of how important their role is in getting customers. The Fashion Buyer needs, first and foremost, a strong grasp of the store's style. Then comes the other important qualities for these women: fantastic interpersonal communication skills (including the ability to negotiate), being able to travel and visit showrooms, being a quick-thinker, and being knowledgeable about what the store actually needs and sells well.
There is so much responsibility here, and this is a position that requires tons of experience. Buying and selecting new items is always a big risk, and The Fashion Buyer is the one that needs to juggle the invitations from showrooms versus getting the same items again and again.
I chose this outfit with travel in mind, and also based it around the fact that there's a lot of hands-on work in this field. The white chinos are dressier than jeans and great for summer, but still have a conservative fit. The blue blouse is a bit more casual, without buttons and long sleeves, and is a fun alternative to wear under that blazer.
In the real world, there's a lot of variation because some Fashion Buyers dress to the nines, and for others it's a much more casual, understated affair. This look lands in-between, and although I couldn't decide if I wanted the blazer or not, I ultimately kept it because this career deals with negotiation, and I couldn't think of a better piece to symbolize that.
Finally, low wedges are ideal due to the amount of walking fashion buyers do. The entire outfit is just a touch away from classic, and remains simple and understated.
3. Personal Shopper/Stylist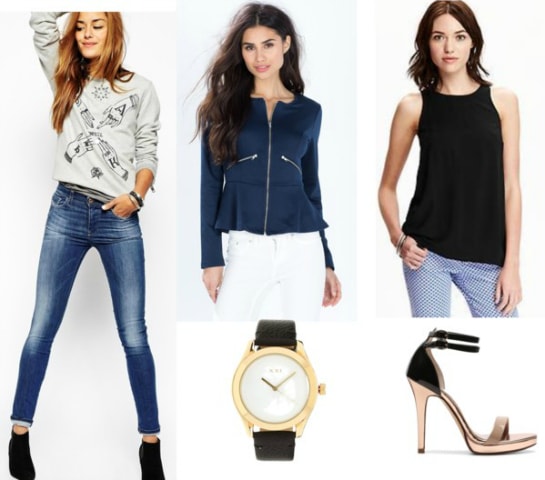 Product Info: Jacket – A'GACI, Top – Old Navy, Jeans – ASOS, Heels – DSW, Watch – Forever 21
This job, compared to the first two, relies not just on personal style, but on being flexible and adapting easily to what the client wants, above everything else (or at least until you've established a big name for yourself). This might mean that the client wants to create an entirely new look and wardrobe for herself, so The Personal Shopper needs to be on her feet at all times.
There are both short-term (more typical) and long-term jobs (and the occasional salaried position!), but either way, building a large client base is really important because personal shoppers rely heavily on word-of-mouth recommendations and referrals. Like The Fashion Buyer, The Personal Shopper has to have excellent communication skills, and should also be highly organized.
This look is stylish but practical because other than gigs for very formal events, the average client wants versatile pieces that can be worn many different ways and for many different occasions. There needs to be a strong balance of style and practicality along with the presence of great wardrobe staples. This outfit in particular consists entirely of these important pieces: a versatile top that can be dressed up or down, a beautiful peplum jacket, great-fitting jeans, and sturdy accessories that are of higher quality.
The reason this outfit has a strong professional element is because a personal shopper needs to sell her services through her own image and presence, and no matter how good you look, if you look like you're heading to the beach instead of to the office, you'll be hard-pressed to find clients that will take you seriously.
The sleeveless top is made of matte crepe material, which looks and feels expensive, but is also incredibly comfortable and flowy. It's a great top for layering and can be worn casually with boyfriend jeans or rocked on a night out with a bodycon skirt. This is something that would be appealing to clients, plus black is an almost universally approved-of color.
The jacket has a business-edge but is dressy enough to throw on top of a more formal dress, too. As always, great jeans, heels, and watches are staples for any closet, and have a widespread appeal.
Your Thoughts?
Are you planning on pursuing one of these fashion careers? What do you think of these three outfits inspired by these professions? Let us know in the comments below!