This post may contain affiliate links, which means we may receive a commission if you purchase through our links. Please
read our full disclosure here
.
What kind of women do you look up to? Fashion Role Model is here to inspire you to dress like the woman you want to be, whether it's the next great physicist or a successful fashion blogger. Keep on the lookout – your role model may be featured next!
Engineers are among the smartest women I know, and I'm always stunned by their dedication, passion, and drive. They certainly need it to carve out their own space in a vastly male-dominated field, and I can't think of a better role model when it comes to work ethic and perseverance.
Since I was a biology major for the first two years of my undergraduate life, I've taken classes with engineering majors and been stunned by their workload and the sheer difficulty of their assignments. It really is one the toughest fields I can think of, and I have firsthand experience at the sexism in the sciences– although from what I hear, it's decreased in recent years due to burgeoning numbers of females pursing "male" careers.
Engineering has seen explosive growth and demand, along with lots of other science/technology-related fields, and I have created three looks in order to demonstrate the inspiration I received while researching and following this huge, burgeoning career area.
One important thing to note is that the majority of engineers dress rather casually, unless they work office positions or are attending business-type obligations. Therefore, these outfits are inspired by the specific type of engineering and do not adhere to actual dress codes.
1. Mechanical Engineering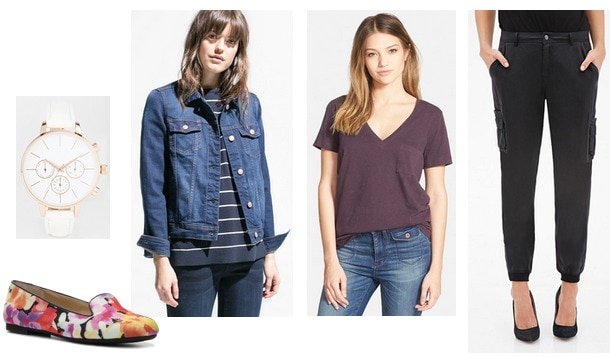 Product Info: Top – Nordstrom, Jacket – Mango, Pants – Forever 21, Flats – DSW, Watch – ASOS
Note: mechanical engineering is a broader category of engineering, encompassing fields like biotechnology and aerospace. I'm going to focus on aerospace engineering to provide a more focused look, but this outfit does apply to most jobs in the field.
Aerospace engineers are the innovators and geniuses of the future, since air and space travel is a growing, technologically advancing area that has shaped and will continue to shape the world in ways we cannot fathom. The development of new space telescopes has brought upon paradigm shifts about the universe around us that have utterly changed our view on everything science and astronomy related.
The key point of any outfit inspired by engineers is practicality, because these women need to be able to think without any distractions, no matter how small.
I created an outfit without any fussiness, and it also allows for a decent range of motion– you never know when you have to get super hands-on with your new parachute design!
The t-shirt is basic but cute, and the joggers are sleek enough to pass as a much more presentable alternative to sweatpants. For the finishing touches, I threw in the floral flats and white watch as feminine but practical accessories to accent an otherwise low-key outfit.
2. Civil Engineering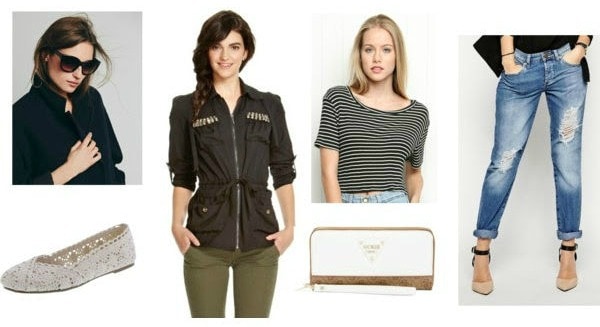 Product Info: Top – Brandy Melville, Jeans – ASOS, Jacket – Target, Shoes – Payless, Wallet – Macy's, Sunglasses – Free People
Civil engineers are responsible for most of the amazing structures we see today. Typically, an architect will be the one to design these buildings, but the civil engineers truly interact with the construction side of it, as well as the design and maintenance work.
Many civil engineers dress casually because they aren't afraid to get down and dirty with dirt, grime, and all that dust. Even the Burj Khalifa was once a mess of construction and materials, but the tangible reward of creating an incredible masterpiece makes it all worth it for these civil engineers.
For this outfit, however, I chose to highlight the dressier side of civil engineering, heavily involved in design, but still active in construction and the other aspects of the career.
Like the first look, this outfit makes practicality its most important feature, and I chose colors that are relatively easy to work with in order to maintain the simplicity and versatility of the individual pieces in this look. It's always hard to juggle complicated looks, so I tried to incorporate pieces that most women should already have as staples: sunglasses, a wallet, jeans, flats, etc.
3. Nuclear Engineering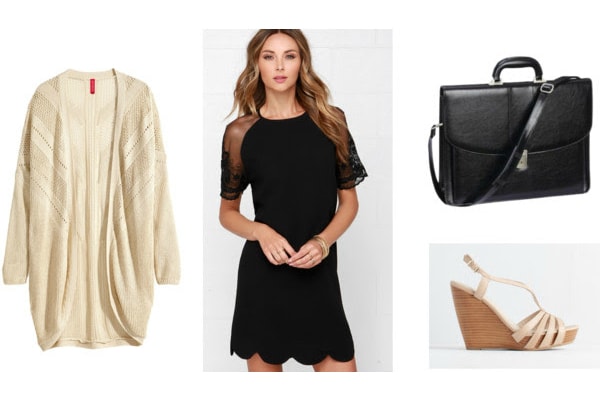 Product Info: Dress – Lulu's, Cardigan – H&M, Shoes – Modcloth, Briefcase – Walmart
Nuclear engineers might deal in higher-stake situations, such as dealing with nuclear reactors that supply energy for whole cities, or perhaps designing an MRI machine for use in hospitals. A nuclear engineer might even work with fossil fuels in order to reduce the increasing effects of climate change.
It was definitely difficult to come up with an outfit for this field, because how do you represent a career that is based on atoms? I decided to go for a very minimalistic look that stands as a nice contrast to the complexity of engineering.
I definitely considered pants, but instead turned to a simple dress to represent the sometimes more business side of engineering, such as with large companies that may require office appearances, regardless of what kind of position the engineer actually has. It's still not ostentatious or impractical for an office-appropriate look, and remains comfortable and sleek.
I also like that it defies the stereotypical view of what a nuclear engineer looks like.
Your thoughts?
Are you studying to become an engineer? Do you already work in this field? Tell us what you think of these outfits inspired by engineering by commenting below!