This post may contain affiliate links, which means we may receive a commission if you purchase through our links. Please
read our full disclosure here
.
Welcome back to Fashion Philosophy! This week we'll take a look at the style of one of America's most powerful women, Hillary Clinton.
Regardless of one's political views, Hillary Clinton is an excellent source of fashion inspiration for all of us ladies with summer jobs that require professional outfits. She's smart, tough, and classy, with a can-do attitude — an excellent role model for us modern women.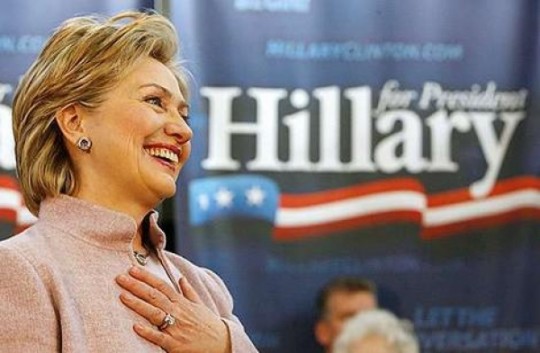 Source: Elle
Today, I'll tell you all about Hillary Clinton's accomplishments as well as break down the elements of her personal style. Plus, I've created four Hillary-inspired outfits that work perfectly for a summer job or internship. Read on to learn more!
Politics 101: Hillary Clinton
Hillary Clinton was born Hillary Rodham on October 26, 1947. Her father ran a small business and her mother was a housewife.
In 1965, Hillary enrolled at Wellesley College, where she got her Bachelor of Arts.
Hillary began her postgraduate education at Yale. In 1971, she began dating fellow student Bill Clinton. They married in 1975 and had their daughter Chelsea in 1980.
In 1992, Hillary was a prominent player in Bill's presidential campaign. On the campaign trail, Bill would even say that voting for him was like getting two for one, since Hillary would continue to play a significant political role.
Bill Clinton became the President of the United States in 1993. As First Lady, Hillary Clinton definitely rocked the boat. Her involvement in politics, her post-graduate degree, and her career before becoming the First Lady forced the public to reconsider the role of a president's wife. She's often compared to Eleanor Roosevelt for this reason.
On January 3, 2001, Hillary was sworn in as a United States Senator. She was the first First Lady to ever run for office.
In 2008, Hilary Clinton began her presidential campaign, but ultimately lost the Democratic nomination to Barack Obama.
Despite the failed campaign, Hillary became the Secretary of State in Obama's administration. On January 21, 2009, she resigned from the senate and took over as Secretary of State until February 1, 2013.
Since February, it has been unclear as to what Hillary will do next. She is not currently holding a political position and has said that she isn't interested in campaigning for the presidency again. However, she does have a very high approval rating and she's a favorite for the 2016 Democrat nomination, so we'll have to wait and see!
Elements of Hillary Clinton's Style
Suits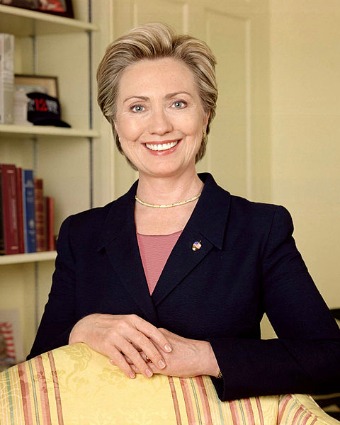 Source: Wikimedia Commons
These past few months have been the first time in thirty years that Hillary Clinton has been a fully private citizen. When she was in the public eye and politically involved, if not holding a political position, she opted for the standard white-collar uniform: the suit.
Hillary has mastered the power suit without it looking like she just stepped out of the '80s. Rocking every colorand cut imaginable, she's managed to keep this office basic looking updated and fresh.
If you're going to take style inspiration from Hillary Clinton, I'd suggest that you opt for suits when you're picking your outfits for your summer job or internship. The best part? These days, we ladies have more variety and choice than ever when it comes to wearing suits. Later on, I'll show you four variations of this office staple.
Simple Accessories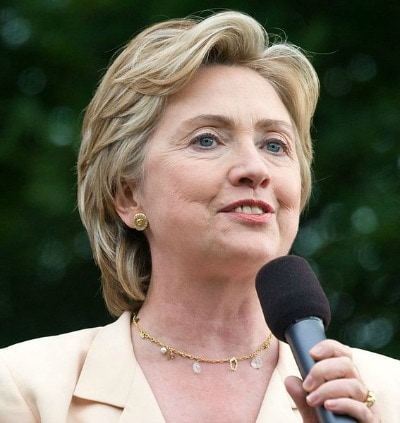 Source: Wikimedia Commons
Hillary uses her accessories as an accent, but is careful to choose pieces that won't distract from her face and what she's saying. No matter what she's wearing, Hillary likes to keep her jewelry simple, usually opting for a short necklace and stud earrings.
Whether her necklace is a delicate chain or a string of chunky beads, it's never long or dangly. The last thing she wants to do is add a boho touch to her look with a long pendant necklace. Similarly, her earrings are never dangly – they're always small, simple, and polished.
To channel Hillary's vibe, let your outfit take the spotlight and only use your jewelry to complement the ensemble.
Monochrome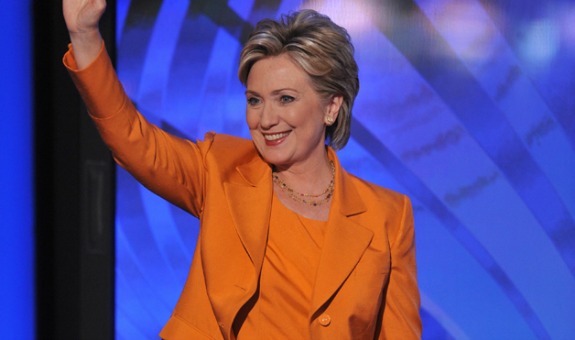 Source: Elle
Monochrome is one of the hottest trends this season. And if there's one person who can always pull it off, it's Hillary Clinton.
Over the years, Hillary's been spotted wearing monochrome suit sets on countless occasions – and telling by her confidence sporting bright orange from head to toe in the above photograph, she's clearly reached ninja levels with this trend.
So lastly, if you're channeling Hillary's style this summer, be sure to rock the monochrome trend. Wear neutrals if you're new to the trend, or jump right in and wear brights if you're feeling bold.
Putting it All Together
Red-y For Work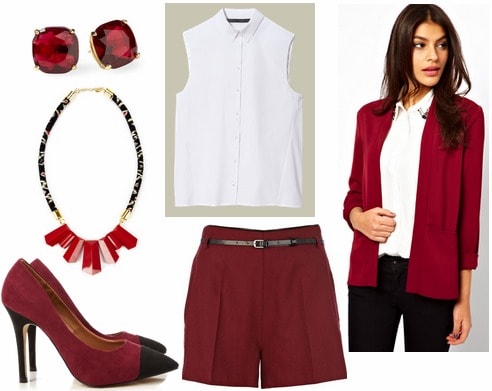 Earrings, Necklace, Shoes, Shirt, Shorts, Blazer
When it comes to dressing for the office, professionalism is always key. However in the summer, it can also be tempting to grab more casual pieces that won't make you melt in the heat.
If a heatwave hits or the air conditioning breaks, I would highly recommend wearing a blazer and knee-length shorts instead of pants. Since you'll be showing some leg, button the sleeveless blouse all the way up to to balance out the outfit and keep it modest. Accessorize with a statement necklace, studs, and sleek heels.
Suited Up in Blue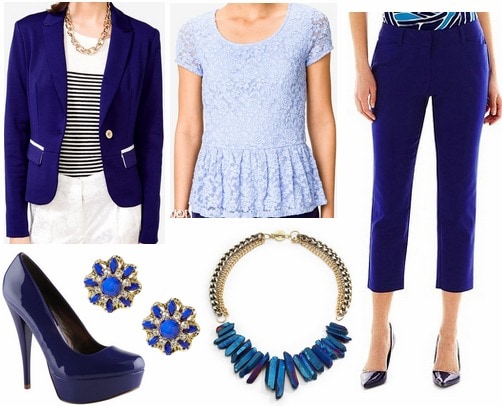 Blazer, Shoes, Shirt, Pants, Earrings, Necklace
This outfit is super-easy to wear, since navy blue acts as a neutral. In the hot summer months, cropped pants are your best friend– you'd be surprised how much cooler they are than full-length trousers! These pants are also cotton, making them even more comfortable in the warmer months.
Pair the dark pants with a dark blazer and pumps to let the fun shape and texture of the shirt stand out. Complete the outfit with an interesting necklace and girly studs.
Business Lady in Lilac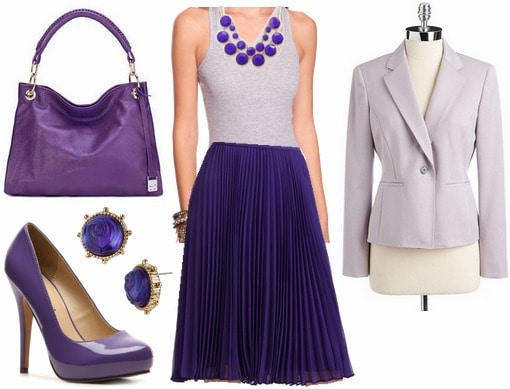 Purse, Shoes, Earrings, Necklace, Shirt, Skirt, Blazer
One of the oft-forgotten suit options for ladies is the classic suit and skirt. While pencil skirts are very classy, I'd recommend an a-line skirt in the summer. Not only is it, well, breezier, but, in my opinion, the a-line creates a more interesting silhouette than the pencil skirt.
While very feminine, purple is surprisingly easy to style from head to toe because of its wide range of shades. I chose to work with mostly blue-toned purples, from the rich plum skirt all the way up the the lavender-grey tank top. (Swap out the tank for a blouse if your office is more formal.) Once again, finish the outfit off with a short statement necklace and floral-shaped earrings.
Night Out in Black and White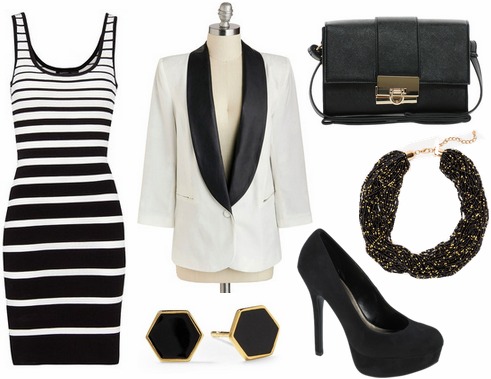 Dress, Blazer, Shoes, Earrings, Bag, Necklace
Let's not forget the original monochromatic shades: black and white. This combination will create a sleek and modern look, while still maintaining a formal vibe, perfect for a fun event.
I especially love this outfit because all of the pieces are super-versatile. To keep the outfit dynamic, I chose pieces with interesting details, such as this white blazer with a large black lapel, a striped dress, geometric earrings, and a glittery beaded necklace.
Thoughts?
What did you think of this post? Do you like the outfits? What do you think of Hillary's style? Will you be working at an office this summer? Who should I cover next? Leave your thoughts below!