This post may contain affiliate links, which means we may receive a commission if you purchase through our links. Please
read our full disclosure here
.
Welcome back to Fashion Philosophy, my lovelies. This week, we'll be looking at a woman who is funny, upbeat, and impeccably dressed. I am talking, of course, about Ellen DeGeneres.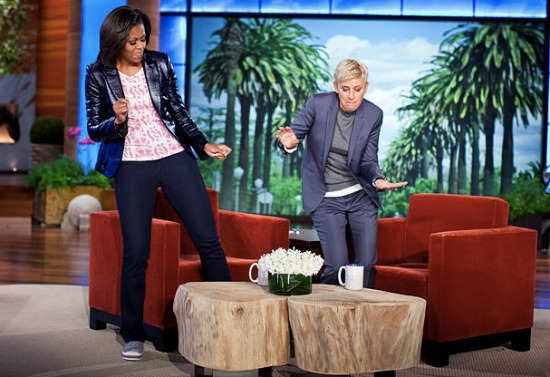 Source: Wikimedia Commons
This post will focus primarily on Ellen's "work uniform" – or what she wears while filming The Ellen DeGeneres Show. And yes, I joyfully watched quite a lot of The Ellen DeGeneres Show as research for this.
Why is Ellen worth featuring? Aside from her upbeat take on life and wicked sense of humor (which we love, love, love), Ellen is an unconventional icon. She dresses by her own rules, eschews expectations for how a female TV host should dress, and is an inspiring example of a woman who is fearlessly herself at all times.
All politics aside, Ellen is a wonderful example of a woman who lives by her own rules, something we can all strive to emulate in our lives and wardrobes. Read on to learn more about the basics of Ellen's style, as well as outfits inspired by her one-of-a-kind look:
Elements of Ellen's Style
Neutral Basics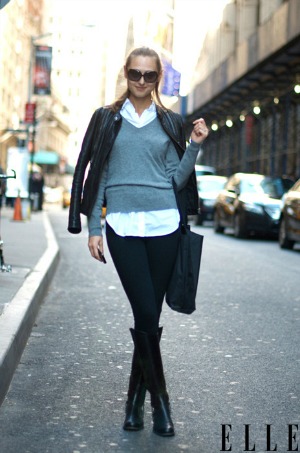 Photo: ELLE
The first thing one notices when focusing on Ellen's style is that she mostly sticks with tried and true neutral pieces. And, it's no wonder – with such a loud and colorful personality, it would almost be too much to wear colorful outfits as well. Exceptions to this rule include when she wears plaid button-downs in a wide array of hues and her brightly-colored shoes.
Take inspiration from Ellen by opting for neutral colors. Ellen wears anything from white jeans to blue cardigans to gray blazers, so you have plenty of options!
Preppy and Practical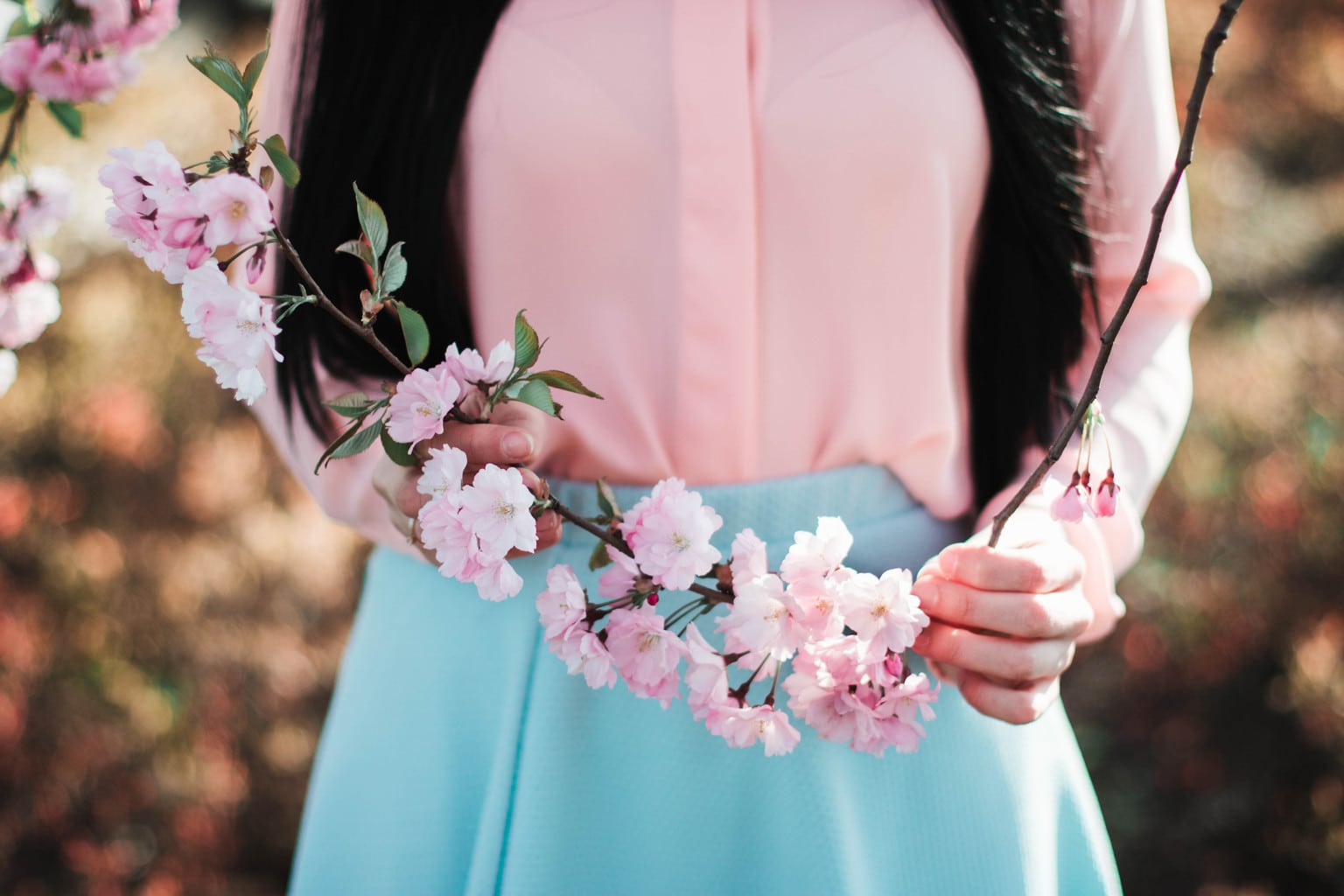 Photo: ELLE
More often than not, Ellen opts for preppy outfits – things that look professional and put-together without losing a casual feel. She achieves this with collared shirts, blazers, cardigans, and clean patterns like stripes, plaid, and gingham.
A woman after my own heart, she sticks to flat shoes (her sneaker collection is legendary) and never wears anything that she can't run around and dance in.
If you've got a golf shirt in the back of your closet, now would be the time to dig it up. Pair it with your comfy jeans and green Keds for an authentic Ellen-inspired look.
A Touch of Masculinity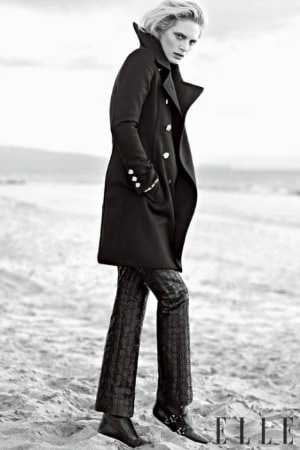 Photo: ELLE
I wouldn't say that Ellen's style is masculine, per se, but she definitely isn't a girly girl. She never wears dresses or skirts and keeps accessories to a minimum – she wears her watch and, depending on the outfit, a loose tie or scarf.
If you're going for an Ellen look, pants are essential. Also, keep makeup to a minimum, using it to subtly define your features. This is the time to pull out your Urban Decay Naked palette, not the time for that orange lipstick you just bought.
Putting It All Together
Typical Daywear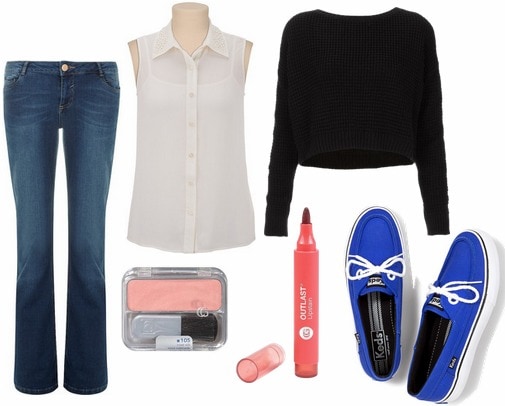 Product Info: Jeans – Dorothy Perkins, Top – Maurices, Sweater – Topshop, Blush – Walmart, Lipstain – Target, Shoes – Keds
This is a quintessential Ellen outfit with a college-girl twist. Sticking to neutrals, pair your favorite pair of bootcut jeans (admit it, we all have some!) with a sleeveless white blouse and a pair of loafers for an easy summer look.
For chillier days (or when the AC is blasting), throw on a fitted knit sweater. I chose this cropped one for its trendiness; leave the blouse untucked for a more casual vibe. Stick to clean-looking makeup, such as a dab of blush and a lip tint. The makeup shown above are both CoverGirl products, since Ellen is herself a Covergirl!
Pretty in Plaid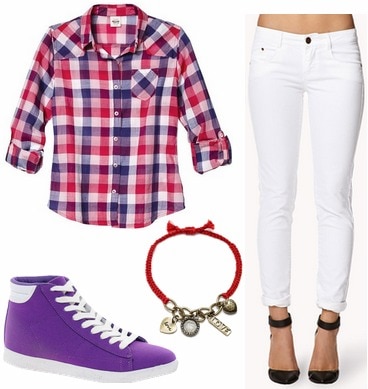 Product Info: Shirt – Target, Jeans – Forever 21, Bracelet – Macy's, Shoes – ASOS
Once again, this is another outfit very closely inspired by Ellen's preppy style. This is perfect for those days when you need to get ready in a hurry. Throw on a plaid top with sneakers and jeans in corresponding colors – in this case, purple and white. (Make sure that at least one piece is a neutral color.) Accessorize with a simple charm bracelet. This is the Ellen-inspired outfit for you if you can't live without your bright pops of color!
Dressy Casual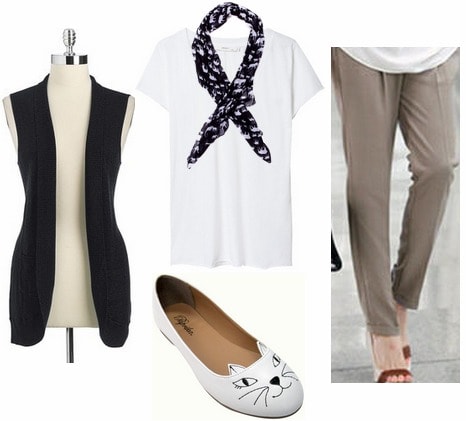 Product Info: Vest – Lord & Taylor, Scarf – 2b, Shirt – Zara, Slacks – YesStyle.com, Flats – Alternative Outfitters
One of my favorite outfit pairings of Ellen's is when she wears a vest with slacks. It's preppy without being overdone. Here's my take on the vest-slacks combo.
Tuck a classic white t-shirt into a pair of slinky dress pants for an effortlessly chic look. To give it a menswear-inspired vibe, add a black vest and a thin scarf tied like a tie. I wanted to play with the idea of attention grabbing shoes and, instead of choosing another version of bright sneakers, opted instead for these quirky cat flats.
Bonus: Ellen's Wedding Outfit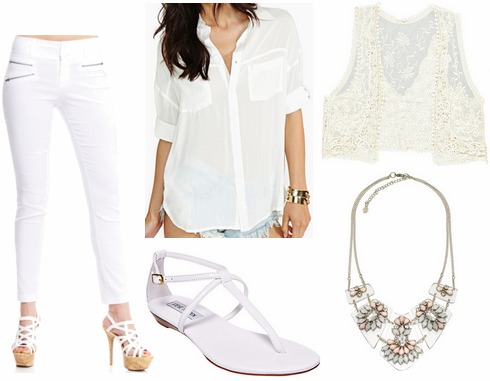 Product Info: Jeans – 2b, Blouse – Nasty Gal, Vest – boohoo.com, Sandals – Steve Madden, Necklace – Accessorize
I couldn't resist creating an outfit inspired by Ellen's spectacular wedding look. Her wife Portia wore a lovely white dress, and Ellen was a vision of beauty in her own rendition of bridal-wear. This outfit is meant to be attention-grabbing but casual – for a formal event, switch out the jeans for dress pants. (And, of course, never wear a white outfit to someone else's wedding.) You can see Ellen's wedding look here.
Since the outfit is all-white, I wanted to play with textures and fabric weights. Pair cotton jeans with a sheer blouse and layer a cropped lace vest on top. Wear open-toe sandals to enhance the ethereal vibe that an all-white outfit evokes. Though Ellen only wore very subtle jewelry, I decided that a flowery statement necklace went well with the outfit and completed the gorgeous summertime look.
Thoughts?
What do you think of Ellen DeGeneres? Are you a fan of her style? Do you like the outfits? Who should I cover next? Leave your comments below!