This post may contain affiliate links, which means we may receive a commission if you purchase through our links. Please
read our full disclosure here
.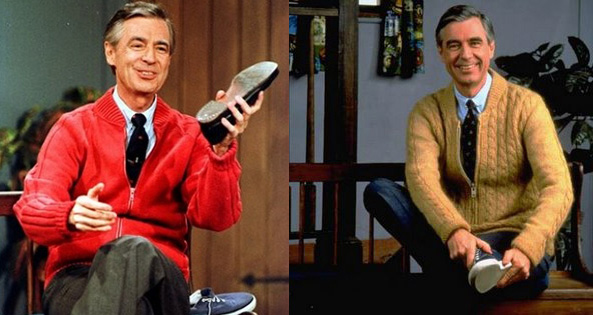 If there's any one TV star I can recall brightening my childhood weekdays right up, it's my main man Mr. Fred Rogers. From the adorable intro to his television show, to his everyday switcheroo from suit to cardigan, what's not to love about this man? He loved to teach kids and we loved to learn from him- even when it came to style.
Mr. Rogers' loungey prepster style is something I've always admired and coveted, so I think it's time we pay homage to this stylish man in khaki. Interested? Read on, neighbors!
Mr. Rogers' Wardrobe Essentials
1. Cardigans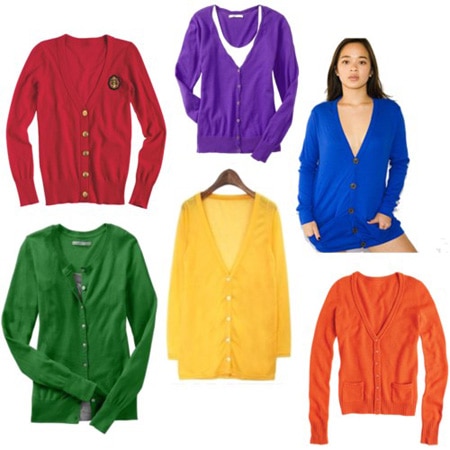 (Cardigans: Red, Purple, Blue, Yellow, Green, Orange)
Honestly, it would be impossible to write this post without featuring cardigans! If there was a Cardigan King, it would be our pal Fred here. I'm pretty sure he had a cardigan in every color of the rainbow in that closet of his. Whether it was button-up red, zip-up maroon, or hand-knitted taupe, Mister Rogers showed us how to rock this classy wardrobe staple- thrown over an oxford shirt and khakis for the ultimate in prepster loungewear.
2. Comfy Shoes
(Shoes: White Oxfords, Loafers, Blue Keds, Striped Toms, Brown Oxfords, Espadrilles)
A close second to his love of cardigans is Mister Roger's obsession with his adorable blue sneakers. In every episode, he would come into his house and change from his dress shoes to a pair of comfy blue kicks.
Fred's constant commitment to comfort over style is something that I wanted to convey in my shoe choices, which is why I went in search for shoes that would be comfortable yet still cool. I love, love, love those green loafers, the red striped toms, and the blue espadrilles above. And to keep an old classic alive, I also scrounged up a pair of blue Keds; they're perfectly classic, just like our favorite TV host.
3. Preppy Pants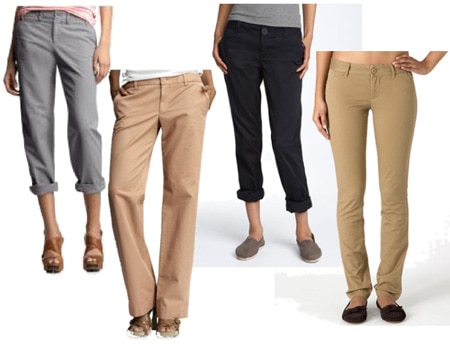 (Pants: Grey, Khaki, Black, Skinny)
When it comes to pants inspired by Mr. Rogers, be prepared for a breath of fresh air. No more of this of this blue jeans nonsense (although I managed to find one of a few photos in existence of Mr. R. wearing jeans on his show, above). Nope, instead we explore the wonders of pressed pants and cuffed khaki – Fred's favorites.
I love jeans as much as the next girl, but sometimes it's nice to wear something different, which is why I chose some fun pants in neutral colors like grey, beige, and black. I love how these look so much more relaxed than the usual denim uniform most of us wear- but also still manage to look put together and chic. Oh Mr. Rogers, what can't you do?
Outfit Inspired by Mr. Rogers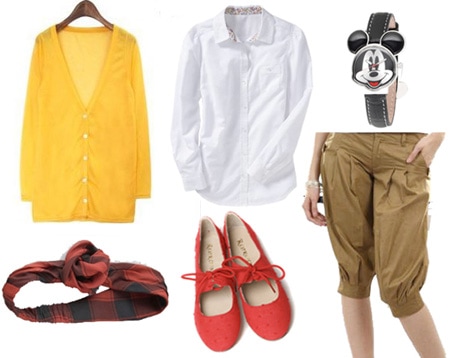 (Clothes: Cardigan, Button Up, Watch, Headband, Flats, Pants)
For my outfit inspired by Mr. Rogers, I pulled out all the stops.
I started off with a white oxford button up, pairing it with some truly heaven-sent cropped pleated pants. For your feet, I chose the cutest little red flats you could ever imagine; and for the opposite end (your head), I pulled a cute checkered headband that can be worn either hippie headband style, or the traditional style (depending on your preference). For some color contrast, I picked out a lovely yellow cardigan, and last but definitely not least, to add some whimsy to the outfit, I found the cutest watch in the whole world, with our friend Mickey Mouse on it. Wear this outfit, and I guarantee you'll be whistling Dixie- Mr. Rogers would be so proud.
Thoughts?
At the end of the day, I have no problem admitting it: I truly love this man's style. Mr. Rogers always managed to be effortlessly prepster chic while still putting comfort first- something everyone should keep in mind when getting dressed day to day.
Now I want to know what you think! Do you find Mr. Rogers' style as inspiring as I do? Did you watch his show? Did you like my outfit breakdowns and inspired outfit? Whatever your thoughts, let me know in the comments!