Now that I'm kind of, sort of, maybe an adult, I have a job; this job requires me to be at a place five days a week for 8 hours a day, wearing office-appropriate clothing. I'm lucky that my workplace has a pretty lax dress code, but certain things that I wore on the reg in college – liquid leggings as pants, ripped or bleached band tees, sheer shirts with lacy bras – don't exactly fly in the office.
So lately, I've found myself in a fashionable bind. It's hard to justify buying a beautiful kimono or skater skirt I may only wear two days of the week, but work clothes can be so dull and sad. Who wants to spend their life in basic black pencil skirts and starchy blouses? Not me!
Your fashion life doesn't have to end with your office job; you CAN incorporate some of your favorite pieces into your work wardrobe with a little creativity and discretion. In this Fashion Inspired by Art post, I'll show you how using works from Utagawa Hiroshige's "One Hundred Famous Views of Edo".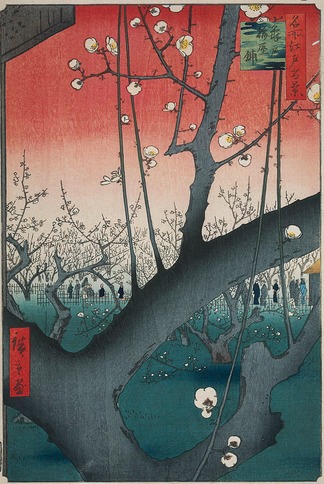 Utagawa Hiroshige's "Plum Park in Kameido (#30)" (1857) via Wikimedia Commons. (Click image to enlarge.)
About ukiyo-e and "One Hundred Famous Views of Edo"
"One Hundred Famous Views of Edo" is one of the most recognizable works of Asian Art in the Western World, and consists of roughly 118 ukiyo-e woodblock prints.
Ukiyo-e ("Scenes of the floating world") was the prominent style of the Edo period (the 17th to 19th centuries). Where previous artworks were handpainted, these color-blocked prints were easily reproduced, and therefore much cheaper. Similarly, the subjects of most ukiyo-e prints were famous Kabuki actors, beautiful geisha, or scenes of urban life. The lower price of art, as well as the accessibility of its content, make ukiyo-e very popular with the Japanese middle class.
No one did ukiyo-e better than Utagawa Hiroshige, whose artistic career was marked by several series of woodblock prints of Edo, (modern-day Tokyo) the new capital of Japan. "One Hundred Famous Views of Edo" was his final series, and showed the most recognizable sights of the city in all seasons. Hiroshige died in 1858, the same year the series was completed.
The influence of this series (and ukiyo-e in general) in the Western World is staggering. Vincent Van Gogh was hugely inspired by Hiroshige, and created two almost identical paintings of two prints in the series. Artists such as Degas, Manet, Monet, Toulouse-Latrec, and Whistler have also claimed inspiration from this series and ukiyo-e, and many manga artists trace their art form back to ukiyo-e. Without ukiyo-e, we might not have cultural institutions like Sailor Moon, Full Metal Alchemist, Ouran High School Host Club, or Attack on Titan. (The horror, Leah!)
Outfits Inspired by "One Hundred Famous Views of Edo"
I know what you're thinking: "OMG Sara, what does this have to do with work outfits?" I know, I know, I'm sorry. I just have so many thoughts and feelings. I'm getting there!
I like this series of artwork because it's subtle in color, but striking and thoughtful in composition… sort of like the opposite of a Rothko. In a gallery or museum, you would notice it, but you could choose to sit with it and think about it, or you could choose to glance at it and move on. Some art demands to be paid attention to, because it has details that you MUST notice to understand the art – this not like that, but that doesn't mean that the interesting details aren't there.
This is the kind of subtle, thoughtful philosophy that I apply when I'm dressing for work. I pick one or two striking elements and mix them in with basic work-wardrobe building blocks. This way, I look fashion-forward AND professional. The details are there, but they don't overwhelm the big picture.
The Floral Jumpsuit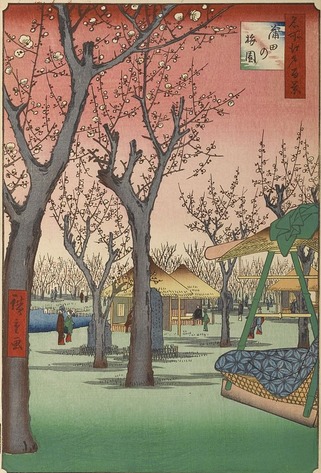 Utagawa Hiroshige's "Plum Orchard in Kamada (#27)" (1857) via Wikimedia Commons. (Click image to enlarge.)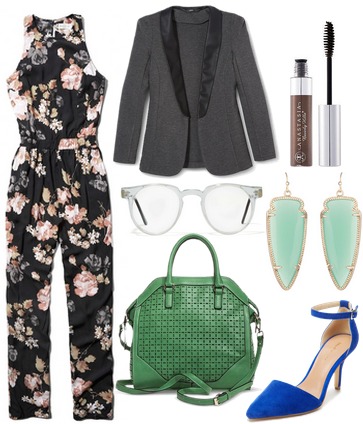 Jumpsuit, Blazer, Tinted Brow Gel, Frames, Earrings, Bag, Heels
Matching separates for work has been a thing for a while now, so while you may balk at the idea of wearing a cutesy jumpsuit to work, your co-workers probably won't even bat an eyelash if you pair it with the quintessential adult-camo pieces – a sharp blazer and heels.
The bold but feminine floral pattern and pale pink color of the jumpsuit are paired with crisp green accessories, which is reminiscent of the color scheme in "Plum Orchard", while the blue heels add an unexpected, trendy element.
Finish your look with a polished high bun, bold brows, and large frames. Nothing says, "I go this, yo" like having your eyebrows on fleek.
The Slouchy Trouser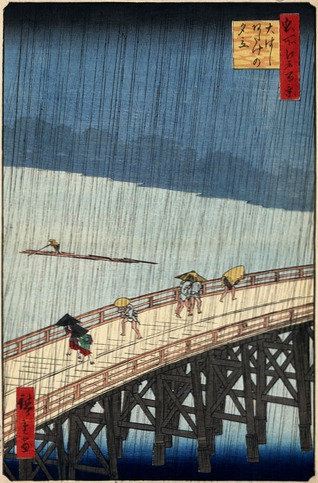 Utagawa Hiroshige's "Sudden Shower over Shin-Ohashi bridge and Atake (#58)" (1857) via Wikimedia Commons. (Click image to enlarge.)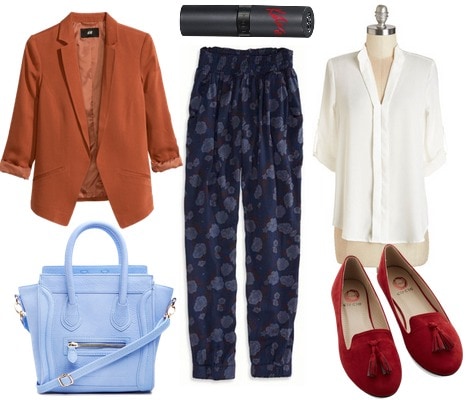 Blazer, Lipstick, Trousers, Blouse, Bag, Flats
My last year of college, I became a little obsessed with harem pants and slouchy trousers. Pants that look sharp, feel like sweatpants, and don't tattoo me with a red impression line around my waist? Yaaas please. (Speaking of which, why you gotta do me like that, high-waisted jeans?)
Still, I struggle to wear them to work sometimes. How can something so comfy possibly be professional? Does not compute. But if you can power through dat cognitive dissonance, your slouchy pants won't be just your lazy Sunday staple.
Since slouchy trousers are so… slouchy… keep the rest of your outfit streamlined and minimal. A fitted camel blazer, a silky white button-down, and a structured tote are perfect for this, while tasseled smoking shoes add a fun, youthful element. The strong primary color scheme ties it back perfectly to "Sudden Shower", one of the most skillfully executed woodblocks in the series, considered by some to be Hiroshige's masterpiece.
Cropped Sweater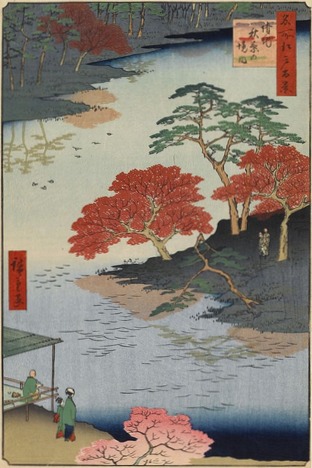 Utagawa Hiroshige's "In the Akiba Shrine at Ukeji (#91)" (1857) via Wikimedia Commons. (Click image to enlarge.)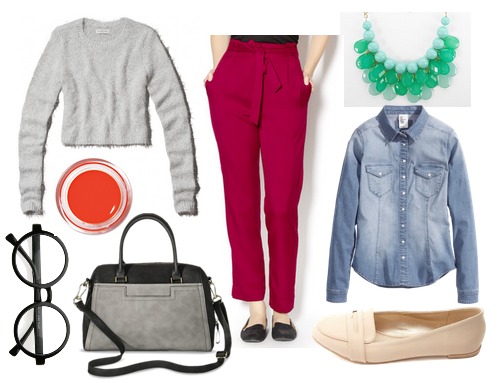 Sweater, Gelee Blush, Frames, Bag, Trousers, Necklace, Chambray Shirt, Flats
Nothing says transitional autumn piece quite like a cropped sweater. Problem is, skin isn't exactly "in" in most office environments, so how do you pull off the trend without baring too much? This is a situation where layering is your best friend; a thin chambray shirt underneath your sweater creates an interesting layered look that keeps you covered enough for meetings and warm enough to keep you cozy in your frigid cubicle. Or, if you'd rather, tuck the shirt into a pair of high-waisted trousers for a more polished look.
Keep most of your accessories neutral, though I think any collared shirt looks a little more polished and fashion-forward with a statement necklace peeking out underneath. Round frames and a rosy blush will add another youthful element to this ensemble.
Cat Dress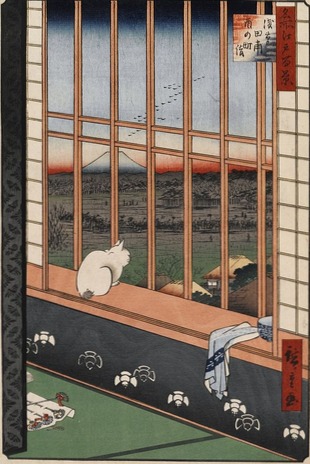 Utagawa Hiroshige's "Asakusa Ricefields and Torinomachi Festival (#101)" (1857) via Wikimedia Commons. (Click image to enlarge.)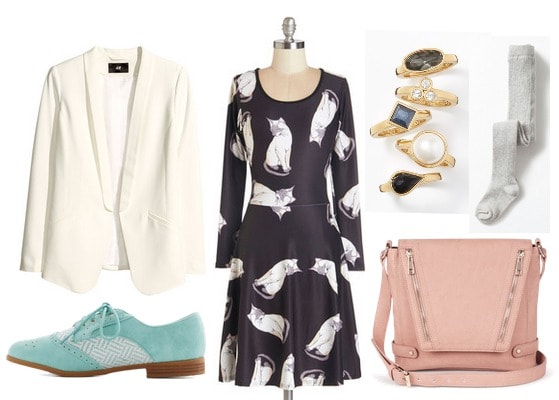 Blazer, Brogues, Dress, Rings, Tights, Bag
How cute is the bob-tailed kitty in this print? So cute I want to die, and/or wear it all over my body. Cue the cat dress!
Nothing really screams 'youthful' like a skater dress with a cat print on it, right? How could this possibly be work-appropriate? Simple: you're young. It's okay to wear youthful clothes to the office; youthful and professional aren't mutually exclusive. Keep the rest of your outfit simple and polished, and don't be afraid to include other youthful elements, like stacked rings or tights (why fight it?)
If you guys take away anything from this post, it will be "put a blazer on it", right?
What do you think?
What do you think of Hiroshige's "A Hundred Famous Views of Edo?" What are your favorite pieces to wear to work? What is your workplace dresscode like? Let me know in the comments below!