This post may contain affiliate links, which means we may receive a commission if you purchase through our links. Please
read our full disclosure here
.
This week in Fashion Inspired by Art, we'll be discussing Sandro Botticelli's Primavera. This painting matches up perfectly with the warm weather we're finally experiencing (at least in VA!) that denotes the spring season. I hope you all enjoy!
Spring into Fashion: About Sandro Botticelli's "Primavera"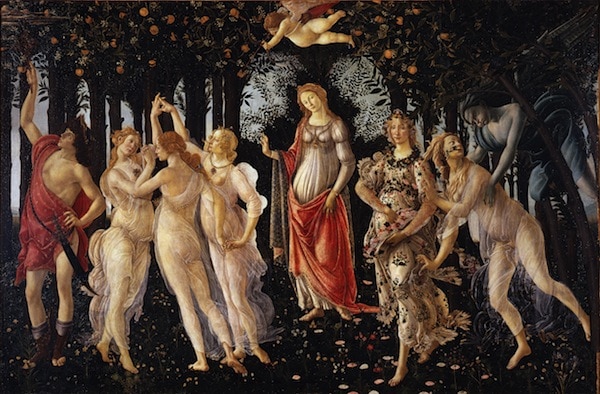 Sandro Botticelli's Primavera (c. 1482) via Wikimedia Commons
Sandro Botticelli (c. 1445 – 1510) was a famous early Italian Renaissance painter. He was a member of the Florentine school under the patronage of the Medici family, who were a power political and royal family during the Renaissance. He is most well-known for his paintings Primavera and The Birth of Venus, both of which depict classical figures with modern proportional ideals. His subjects are commonly taken from the writing of Roman poet Ovid, who wrote one of the most detailed descriptions of classical mythology (Metamorphoses).
Primavera(also known as Allegory of Spring) depicts several figures relating to the spring season. The composition is centered around Venus, the Roman goddess of love, beauty, and fertility, and her son, Cupid, above her. On the far right of the is the figure of the wood nymph, Chloris, being seduced by the first wind of spring, Zephyr. After she is ravished, Chloris is transformed into Flora, the figure on Venus' immediate right. Flora is the goddess of flowers and spring, hence the Italian translation of the title as "Spring".
On the left side of Venus are the Three Graces: Aglaea ("Splendor"), Euphrosyne ("Mirth"), and Thalia ("Good Cheer"). Lastly, the figure on the far left is Mercury, the Roman god of messages, commerce, luck, and trickery. Mercury is thought to be based on one of the Medici, Lorenzo di Pierfrancesco de' Medici, making him an allegorical figure of prosperity as well.
Outfits Inspired by "Primavera"
Flirty Flora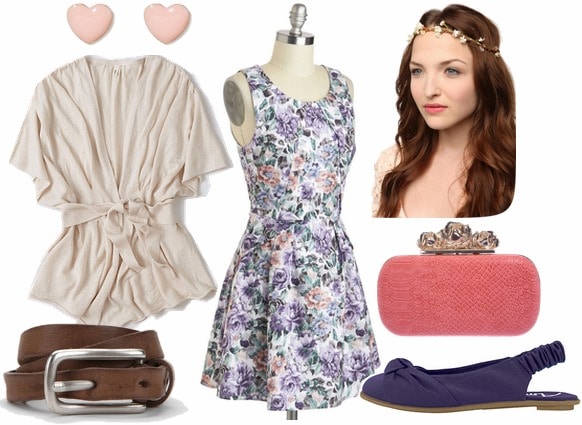 Earrings, Cardigan, Belt, Dress, Headband, Clutch, Flats
Channel your inner Flora with this brightly colored, spring-inspired outfit. Keep up with the floral trend with a printed dress, rose-handled clutch, and delicate headband. Cinch your waist with a belt for a feminine look — try it over both the dress and the cardigan! Slip on a comfy pair of purple flats and some adorable pink heart earrings for a casual, yet cute look. After all, who doesn't love the ease and style of a sundress?
Gorgeous Grace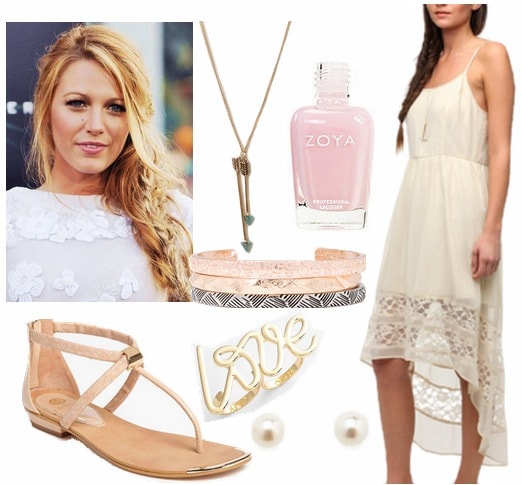 Ring, Sandals, Earrings, Dress, Bracelets, Nail Polish, Necklace | Hair and makeup photo via ELLE
For this outfit, I was inspired by the Three Graces and their effortless beauty. For a simple look, throw on a cream-colored high-low dress that will look beautiful blowing in the light spring wind. Next, focus on cute accessories. Try a soft pink nail polish aptly named "Grace", as well as a pair of pearl earrings inspired by the bands of pearls in the Graces' hair. Tie in the central figure, Venus, with an arrow necklace and a ring that spells love. Lastly, style your hair in a loose fishtail for a bohemian-meets-poolside look.
Mesmerizing Medici Mercury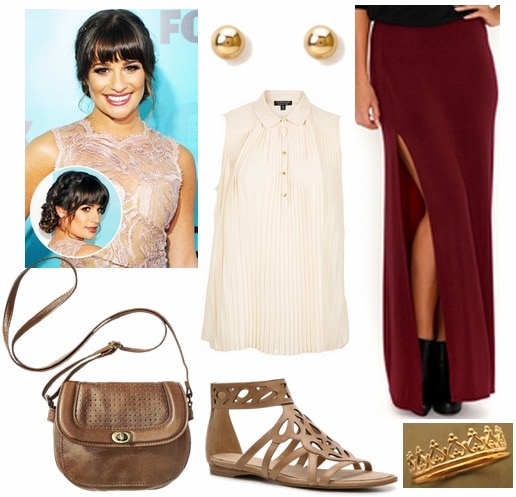 Sandals, Blouse, Earrings, Bag, Ring, Skirt | Hair and makeup photo via ELLE
For a take on Mercury's garb, try a long side-split maxi skirt and a cross-body bag to symbolize the messenger god. To represent the Medici, add a crown ring and a set of gold ball earrings, both of which appear on the Medici Coat of Arms. Throw on some Roman-inspired gladiator sandals and pleated blouse for a classical look. Finish the style by pulling your hair back in a braided chignon, creating a chic classical vibe.
What do you think?
Have you seen or studied Botticelli or this painting before? Do you like Primavera? What do you think about Renaissance art? What do you think about the inspired outfits? Which one is your favorite? Let me know in the comments below, I'd love to hear your opinions!