This week's Fashion Inspired by Art post draws inspiration from a Japanese architectural beauty. Keep reading for three looks that reflect upon both the work of art and the culture from which it originated.
About Osaka Castle
Located in Chuo-ku, Osaka, Japan, Osaka Castle sits atop two raised platforms of rock. Though war weathered down the original fortress to near oblivion, numerous restoration projects in the past few decades have repaired Osaka Castle to its original grandeur.
In the sixteenth century of the Azuchi-Momoyama period, Toyotomi Hideyoshi started the construction of the castle. After numerous altercations, the location was vital in unifying Japan. The castle boasts defensive architectural features that seem purely ornamental now: charming narrow windows (out of which soldiers would throw rocks or boiling water) and elegant sloping walls (to prevent invaders from scaling the facade) decorate the exterior.
Outfits Inspired by Osaka Castle
Sakura Summer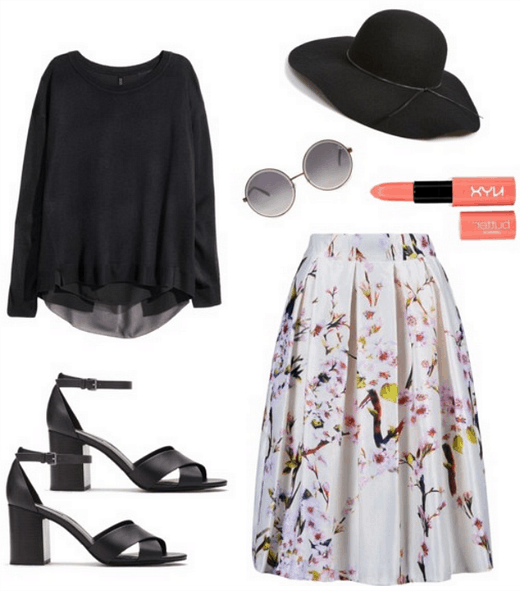 Sweater: H&M, Skirt: Amazon, Shoes: Forever 21, Hat: Nordstrom, Sunglasses: Quay, Lipstick: NYX
Sakura (or cherry blossom, in Japanese) normally bloom in the springtime. The blossoms frame Osaka Castle beautifully, inspiring the focal point of this outfit: a cherry blossom-printed skirt. I wanted to create a look that came across as full of life and refreshing, yet was still grounded in formality. As such, I contrasted black chunky heels and a black felt hat with a loose-fitting sweater and bright skirt.
A soft peach lipstick brings color and life to your makeup look. NYX carries my favorite drugstore lipsticks, and I definitely recommend their other lip products, too. To complete this sophisticated outfit, I included lightly-tinted round sunglasses.
Pastel Schoolgirl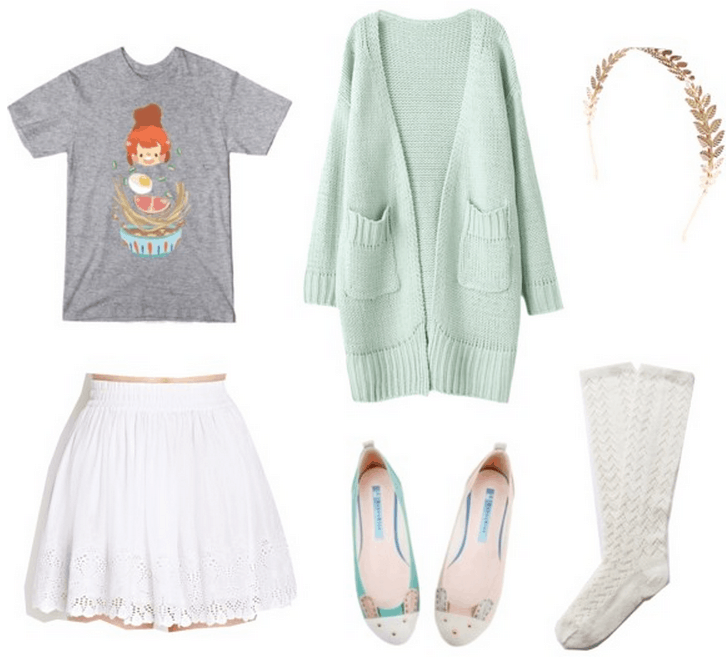 T-Shirt: Teepublic, Skirt: Forever 21, Cardigan: The Wildflower Shop, Headband: Wet Seal, Flats: Le Bunny Bleu, Socks: Etsy
As an avid consumer of shoujo anime, I have always loved Japanese schoolgirl fashion. Osaka Castle's pastel mint accents reminded me of the soft, feminine details in a shoujo anime character's outfit. Thanks to the fashion in Kyoukai no Kanata, I love pairing chunky, oversized cardigans with a flouncy skirt peeking through. The t-shirt pictured is a cute homage to Ponyo, a classic Japanese animation film.
Japanese fashion features many quirky details in everyday outfits, so I included bunny flats instead of plain ones. A gold headband, inspired by the gold decorative features on Osaka Castle, tops the whole outfit off.
Tennis Royale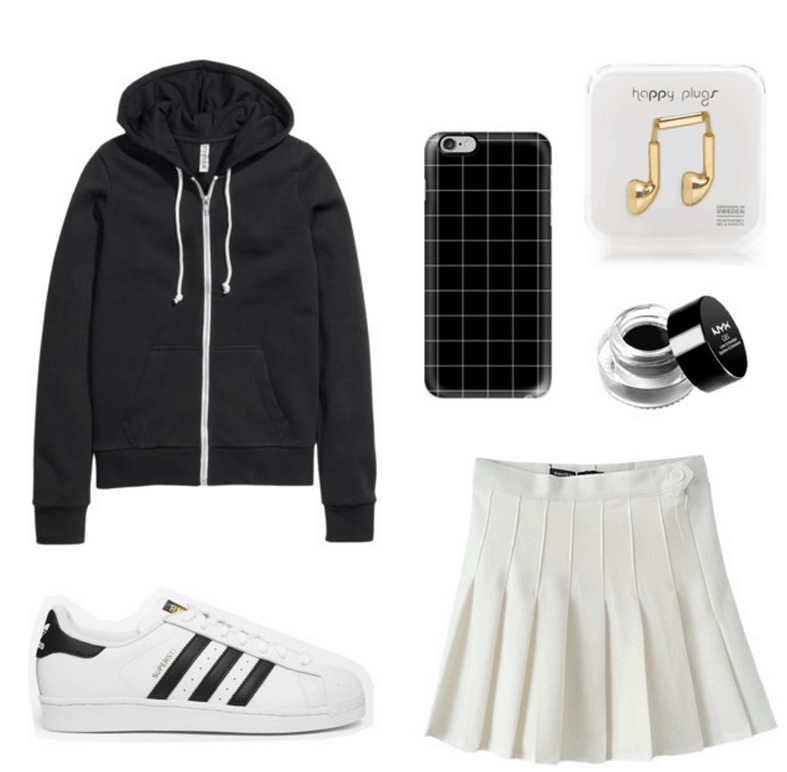 Hoodie: H&M, Skirt: ASOS, Sneakers: ASOS, Phone Case: Casetify, Earbuds: OtteNY, Eyeliner: NYX
In line with Osaka Castle's purpose as a defensive structure, I put together an outfit meant for comfort and durability. Tennis fashion remains a popular trend in Asia, and Japan in particular. The trend strikes a balance between versatility and style, much like Osaka Castle. As aforementioned, the castle's rigid, sloping structure was meant for function just as much as it was meant for beauty.
Most college students already own a hoodie, a skirt, and a pair of sneakers, so this look was meant to tie together items you already own in a way you may not have thought of. To accessorize, I drew inspiration from the grid pattern created by the topmost windows of the castle. The phone case design is simple but still full of personality. Headphones can be an accessory, too, especially ones with a metallic finish.
Final Thoughts
I have loved Japanese culture for many years. From the language to the fashion to the art, I try to draw inspiration from every aspect of Japanese culture. Osaka Castle is just one of many stunning facets of Japanese art– but already it fragments whimsy into the contrasting textures of the first outfit, the pop culture-inspired mix of the second outfit, and the modern femininity of the third outfit.
Poignant architecture is more than just the columns and friezes heralded by Western narratives, something I would love to expose to you all throughout this series.
What do you think?
Do you also love Japanese architecture? Have you ever visited Japan? If so, what can you tell me about their street style? What would you like to see in the next Fashion Inspired by Art post? Let me know in the comments below 🙂