This week's Fashion Inspired by Art focuses on a piece from a Russian avant garde artist: Natalia Goncharova's "Sheep Shearing." Read on to learn more about the painting and to see three chic outfit ideas inspired by this work of art:
About Natalia Goncharova's "Sheep Shearing"
Natalia Goncharova's "Sheep Shearing" (1907) via Wikimedia Commons
The Russian avant garde movement produced a large number of successful female artists, one of whom was Natalia Goncharova (1881-1962). Goncharova was an extremely versatile artist, experimenting in Cubism, futurism, and neo-primitivism. She also dabbled in theater, costume, and textile design.
In 2007, a Goncharova piece was sold for 9.8 million, a new record for female artists. That record was later broken when another of her pieces was sold for $10.8 million.
"Sheep Shearing" is one of Goncharova's earlier works and part of her neo-primitivism stage. Goncharova drew influences from traditional Russian folk art, as seen in the pastoral nature of the subject matter as well as the vibrant colors. Broad strokes and plenty of stylization continue the casual, homey feel.
While she focused on Russian folk art in the beginning of her career, it was Goncharova's later, more abstract works that made her famous. Nonetheless, her earlier works are still considered important parts of Russia's art history.
Outfits Inspired by Natalia Goncharova's "Sheep Shearing"
Caress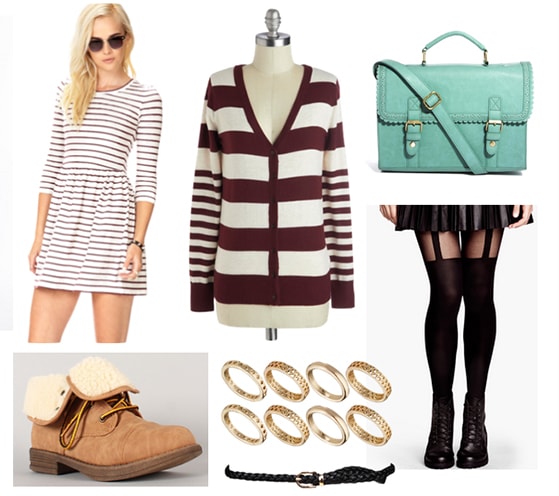 Dress, Cardigan, Bag, Boots, Rings, Belt, Tights
Draw inspiration from the woman in the red dress and her stripes by mixing prints. While mixing prints might seem tricky, keeping them similar – in this case thick and thin stripes – prevents the look from becoming too much.
A satchel in a seafoam hue similar to the blanket wrapped around the sheep adds an unexpected pop of color. Finish off the outfit with some warm shearlingboots and simple jewelry.
Shear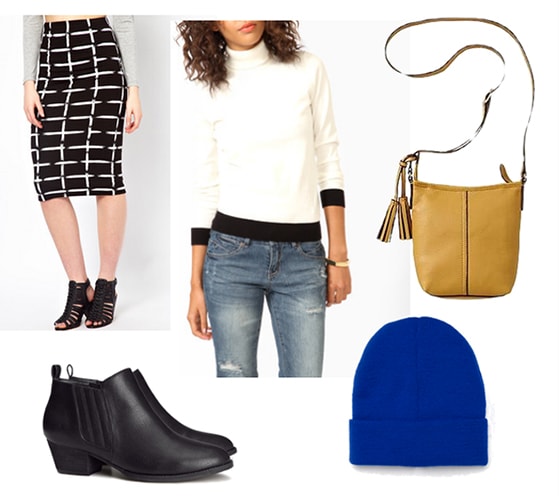 Skirt, Sweater, Bag, Boots, Hat
Geometric gridprints, like the ones the two women in the front are wearing,are on-trend and an easy look to replicate. Wear a grid print skirt with a turtleneck. Either leave it tucked in for a more "proper" look or keep the turtleneck baggy and loose for a more casual, artsy vibe.
Goncharova's painting is full of vibrant colors that shouldn't be forgotten. Punch up an otherwise monotone outfit with bright accessories, like a cobalt beanie and mustard bucket bag.
Folk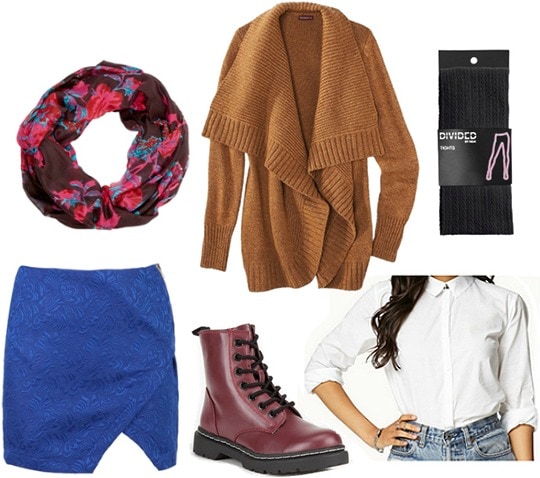 Scarf, Skirt, Cardigan, Boots, Tights, Shirt
In this painting, Goncharova used rich primary colors, which were drawn from traditional Russian folk art. Channel that warmth and richness with a cozy cardigan and brocade skirt.
Opaque tights and a colorful scarf make the ensemble perfect for fall, while combat boots make it easy to get across campus on rainy or even snowy days.
What do you think?
Do you like Goncharova's work? Which of her genres do you like the most? What do you think about the inspired outfits? Which one is your favorite? Let me know in the comments below, I'd love to hear your opinions!