This post may contain affiliate links, which means we may receive a commission if you purchase through our links. Please
read our full disclosure here
.
This week's Fashion Inspired by Art is inspired by Marie Laurencin's "Portrait of Mademoiselle Chanel." Read on to learn more about the painting, as well as see three chic outfit ideas inspired by this work of art:
About Marie Laurencin's "Portrait of Mademoiselle Chanel"
Marie Laurencin's "Portrait of Mademoiselle Chanel" (1923) via Wikimedia Commons
Marie Laurencin (1883-1956) was a Parisian Cubist painter – a member of both Pablo Picasso's circle and the circle associated with Section d'Or, another major Parisian avant garde art collective. Laurencin painted mostly groups of women in her unique style, which involved reducing figures to their most basic forms. She used fewer harsh, angular lines and more delicate pastel colors than other Cubist painters. The feminine energy in her paintings can be interpreted as a reaction to the masculinity of Cubism.
"Portrait of Mademoiselle Chanel" was done at the request of Coco Chanel. Laurencin was working on the costumes and sets of a play and met Chanel, who was designing costumes for the same theatrical company.
However, Chanel did not care for the painting, saying it did not look like her. I'll admit, the first time I saw this painting, I was a bit confused by title–I did not see Mademoiselle Chanel but instead saw what could be a dress by Raf Simons at Dior.
Outfits inspired by "Portrait of Mademoiselle Chanel"
Take a Bow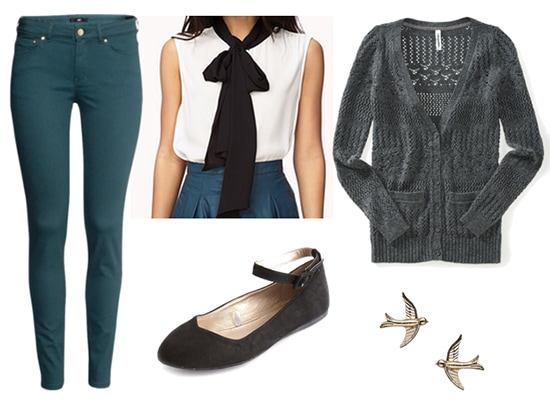 Pants, Top, Shoes, Cardigan, Earrings
Get a look similar to Chanel's long, thin black scarf with a pussy bow blouse. Dreamy bird earrings and ankle strap flats keep the feminine look going without being too fussy, much like Laurencin's painting style. For those colder days or lecture halls with the AC on high, finish off with a knitted cardigan.
Baby Blues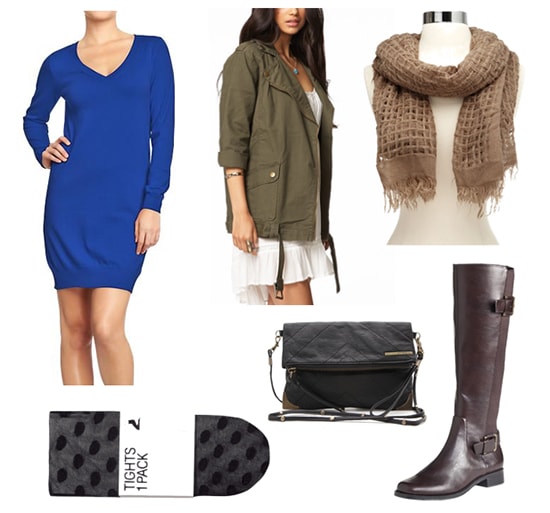 Sweater Dress, Tights, Jacket, Bag, Scarf, Boots
Start off with a blue sweater dress that's just as bright as Chanel's frock. The weather's starting to transition into fall, so pile on a warm scarf that's just as soft as the puppy in Chanel's lap, as well as tights and a pair of riding boots. A menswear-inspired jacket gives a little nod to both Laurencin and Chanel: the former for her prominence in a very male dominated circle, and the latter for popularizing a more tomboyish look.
Relax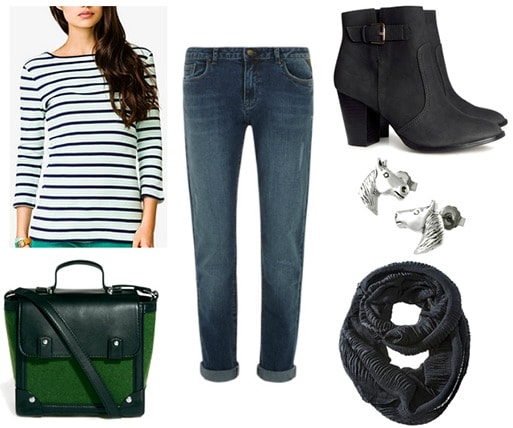 Shirt, Bag, Jeans, Boots, Earrings, Scarf
Channel the relaxed and loose style of Laurencin's painting with a pair of oversized boyfriend jeans. A striped blanket is draped behind Chanel, but there's no reason why it shouldn't star as inspiration for a breton top. Balance out the boyfriend jeans with a pair of heeled booties. Accessorize with a scarf and horse-shaped earrings.
What do you think?
Do you like Laurencin's style? What do you think about the inspired outfits? Which one is your favorite? Let me know in the comments below, I'd love to hear your opinions!