This post may contain affiliate links, which means we may receive a commission if you purchase through our links. Please
read our full disclosure here
.
Fashion, in its essence, is wearable art. Think about the clothes you're wearing now: someone designed them, manufactured them, advertised them, and then you bought them and combined them into your own look! Here at CF, we're big believers in this idea: from movies to books to music and more, our posts aim to prove that all creative mediums can inspire one's clothing choices.
This week in Fashion Inspired by Art, we'll be discussing King Tutankhamun's Golden Funerary Mask. I hope you all enjoy!
The Young Pharaoh: About King Tutankhamun and His Burial Objects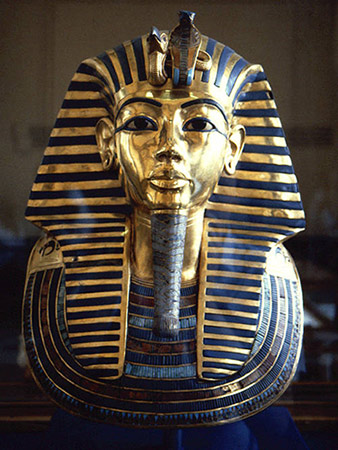 King Tutankhamun's Golden Funerary Mask | Click image to enlarge.
Photo by Jon Bodsworth [see page for license], via Wikimedia Commons
King Tutankhamun (c. 1341 – 1323 BCE) was an Egyptian pharaoh during the "New Kingdom" period. Although more commonly known as King Tut, his actual name literally means "Living Image of Amun", Amun being the principal god during the New Kingdom era. Although King Tut was exceedingly young when he became pharaoh (only 9 years old!), his life was not particularly influential.
At this point, you might be thinking, "so why do I care about this kid?" Well, the reason that everyone knows about King Tut is because of the lucky discovery of his tomb in 1922.
Why was the discovery of Tut's tomb so important? It starts with the way tombs were marked – since most pharaonic tombs have large visual markers (like the Great Pyramids of Giza, for example), the majority of them have been raided over the course of history, leaving few to no artifacts behind. Chief archaeologist Howard Carter became the Indiana Jones of his time for finding Tut's tomb nearly completely in-tact, which not only revealed important information about King Tut, but also about the culture and customs of the New Kingdom period.
King Tutankhamun's "funerary mask" was among the items found in his tomb, and is perhaps the most famous. Found in the innermost mummy case of his tomb, the funerary mask (also called a "death mask") depicts the face of Tutankhamun, and was placed over the pharoh's face in his tomb. It is made of gold and inlaid with colored glass and semiprecious stones.
Outfits Inspired by King Tutankhamun
Charismatic Cobra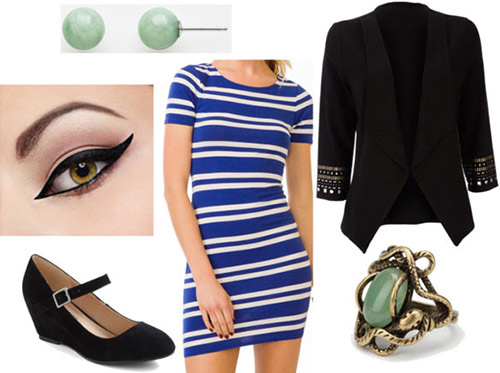 Earrings, Dress, Blazer, Heels, Ring | Makeup photo via ELLE
King Tut's burial mask is the most well-known treasure from the tomb, and for good reason — not only is it the most well-crafted, but its estimated worth is over a million dollars (and growing)! For an outfit inspired by this iconic piece, I wanted to choose items that would stand the test of time.
When creating this outfit, I was inspired by the mask's striped headpiece and its alternating metallic and vivid colors. I chose to draw attention to the strong blue of the dress, adding more muted colors with the accessories, like simple black black heels and jade-colored studs.
On the mask, the vulture and snake above Tut's brow symbolise the pharaoh's sovereignty over Upper and Lower Egypt, respectively. In this outfit, the snake ring maintains the striped pattern of the dress, as do the sleeve accents on the blazer. Finish this classic look with strong black winged eyeliner, seen on King Tutankhamun himself.
Queen of the Nile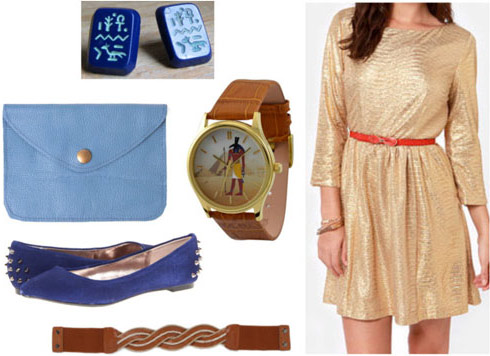 Earrings, Clutch, Watch, Dress, Flats, Belt
Although he was a very young ruler, Tut's tomb is an excellent example of the lavish wealth bestowed upon Egyptian kings. This look showcases rich, luxurious colors and textures, befitting of an Egyptian queen.
The color gold is synonymous with wealth throughout numerous cultures, and you'll definitely feel like a million bucks in this dress. The metallic sheen looks fancy, while the accessories keep it casual enough to wear out to lunch. This look is all about feminine pieces meeting whimsical accessories. (The earrings and watch have a literal Egyptian feel, but you could definitely go more subtle if you wanted!)
To change this outfit up for night, swap the studded flats for some strappy heels and sweep on a smokey, golden eye.
Rosetta Stone Restored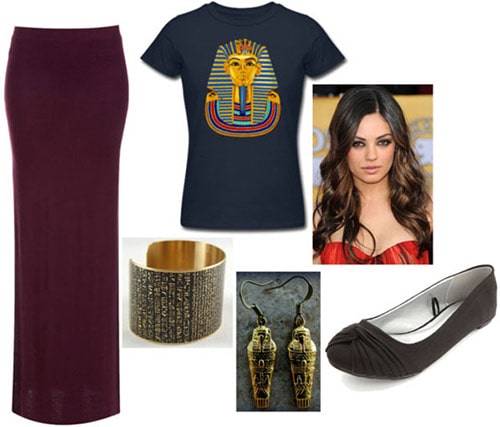 Skirt, Shirt, Cuff, Earrings, Flats | Hair photo via ELLE
The Rosetta Stone was inscribed with three separate languages, eventually leading to the decryption of Egyptian hieroglyphics. In this way, it provided a link between ancient and modern cultures. Although it was written a great deal after Tut's rule (196 BCE), the Rosetta Stone, like Tut, symbolizes the intersection between old and new.
For this look, I worked to create an intersection of old and new, while also being inspired by the colors in the necklace on the funerary mask. The gold accessories are a nod to Egyptian artistic traditions, while the graphic tee and side-split maxi skirt reflect modern style. Keep the look relaxed and comfortable with loose, sexy curls and simple black flats.
What Do You Think?
Have you seen or studied Egyptian artwork before? Do you enjoy the colorful ornamentation typical of ancient Egyptian artifacts? What do you think about the inspired outfits? Which one is your favorite? Let me know in the comments below, I'd love to hear your opinions!