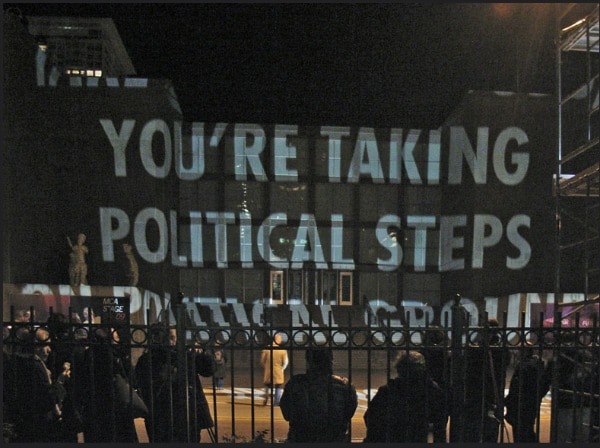 Jenny Holzer's "Protect Protect" (2008-9) | Photo Credit
I'm not sure if this is a liberal arts college thing, an arts/humanities thing, or just a me thing, but it seemed like there were certain subjects, artists, and writers that I just could NOT escape in undergrad.
For example: there was one week my sophomore year where the Bystander Effect and the Kitty Genovese case was talked about in my Psych 101 class, my Ethics 201 class, and my Intro to Drawing class. Louise Bourgeois, Adrienne Rich, and Seamus Heaney all died while I was working on papers or projects about them. And it seemed like I couldn't sneeze at an art, art history, or writing class without someone bringing up Jenny Holzer.
I'm glad they did – I LOVE me some Jenny Holzer. I first saw her work as a first-semester freshman, in my first studio art class, and I was really inspired by the fact that she considered words to be her medium. She is a writer and an artist, but she doesn't see them as two separate practices – her writing is her art.
She inspired me to explore the ways I could incorporate my writing in my art. This lead me to bookmaking, to installation, to letterpress printing, and to visual poetry classes. So, for this Fashion Inspired by Art post, I thought I would feature one of the artists who inspires me the most. I hope you love her as much as I do.
About Jenny Holzer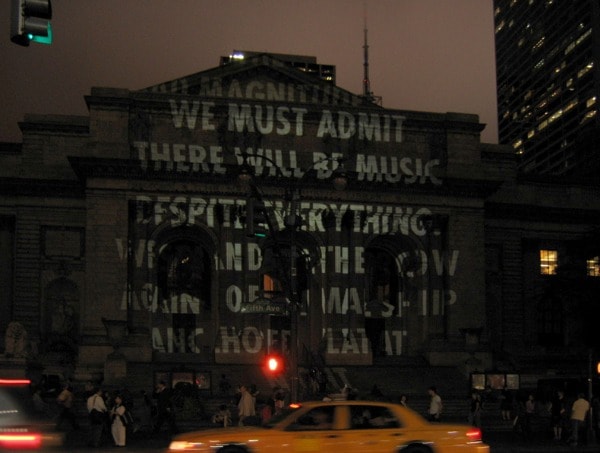 Jenny Holzer's "For the City" (2005) via Wikimedia Commons
Jenny Holzer is one of the most successful and widely exhibited woman artists of the 20th and 21st centuries. Born in Ohio in 1950, Holzer originally intended to be an abstract painter, and studied art at Duke University, University of Chicago, Ohio University, and Rhode Island School of Design, where she earned her MFA. She moved to Manhattan in 1976, and took part in programs at the Whitney Museum, where she first worked with writing, public art, and installation.
Her first public art project was 1977-9's "Truisms", a series of printed broadsides that featured brief but subversive statements of truth that were wheat-pasted anonymously to structures in Manhattan. In 1982, Holzer was allowed usage of the Spectacolor board in Times Square for an installation. Holzer was then sponsored by the Public Art Fund, which lead her to the usage of LEDs and projections, her most recognizable medium.
In 1990, Holzer was invited to represent the United States in the Venice Biennale, where she was awarded a Leon d'Oro. Since 1990, Holzer has exhibited at the Reichstag, the Guggenheim Museums in New York and Bilbao, and the Whitney Museum, as well as the stores of fashion houses like Helmut Lang. In 2011 she received the Barnard Medal of Distinction. She has also published several books of her writings.
Holzer's writing and artwork is extremely political and explores the relationships between the powerful and the oppressed. It often includes very powerful feminist messages, as well as dry and sarcastic humor. Her most recent works involve declassified and redacted documents from the Iraq war.
Outfits Inspired by Jenny Holzer
Though Holzer's work seems intense, she can also be really, really funny. When I first saw statement tees and sweaters popping up a couple of seasons ago, I couldn't help but be reminded of Holzer's work – especially the tees and sweaters with solid white or black backgrounds, like Holzer's broadsides.
The following outfits are centered around statement pieces – ones that are smart, funny, and feminist-y, just like a Holzer work.
PROTECT ME FROM WHAT I WANT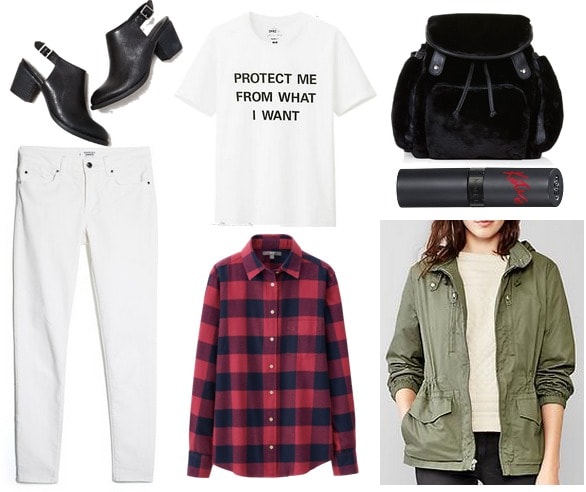 Booties, Jeans, T-Shirt, Flannel, Backpack, Lipstick, Anorak
A graphic black-and-white base, like white jeans, a white graphic t-shirt, and black booties provides the same stark canvas for your shirt's message (one of Holzer's most recognizable truisms) as a printed broadside. Adding a few tough yet trendy touches, like layers of red flannel and a warm anorak (tie the flannel around your waist for an extra-trendy look), will liven up the outfit without distracting from its focus.
Add a luxe-looking faux fur backpack and a bright red lipstick for color, and you have the perfect comfy-casual look for your feminist art history class or your creative non-fiction workshop.
ROMANTIC LOVE WAS INVENTED TO MANIPULATE WOMEN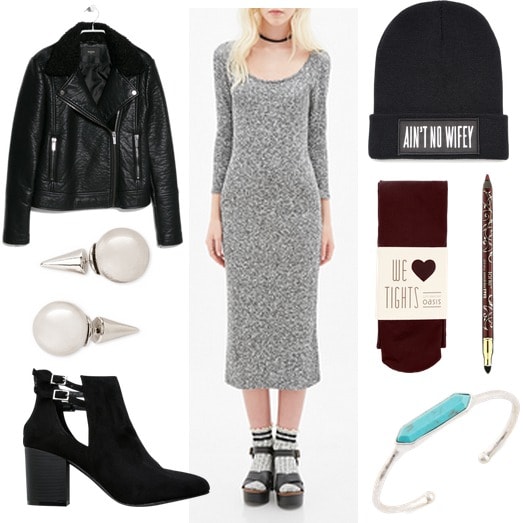 Jacket, Earrings, Booties, Dress, Beanie, Tights, Eyeliner (in Golden Tiger's Eye), Bracelet
Declare your desire to be an autonomous being with this cute and clever beanie. Pair it with trends that make you feel awesome, like a midi-length sweater dress, earring jackets, and red eyeliner. Who cares if boys don't like trendy looks? You weren't dressing for them anyway.
A warm leather jacket with shearling lining and tights will beef up this look if it's still freezing where you are. Add pair of kick-butt booties (or a killer pair of Doc Martens) and you're ready to go out and smash the patriarchy… or just kick it at a cool concert or poetry reading.
EXPRESSING ANGER IS NECESSARY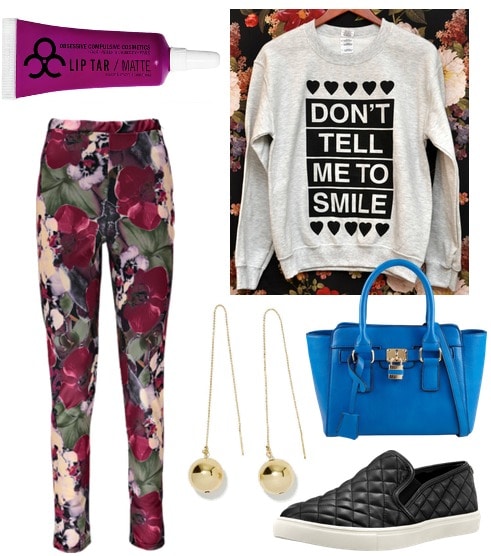 Lip Tar (in Strumpet), Pants, Sweater, Earrings, Bag, Sneakers
Don't you hate it when you're just walking to CVS on a Sunday to buy toilet paper and maybe five lipsticks when some dude on street tells you to smile? You're like, not even wearing makeup, or real pants, and he's all up in your business because you didn't grace him with your pleasantness. LEAVE ME ALONE, BRO. YOU DIDN'T EARN MY PLEASANTNESS.
Nip that ish in the bud with this adorable and cuddly sweater. Jenny Holzer would approve of your straightforwardness and your refusal to smile at randos on the street. For a comfy but polished weekend look, pair this sweater with soft trousers, slip-on sneakers, and a bright bag.
If your stay-in-your-lane face could use a little help, a jewel-toned lipstick, in my opinion, enhances BRF. Add a pair of dangly earrings to go with your messy top-knot and you're ready to run out and buy those two more tubes of mascara that you definitely need.
OTHER "TRUISMS"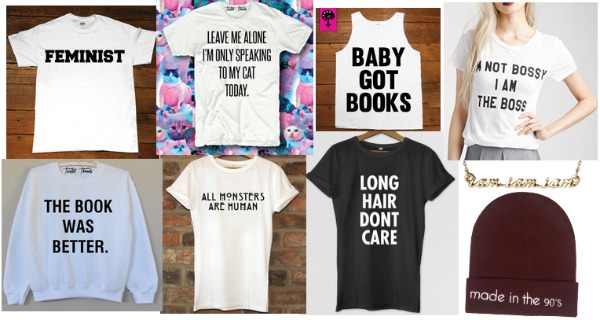 Feminist, Leave me alone…, Baby got books, I'm not bossy…, The book was better, All monsters are human, Long Hair Don't Care, I am I am I am, Made in the '90s
I came across so many excellent and hysterical graphic tees and other pieces that I couldn't pick just a few of them. All of these pieces would work well with any of the outfits listed above, if they're more your style.
What do you think?
What do you think of Jenny Holzer's work? How would you style a statement tee? Are you a feminist? What artists or works of art would you like to see in this column? Let me know in the comments below!