This week's Fashion Inspired by Art is based on Jean-Baptiste Oudry's "Misse and Turlu, Two Greyhounds Belonging to Louis XV." Read on to learn more about this work of art and to see three outfits inspired by the French Rococo painting.
What A Catch: About Jean-Baptiste Oudry's "Misse and Turlu"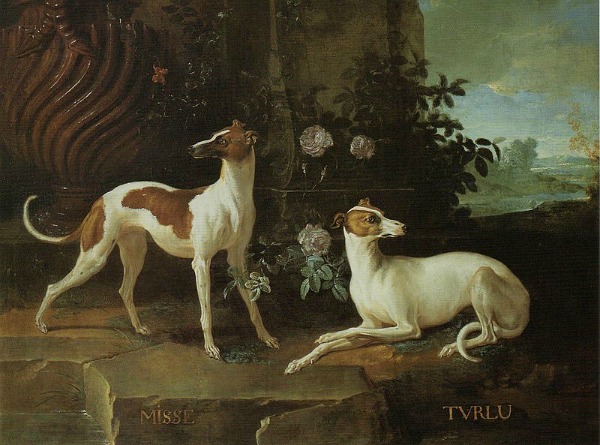 Jean-Baptiste Oudry's "Misse and Turlu, Two Greyhounds Belonging to Louis XV" (1725) via Wikimedia Commons
Jean-Baptiste Oudry(1686-1755) was a French Rococo painter known for his paintings of animals and hunt and game pieces. Oudry began his career with portraitures, then moved onto still lifes and religious scenes. It was his landscapes that eventually landed him a job with the King, Louis XV.
After completing a commission for the master of the royal stables, Oudry was commissioned to paint for the King, and was later appointed Painter-in-Ordinary of the Royal Hunt. Under this title, Oudry painted pieces of the day's kill after a hunt in the Tuileries Palace. He was also known for more "exhibitory" pieces featuring animals of all sorts – some exotic, others, more ordinary.
Outfits Inspired by Jean-Baptiste Oudry's "Misse and Turlu"
Hound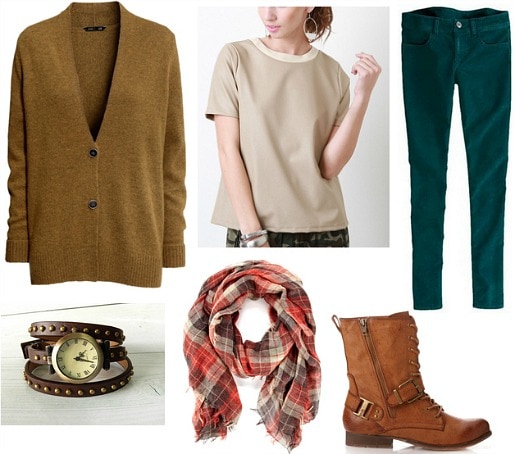 Cardigan, Top, Pants, Watch, Scarf, Boots
Part of what makes the painting work is the contrast between the warm neutrals found on the subjects and the cooler background. Tame bold turquoise pants with a subdued beige leather-like top and mustard cardigan. Combat boots and a plaid scarf will keep you toasty when the autumn winds kick in.
Tapestry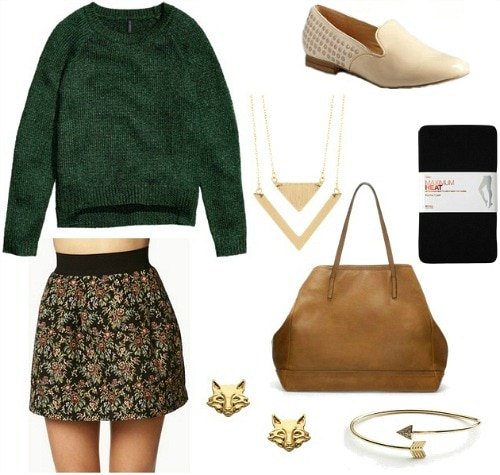 Sweater, Necklace, Loafers, Tights, Skirt, Earrings, Bag, Bracelet
While mostly known for his paintings, Oudry was also an extremely accomplished tapestry designer. A skirt of tapestry, while not as intricate, pays homage to Oudry's wide breadth of artistic abilities.
Pair the skirt with a cozy hunter green sweater and jewelry inspired by the hunt, where greyhounds were used. Stay warm with some extra thick black tights. Finish off the look with some cream-colored loafers, then grab a sturdy leather tote to carry all your essentials.
On Alert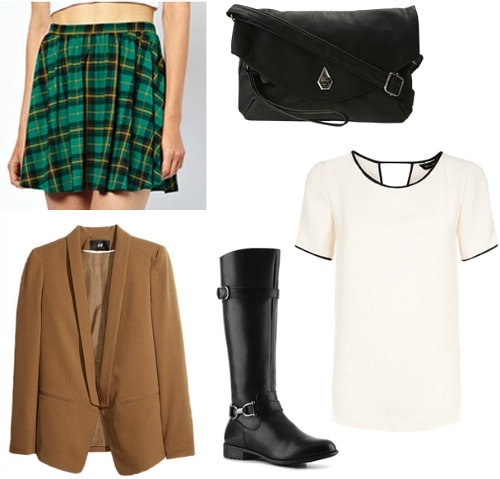 Skirt, Bag, Blazer, Boots, Top
Baroque royalty most definitely didn't wear camo while hunting, instead opting for outfits much more akin to modern equestrian looks. Get an inspired ensemble by starting off with a pair of riding boots and classy blazer. Continue the autumnal vibe with a plaid miniskirt and sleek satchel.
What do you think?
Do you like Oudry's work? Which of his paintings do you like the most? Do you like Baroque/Rococo art? What do you think about the inspired outfits? Which one is your favorite? Let me know in the comments below, I'd love to hear your opinions!