This post may contain affiliate links, which means we may receive a commission if you purchase through our links. Please
read our full disclosure here
.
For this week's Fashion Inspired by Art, we're looking at Jean-Antoine Watteau's The Embarkation for Cythera. This painting embodies the Rococo movement and celebrates a carefree attitude and romance.
The Rococo Movement and "The Embarkation for Cythera"
Rococo is an 18th-century movement featuring light colors and elegant curves. Like many art movements, it formed in opposition to a previous style, specifically the rigid, symmetrical style of Baroque. Rococo art themes include love and the frivolity of the wealthy. Rococo colors are light and happy, and cherubs (little nude angels) are often shown flying in the background. If you're interested in more Rococo artwork, check out Jean-Honoré Fragonard's "The Swing" and its Fashion Inspired by Art article.
The Embarkation for Cythera embodies all the elements of Rococo art. It is also known as "Voyage to Cythera" or "Pilgrimage to the Isle of Cythera". In Roman mythology, Cythera is believed to be the birthplace of Venus, goddess of love. Watteau's painting depicts couples traveling to Cythera with flying cherubs to signify love. However, art historians have theorized that the couples may actually be leaving Cythera, due to the fact that they're already paired up and walking away from the island. Watteau himself left the meaning ambiguous, so I'd love to hear your interpretation in the comments.
Frivolity and Love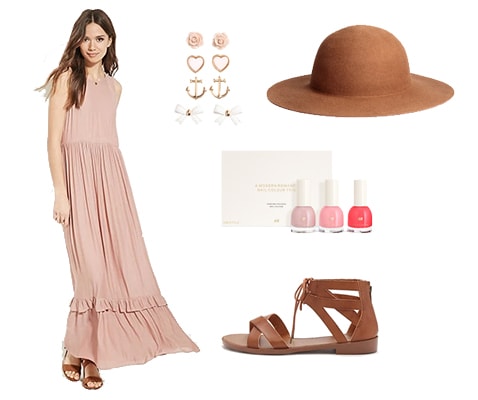 Products: Dress, Earrings, Hat, Nail Polish, Sandals
This first outfit is inspired by the woman sitting on the bottom right of the painting and the common themes of Rococo art.
Since Valentine's Day is a couple weeks away, I thought a romantic pink dress outfit would work well within this context! The flowy dress goes along with the relaxed atmosphere and composition of Watteau's painting. The camel color was inspired by the mens' outfits within the painting, but looks very feminine on sandals and a hat to accompany the pink dress.
Journey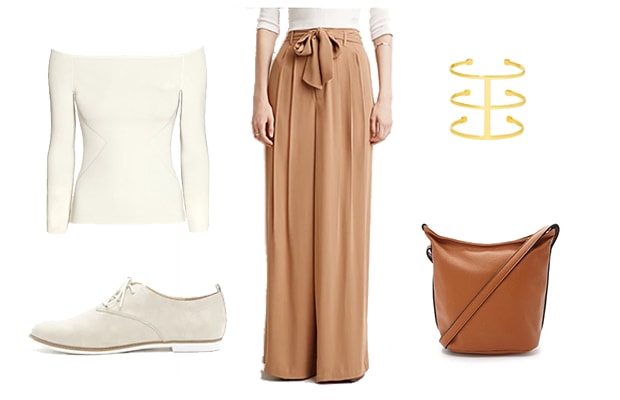 Products: Top, Loafers, Wide-Leg Pants, Bracelet, Bag
Although this isn't a dress, these wide-leg pants give off the same relaxed vibe the painting depicts. The browns are taken from the scenery and outfits within the painting and are a great spring neutral. The pants are such a statement piece that adding a white top and small accessories make the outfit stylish without effort.
Blue Skies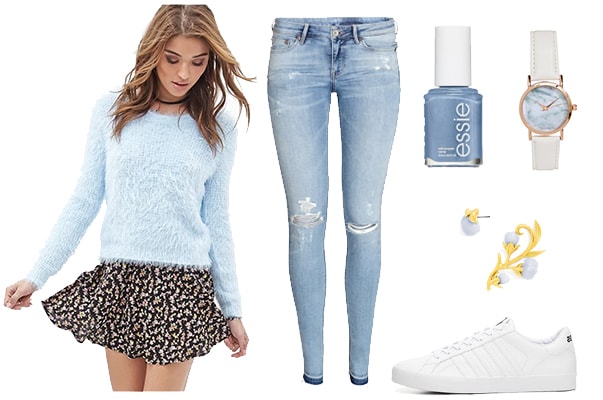 Products: Sweater, Jeans, Nail Polish, Watch, Earrings, Sneakers
The sky in Watteau's painting is such a pretty color, I couldn't not make an outfit inspired by it! I avoided anything loose-fitting like the first two outfits and instead went with the textured sweater to emphasize movement. Plus, fluffy sweaters will make you feel like a cloud.
Let's add extras now. The earrings are very Rococo-esque with their swirls and flowers, and they make any outfit interesting because they're asymmetric. Finally, even though nail polish doesn't need explaining, Essie's Bikini So Teeny polish is one of my all-time favorites, so I definitely recommend that if you're looking for spring nail colors.
What do you think?
What are your thoughts on the Rococo movement? (I personally think playing "spot the cherub" is a hilarious game to play with Rococo art.) Would you wear wide-leg pants? What's your favorite outfit? I'm always excited to hear your thoughts and feedback in the comments!