This week's Fashion Inspired by Art is based on "Vase with Flowers" by Jan Davidszoon de Heem, who is also known as Johannes de Heem.
Still Life: About Jan Davidszoon de Heem's "Vase with Flowers"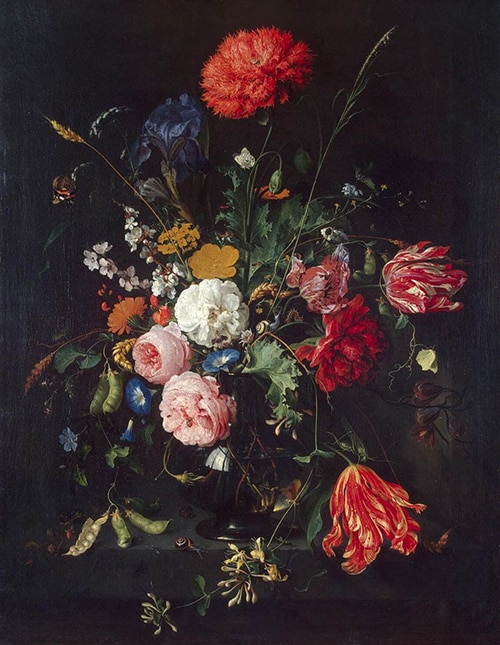 Jan Davidszoon de Heem's "Vase with Flowers" (17th Century) via Wikimedia Commons
Jan Davidson de Heem (1606-1684) was one of the most brilliant still life painters to come out of the Dutch Baroque age. His style featured brilliant colors set against a dark background, which brought all focus to his subjects, which ranged from flowers to shellfish to fruit.
Many of his pieces were heavily allegorical and symbolic – gold and silver cups suggest vanity and obsession with earthly possessions, while a skull paired with flowers reminded viewers about the fleeting nature of life.
"Vase with Flowers" is one of de Heem's many still lifes featuring flowers. Like many of his other floral works, the painting features a full bouquet filled with rich reds and yellows.
In fashion, florals have been popular for quite a while now, but only in the spring and summer. However, darker interpretations inspired by de Heem's works have been seen on the runways of Dries van Noten, Givenchy, Erdem, and countless others for fall.
Outfits Inspired by Jan Davidszoon de Heem's "Vase with Flowers"
Nosegay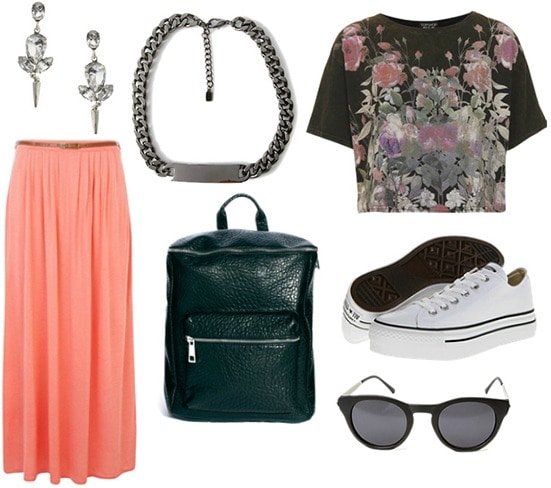 Earrings, Skirt, Necklace, Backpack, Shirt, Shoes, Sunglasses
De Heem utilized most of the canvas, giving each piece a full and lively look, despite its generally dark color scheme. A crop top with an (almost) all-over print has a similar visual effect. Accessorize with some larger-than-life jewelry. A leather backpack has a richness and depth similar to the background of de Heem's painting and will hold all your school essentials – whether it's books or paints.
Garden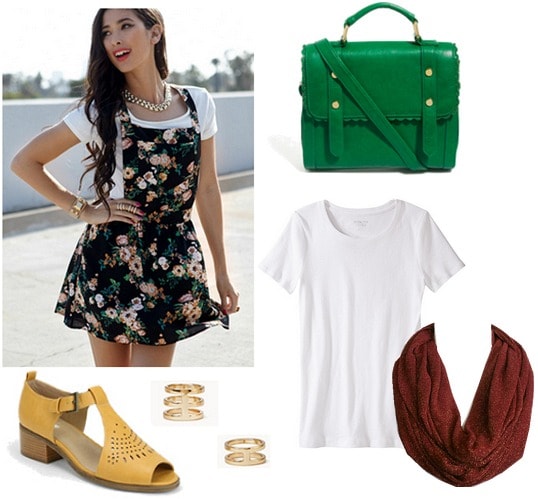 Overalls, Shoes, Rings, Bag, Shirt, Scarf
Give the overalls of your childhood an update with a floral print that's clearly inspired by de Heem. Bright shoes and a satchel contrast with the darkeroveralls, just like the flowers in the painting pop out from the dark background. A circle scarf helps brings a little autumnal warmth to an otherwise summery outfit.
Warmth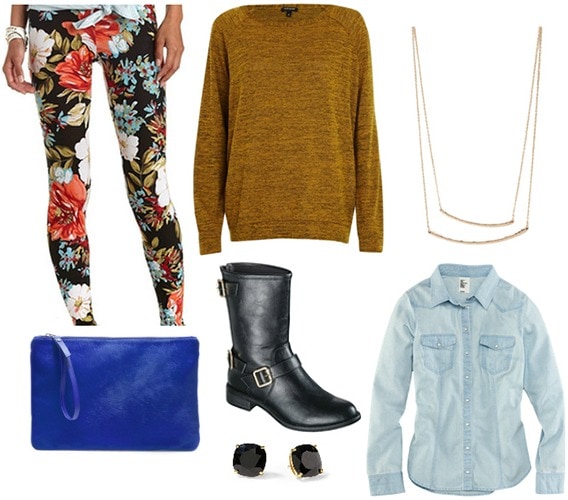 Leggings, Clutch, Sweater, Boots, Earrings, Necklace, Shirt
"Vase with Flowers" contains a plethora of textures, including a stone table, different types of flora, and a glass vase, just like the varying materials (knits, ponyhair, leather, denim) in the outfit.
Balance out printed leggings with a bold yet muted mustard sweater. A simple, organic necklace imitates the various grasses in the bouquet. Just like how de Heem adds in some blue flowers to complement the red ones, add a bright blue clutch for the finishing touch.
What do you think?
Do you like de Heem's work? Who is your favorite still life artist? Which outfit is your favorite? Let me know in the comments below, I'd love to hear your opinions!