This post may contain affiliate links, which means we may receive a commission if you purchase through our links. Please
read our full disclosure here
.
For this week's edition of Fashion Inspired by Art, we'll be taking a look at James Abbott McNeill Whistler's Nocturne in Black and Gold: The Falling Rocket. With its sparkling yet calm atmosphere, this abstract piece is a fitting choice for celebrating a new year.
About the Painting
James Abbott McNeil Whistler is known for titling his works as though they were musical arrangements. Indeed, words like "nocturne," "symphony," and "harmony" reflect the abstract, flowing nature of many of his paintings.
Whistler's work was revolutionary in its time. These days, we're used to interpreting abstract artwork: We decide how a piece makes us feel. But in 1877, the norm was realism and narrative clarity. This posed a problem for Whistler.
When "Falling Rocket" was first exhibited in 1877, there was public backlash. Whistler was criticized for "flinging a pot of paint into the public's face." While the painting's title explains its subject, people were outraged that something resembling paint splatters was being exhibited in an art gallery. In response to the criticism, Whistler sued a critic for libel. While Whistler won the court case, he was only awarded a small sum and his reputation as an artist was ultimately damaged.
Thankfully, these days the definition of art has expanded, and we can freely view and interpret works like Whistler's in our own ways. My appreciation for the piece stems from its flowing brush strokes and minimal use of color. The gold really pops against the dark background and looks like fireworks to me.
Given its subject matter, I thought this would be a great piece to inspire us following the festivities of New Year. Let's kick off the year with a bang! Read on to see three outfits inspired by this work:
Tranquil Nocturne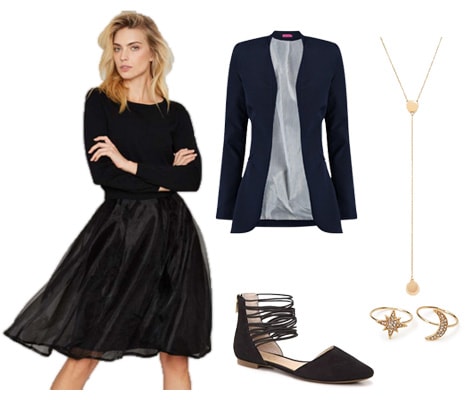 Products: Sweater Dress, Blazer, Flats, Necklace, Rings
A nocturne is a musical composition that is often nighttime-themed. Nocturnes typically feature piano and are usually tranquil, expressive, and gloomy. To follow this theme, I built an outfit focusing on flow and tranquility.
This outfit is great if your resolution is to dress up every day. It's effortless and simple but incorporates small details that make it unique. The multi-textured sweater dress is a single piece, so it's great for days where you need something cute but easy to throw on. Similarly, the flats have ankle straps which add flair to their otherwise-minimalist profile.
Following the theme of nocturnes and fireworks, this outfit would look great paired with starry gold rings and a long drop necklace. (Does anyone else think it looks like a constellation?) While the outfit looks great without accessories, adding jewelry can give it a little pop to prevent it from looking too bleak.
Rocket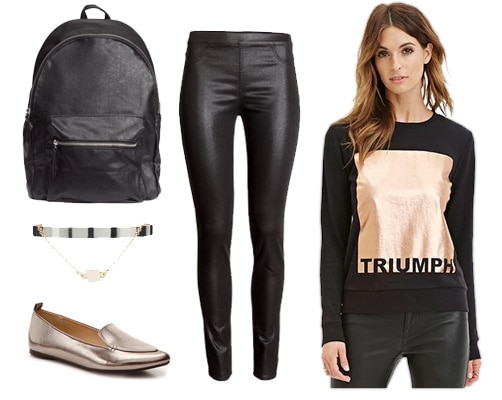 Products: Sweatshirt, Pants, Flats, Bracelet, Backpack
The rocket theme of Whistler's painting is my favorite part. I love how the flecks of gold seem to shine, even on a still image. Rockets relate to New Years in terms of fireworks, but also with the charge of energy you get from your new goals!
This outfit would be great if you want to make bolder fashion choices this year. I love the idea of wearing bold clothing but I sometimes find it hard to leave my comfort zone. This outfit uses metallics to add some boldness while also staying simple overall. Statement shoes are a great way to make a plain outfit more bold. These metallic flats are statement-making and neutral enough to be paired with a variety of outfits.
I also love to use texture for interest in an outfit. This sweatshirt has a simple design but again uses metallic shine for pop. The jacket and pants have a similar texture: Their waxy appearance brings them beyond basic. Finally, adding a mixed-metal bracelet helps tie the look together with just a small accessory!
Black and Gold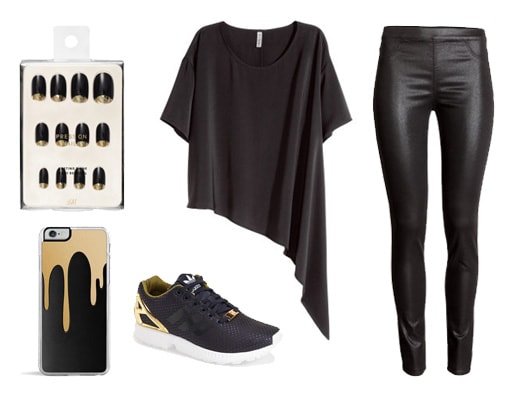 Products: Top, Pants, Sneakers, Press-on Nails, Phone Case
One of the best ways to create more interesting looks is by incorporating movement. Whistler's work shows that paintings can work with movement and music, so why can't outfits?
This is a great outfit for campus because the sneakers are functional but have gold accents for a bit of glam. The asymmetric top adds movement and visual interest a look that would otherwise be a t-shirt and jeans.
If you're not a huge fan of wearing jewelry, another great way to accessorize is with your nails or phone case! You obviously don't have to match them to your outfit every day, but neutral colors like black and gold will look great with this outfit and easily match the others you wear that week.
What do you think?
Have you seen Whistler's paintings before? What do you see in Nocturne in Black and Gold: The Falling Rocket? Which look would you try out? I'd love to hear your thoughts and feedback (to my first article at College Fashion) in the comments!