This post may contain affiliate links, which means we may receive a commission if you purchase through our links. Please
read our full disclosure here
.
Are you in a hurry to get dressed and can't decide on what color combination you should wear? Or are you looking for a way to instantly upgrade the basic pieces in your wardrobe? Summer fashion might boast a loud abundance of colors, but you can never go wrong with the classic pairing of black and white.
This week's Fashion Inspired by Art post features "The Laundress", an oil painting by Henri de Toulouse-Lautrec. The depicted figure is seen wearing a black-and-white outfit, yet the attention to detail within the image itself is far from simplistic. Read on to learn more about Henri, and to see three outfits inspired by this painting.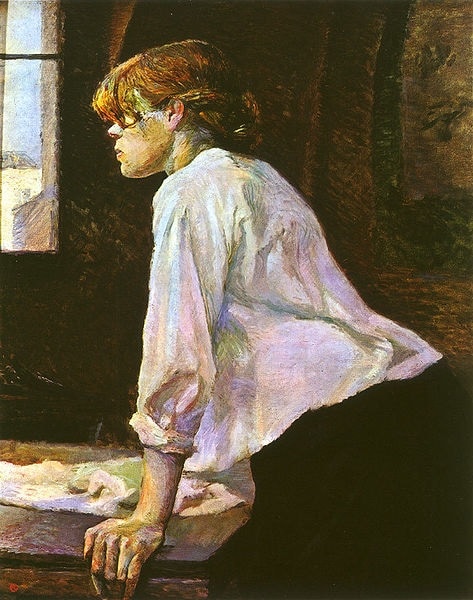 Henri de Toulouse-Lautrec's "The Laundress" (1884-1886) via Wikimedia Commons
About Henri de Toulouse-Lautrec
Henri de Toulouse-Lautrec (November 24 1864 – September 9 1901) was a French painter, illustrator, and printmaker. He is known for his creations that depict the colorful elegance of Paris in the 1800s. Henri is regarded as one of the most famous and important painters in the Post-Impressionist period.
He suffered a series of injuries and complications to his health that rendered him physically unable to partake in many activities. During this time, Henri occupied himself with the world and wonders of art.
His painting, La blanchisseuse ("The Laundress") set a new auction record when it sold for $22.4 million in 2005.
While the outfit worn by the laundress is a simply black and white, the accents provided by other colors present in the painting make for an evocative image. The outfits below focus on adding dimension and character to black-and-white ensembles.
Outfits Inspired by Henri de Toulouse-Lautrec's "The Laundress"
Simple Sweetness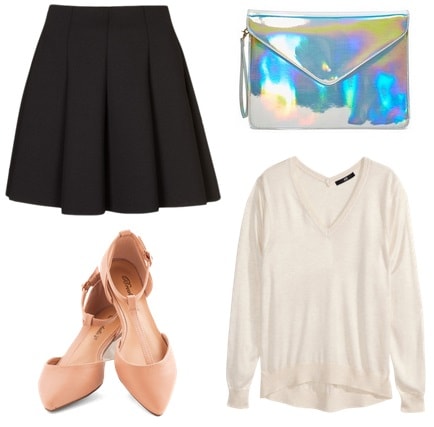 The lights and shadows on the laundress's top create a mix of colors that look similar to a holographic piece. Add a touch of shine to your look with this trendy holographic clutch from NastyGal! This outfit is perfect for a casual lunch or dinner – the sweater and skirt keep you comfortable and chic, while the light pink shoes add a touch of sweetness. If you're in the mood for summer-friendly heels, check out this pair from LuLu's.
Looking to accessorize? Try some floral chandelier earrings to play up the romance, or a baroque cocktail ring.
Collared Casual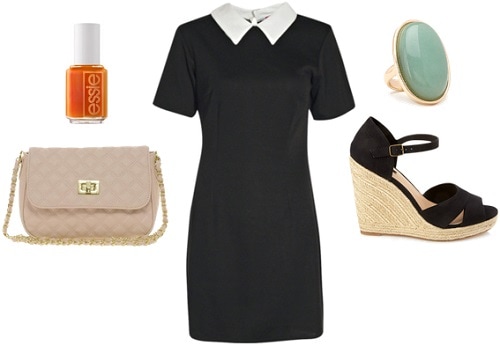 Nail Polish, Bag, Dress, Ring, Wedges
This second outfit also plays with a balance between casual and formal. The structured, collared shift dress paired with the easygoing wedges and quilted bag make it ideal for a transition between midday plans to nighttime plans. If you'd rather wear something more comfortable that espadrille wedges, slip on a pair of lace espadrille flats instead.
Rather than slinging on the classic black quilted bag, this bag from ASOS is a softer interpretation of the trend, and stands out against the dark dress. The pale bag, bright nails and milky sheen of the ring create a compatible contrast, much like the varying shades found in Henri's painting.
Darling Details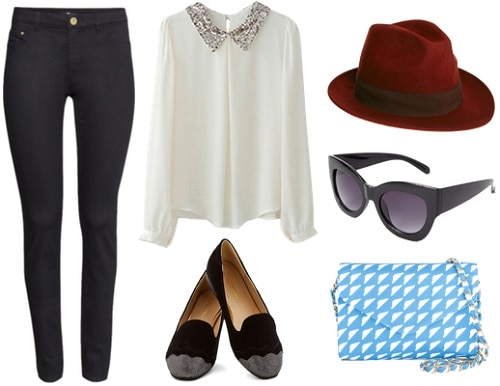 Pants, Blouse, Shoes, Hat, Sunglasses, Bag
For those who like a sleek yet youthful ensemble, this last outfit set is for you. Combining fun accessories with tailored pieces allow you to hit all the right notes of business and play. The embellished collar on the white blouse adds some glamour to the wardrobe essential, and the scalloped details on the shoes are definitely an upgrade from your go-to flats!
Add the finishing touches – and a touch of mystery – with cat-eye sunglasses and a hat. Not much of a hat person? Try a hair accessory.
The playful cloud-print bag is a nod to the open window in the painting. Just like the figure in Henri's painting looks towards bright skies, all eyes will definitely be on this unique pattern.
Final Thoughts:
The versatility of black and white yields for many looks that can be worn at a variety of occasions. You have even more combinations at your disposal when you consider a formal outfit with casual accessories, or a casual outfit with formal accessories.
Sometimes an accessory or accent piece is all it takes to bring a simple piece to life, just like how the light on the laundress's blouse beat any ordinary off-white shade, or how the hints of red in her hair add warmth to the painting. Don't be afraid to mix and experiment with wardrobe basics and trendy pieces!
What do you think?
What do you think of Henri's painting? What are your favorite ways to accent black-and-white clothes? Which of these outfits is your favorite? I'd love to hear your input in the comments section below!