This post may contain affiliate links, which means we may receive a commission if you purchase through our links. Please
read our full disclosure here
.
Fashion, in its essence, is wearable art. Think about the clothes you're wearing now: someone designed them, manufactured them, advertised them, and then you bought them and combined them into your own look! Here at CF, we're big believers in this idea: from movies to books to music and more, our posts aim to prove that all creative mediums can inspire one's clothing choices.
In this installment of Fashion Inspired by Art, we'll be discussing Gustav Klimt's The Kiss, which is perfect for you because Valentine's Day is just around the corner! Check out these looks made for various Valentine's Day plans for some ideas on how to dress girly without necessarily covering yourself in red and pink. I hope you all enjoy!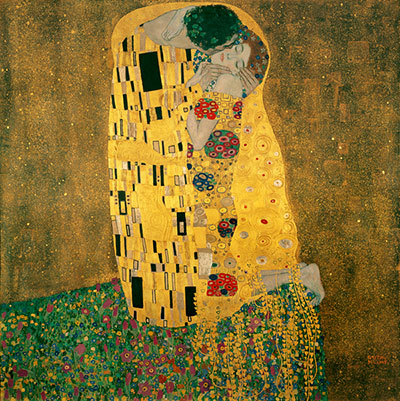 Gustav Klimt's The Kiss (1907 – 08) [Public Domain] via Wikimedia Commons
Gustav Klimt (1862 – 1918) was an Austrian symbolist artist whose paintings primarily depicted the female form. While the figures in his works appear realistic, the surrounding elements clearly show the contemporary influence of Art Nouveau.
The Kiss depicts a man and a woman locked in a passionate embrace, oblivious to the rest of the world. The work was created during Klimt's "Golden Period", when the artist frequently used gold leaf in conjunction with oil paint to obtain a decorative Byzantine style often seen in medieval illuminated manuscripts. Gold leaf, comprised of extremely thin pieces of hammered gold, was used to add intense shine (and, of course, value!) to pieces. By combining this medieval material with the organic, patterned look of Art Nouveau, Klimt, with The Kiss, created a work that nods to traditional art while incorporating the modern style of the early twentieth century.
Outfits Inspired by "The Kiss"
The Embrace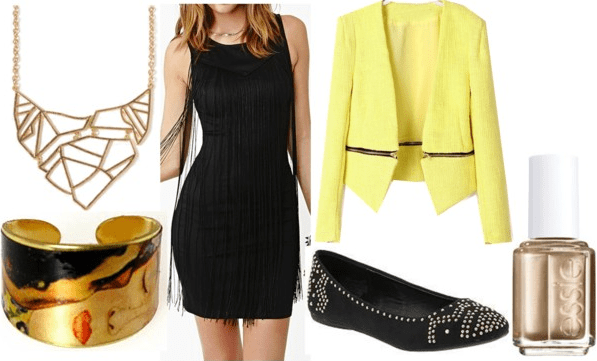 Necklace, Ring, Dress, Blazer, Flats, Nail Polish
The man and woman are the most visually striking elements of the painting, and also contain that majority of the work's details.
To replicate the complicated, complementary patterns of their clothing, I chose pieces with one specific detail apiece to create an interesting, but not overwhelming look. The dress is a simple LBD with long fringe, the blazer has a unique horizontal zipper, and the shoes are adorned with gold sequins in a geometric pattern. Finish the look with a ring and some gold nail polish and you're ready for anything… maybe even a first date with that cutie from class!
There's Love in the Air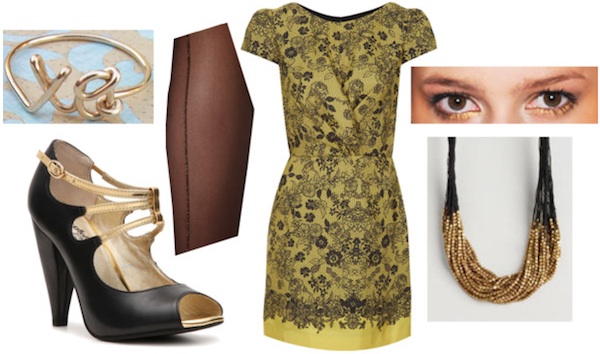 Ring, Tights, Heels, Dress, Necklace | Makeup photo via ELLE
This outfit is inspired by the gold background of the painting, which plays upon the dichotomy of past and present.
To recreate this idea in an ensemble, I chose pieces that are timeless, but that incorporate a few trendy twists. I used small elements of gold in the accessories (gold-seamed tights, gold buckle straps) to dress the look up a bit, while nodding to the gold leaf in the painting. Add a well-fitted black jacket and you're ready for dinner and dancing on V-Day.
Nature's Caress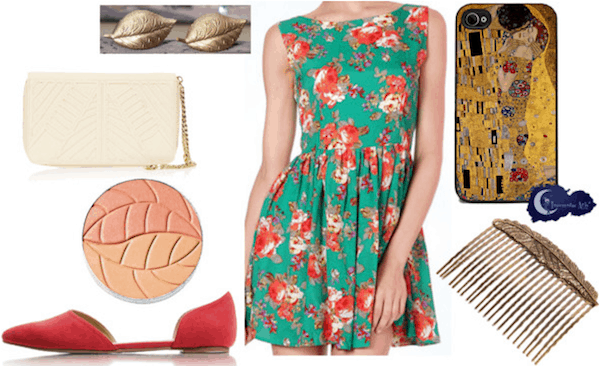 Earrings, Wristlet, Flats, Dress, iPhone Case, Hair Comb| Makeup photo via ELLE
The bed of flowers depicted beneath the figures inspired this fun, laid-back ensemble. The dress is a literal representation of the flowers, while the hair comb, earring, and blush all serve as reminders of the gold leaf technique used to add shine to the piece. This would be a great outfit to wear out with your girlfriends for brunch on Galantine's Day — just remember to add some tights and a cute jacket if it's still cold where you live!
What do you think?
Have you seen or studied a Klimt work before? Do you enjoy his style of painting? What do you think about the inspired outfits? Which one is your favorite? Let me know in the comments below, I'd love to hear your opinions!