This post may contain affiliate links, which means we may receive a commission if you purchase through our links. Please
read our full disclosure here
.
This week in Fashion Inspired by Art, we're looking at Georgia O'Keeffe's Light Iris. As we inch closer to spring, this piece is perfect for color inspiration for your cool-weather outfits!
About Georgia O'Keeffe
Georgia O'Keeffe is known as the "Mother of American Modernism." She was born in 1887 and began exhibiting art in 1915, gaining popularity in the 1920s. During her early career, she worked primarily in watercolors, then later turned to oil painting.
O'Keeffe became known for her enlarged flower paintings, such as Light Iris. These works were often over three feet tall and appeared as though you were zoomed in to a flower, which was very unique for the time period.
During the time (and even since her death), her work was thought to have Freudian connotations, i.e. people often felt the flowers represented female genitalia. Feminists even took that as an empowering message and invited O'Keeffe to participate in events, which she continually declined. Despite many people interpreting her work in a feminine and sometimes erotic way, O'Keeffe herself continually denied this.
Later in her career, O'Keeffe also created many desert-themed paintings. These were inspired by her time living in New Mexico and featured desert landscapes and animal skulls (as in this famous painting).
To see more of Georgia O'Keeffe's work, you can click here, or check out other outfits inspired by another painting here.
Through the Fields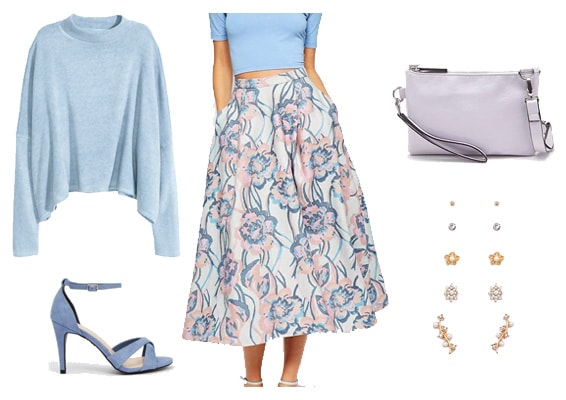 Products: Sweater, Heels, Skirt, Bag, Earrings
This outfit captures Light Iris with its floral print and pastel blue. O'Keeffe's flowers have a flow-y pattern to them, so a long skirt and loose sweater make for an O'Keeffe-inspired silhouette. This glam outfit would be great for a tea party or picnic!
Abstract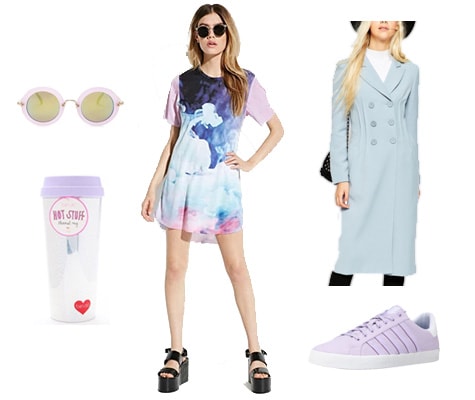 Products: Sunglasses, Travel Mug, T-shirt Dress, Coat, Sneakers
The enlarged nature of O'Keeffe's flowers often gives them an abstract quality. This t-shirt dress has a unique mix of cloudy colors. Plus, its unique print makes it great for an effortless outfit you can throw on and still look good! If you want to adapt this to cooler weather, throw on some warm tights and a coat while you're outdoors.
Everyday Pastel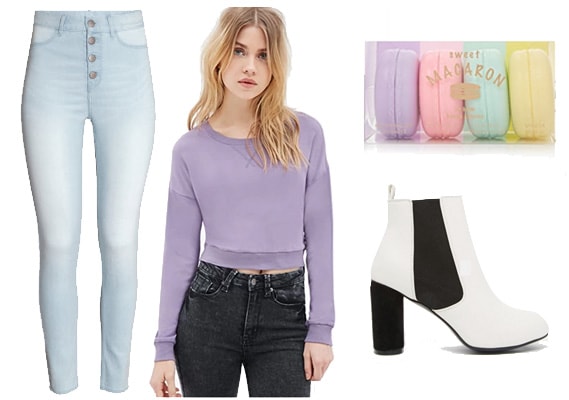 Products: Jeans, Sweatshirt, Lip Balms, Boots
For the last outfit, I created an everyday look inspired by O'Keeffe's work. This outfit still relies on O'Keeffe's beautiful pastel colors but is more affordable and could even be recreated with items from your closet! The bright colors makes the outfit more unique than just a sweatshirt and jeans type of look.
Your thoughts?
What is your interpretation of Georgia O'Keeffe's paintings? Do you incorporate light colors into your outfits? Are you anxious for spring? I'd love to hear your feedback on these outfits in the comments below!