This post may contain affiliate links, which means we may receive a commission if you purchase through our links. Please
read our full disclosure here
.
This week in Fashion Inspired by Art, we'll be discussing Dale Chihuly's Persian Ceiling. Let's kick off the beginning of summer break in style with outfits inspired by this beautiful and boldly colored installation piece. I hope you all enjoy!
Under the Glass: About Dale Chihuly's "Persian Ceiling"

Dale Chihuly's Persian Ceiling at the VMFA (2012) | Click image to enlarge
Dale Chihuly (born 1941) is an American glass sculptor from Tacoma, Washington. His works are primarily done in the style of animal and botanical sea life forms, such as jellyfish and anemones. Over 200 museums worldwide count at least one Chihuly piece among their collections, and the artist has received numerous awards for his work.
I was fortunate enough to visit the VMFA while their exhibition Chihuly at the Virginia Museum of Fine Artswas up, and the experience was truly amazing. (I took tons of pictures, I just couldn't get enough!) There were many colorful works, but the most fantastic piece was the Persian Ceiling, a glass installation set overhead in a small walkway through the exhibition.
The most striking features of Persian Ceiling are its bright colors, intriguing shape placements, and sense of patterning. Many of the organic hemispheres are reminiscent of jellyfish, while other sea forms, such as mollusks and squid, can be picked out among the myriad of glass pieces.
If you've haven't had the chance to experience a Chihuly exhibition, there are several currently ongoing on the west coast. If you're travelling for the summer, I highly recommend adding one of his shows to your itinerary — it's a sight that you won't want to miss!
Outfits Inspired by "Persian Ceiling"
Patterned Pretty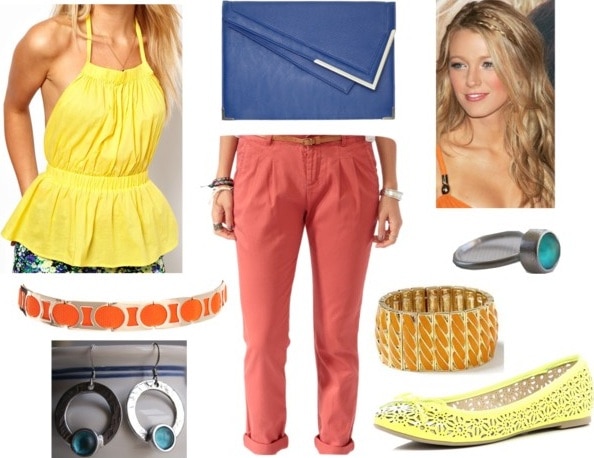 Top, Belt, Earrings, Clutch, Capris, Ring, Bracelet, Flats | Hair and makeup photo via ELLE
This outfit is all about texture — both physical and visual (actual surface variation and implied surface changes). The large, jellyfish-like forms in "Persian Ceiling" are striped, and the pleats in the yellow top and salmon-colored capris mimic their texture. The pattern on the orange bracelet, yellow shoes, and blue clutch reflect the implied texture of the smooth glass shapes.
Keep the circular geometric theme of the Persian Ceiling going with a geometric belt and matching teal ring and earrings, bringing in the cooler colors of the art. Finish the look off with textured waves and a braided "headband" for a chic, pulled together weekend look.
Undersea Siren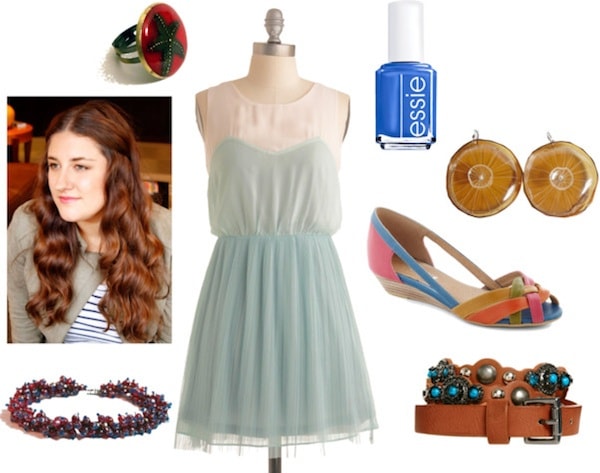 Ring, Bracelet, Dress, Nail Polish, Earrings, Wedges, Belt | Hair photo via ELLE
Channel the sea in this ethereal, mermaid-like look. Start with a pale seafoam-colored dress, which flows lightly over the body like early morning waves. Add some bold color to the look with a pair of comfy multi-colored wedges and a brown embellished belt. For a touch of the ocean, slip on a starfish ring, anemone bracelet, and jellyfish earrings.
Now it's time for some extras. Paint your nails a bright blue for contrast and style your hair with a curling wand intomermaid waves. This look is perfect for a causal date or an outing with your girlfriends!
Unique Cutie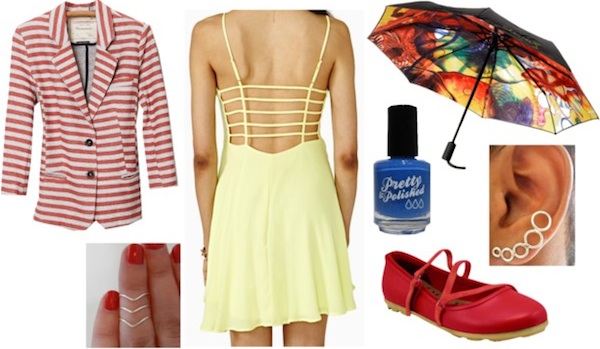 Blazer, Rings, Dress, Umbrella, Nail Polish, Earrings, Flats
Sometimes you find the most interesting things in the most unexpected places. Just as the beautiful glass installation is placed on the ceiling, the most interesting accessories are sometimes the most unexpected. Throw on a simple yellow sundress with a statement-making back. For a rainy day, an adorable set of waterproof flats and an official Chihuly Persian Ceiling umbrella with black exterior add some color.
Throw on a whimsical striped blazer and silver jewelry with a twist to add a feminine sense of fun to the look. Finish the outfit off with some blue-to-white speckled color-changing nail polish and you're sure to stand out against the rainy gray skies of the summer transitional weather.
What do you think?
Have you seen or studied Chihuly or his work before? Do you like Persian Ceiling? What do you think about glass blowing? Do you enjoy the style of glass works? What do you think about the inspired outfits? Which one is your favorite? Let me know in the comments below, I'd love to hear your opinions!