This week's Fashion Inspired by Art is based on a sculpture that might be familiar to a few of you. Claes Oldenburg's "The Button" (also known as "Split Button") is located on the campus of the University of Pennsylvania, right in front of Van Pelt Library. While attributed to Oldenburg, "The Button" was also worked on by his wife, Coosje van Bruggen.
Go Big or Go Home: About Claes Oldenburg's "The Button (Split Button)"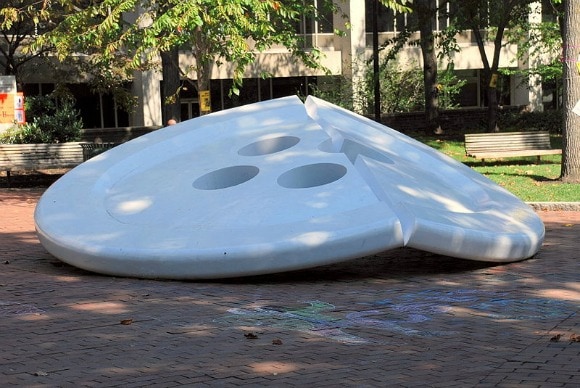 Claes Oldenburg's "The Button" (1981) via Wikimedia Commons
Claes Oldenburg (b. 1929) is a Swedish-American sculptor known for his giant replicas of everyday objects. Many of his pieces are public commissions that can be seen at the National Gallery of Art in Washington D.C., the Walker Art Center of Minneapolis, Yale University, and near the Embarcadero in San Francisco, among other places.
Oldenburg was part of the pop art movement and is known for elevating common objects into the realm of art. By blowing up the scale of a button, Oldenburg breathes new life into the otherwise-ordinary clothing fastener. The oversized button gets another dose of personality with the giant off-center crack, making it a memorial of sorts for forgotten and broken consumer items. As cute and whimsical as it seems, "The Button" can be seen as subversive, a celebration of the mundane and rejection of traditional figures of power and glory.
Outfits inspired by "The Button (Split Button)"
Ben Franklin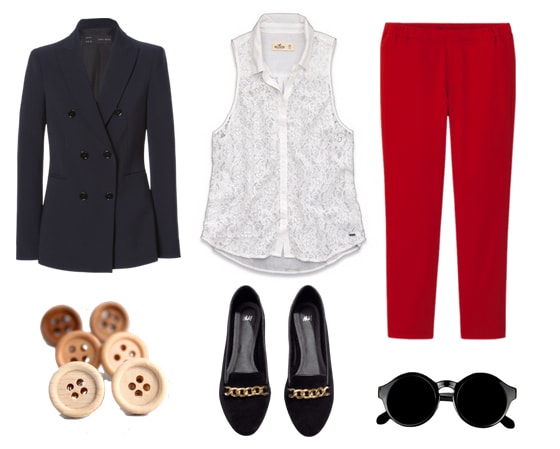 Blazer, Top, Pants, Earrings, Loafers, Sunglasses
Near "The Button" is a sculpture of Ben Franklin sitting down. Legend has it, as the founder of the school sat down, a button popped off his vest, it broke, and became the sculpture.
Franklin might not be a fashion icon and his ruffled blouse can be a stuffy look, but a lace button-up is just as fancy without being too much. Menswear-inspired blazers and loafers are easily worked into the modern girl's wardrobe. The sunglasses are a homage to Franklin's round spectacles and the button earrings represent, of course, the sculpture.
The Schuylkill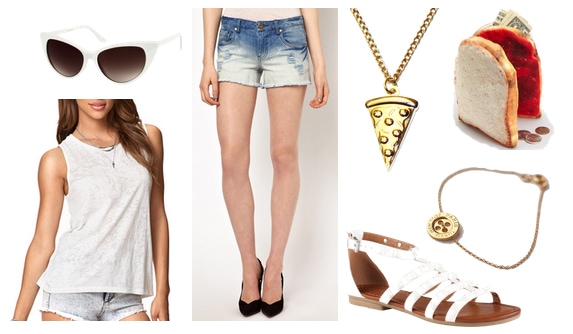 Sunglasses, Tank, Shorts, Necklace, Wallet, Bracelet, Sandals
While the Ben Franklin story is a favorite among Penn students, Oldenburg is quoted saying the split represents the Schuylkill, a river that runs through Philadelphia.
Break up a monochrome outfit with a river of blue while lounging around this summer. Tongue-in-cheek food accessories are a nod to Oldenburg's body of work. (He did many food-inspired sculptures – some much closer to the size of the original dish, others larger but not as large as "The Button".)
Cute as a Button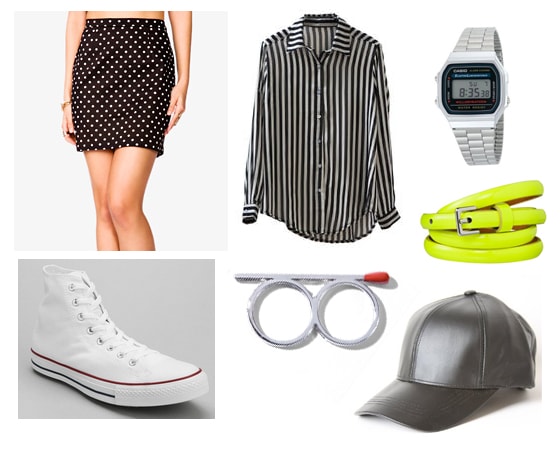 Skirt, Shirt, Watch, Belt, Shoes, Ring, Hat
Round holes on the button can be interpreted as polka dots, whereas the crack can become stripes. A watch and baseball cap are common, arguably boring pieces, but are now redefined in new, more luxurious materials – not unlike a plastic button transformed into a massive aluminum and enamel sculpture. The match ring is a shout out to another Oldenburg work, "Mistos (Match Cover)," in Barcelona.
What Do You Think?
Have you seen Oldenburg's works in person? Is it playful or kitschy? Do you enjoy his work or is he just another one of those modern artists whose art you could have done? Which outfit is your favorite? Let me know in the comments below, I'd love to hear your opinions!