This post may contain affiliate links, which means we may receive a commission if you purchase through our links. Please
read our full disclosure here
.
In the last six months of my post-grad life, I've moved three times. Though each of those moves accompanied an important milestone on my road to adulthood (Graduating! Getting married! My first job!), they were also a colossal pain in the @$$.
The worst part? You lose things when you move. It's pretty hard to keep tabs on every single little knick-knack and tchotchke you own, even if you love that perfect gray infinity scarf, those rainbow druzy earrings, or that bright pink sugar skull paperweight. Which box did you put it in? Did you throw it in the Goodwill pile in a fit of moving madness? Did your mother put it somewhere you would never think to look because you're not your mother? This is especially true if you're moving in the summer – it's easier to lose track of the seasonal things you aren't using on a day-to-day basis.
Like, y'know, my winter coat. And it is SERIOUSLY cold in Michigan right now, guys. Where are you, winter coat? I miss you. Please come home.
So, because I have winter coats on the brain, I thought I would show you guys how to incorporate your coats into stylish outfits using Caspar David Friedrich's "Monk by the Sea" as inspiration: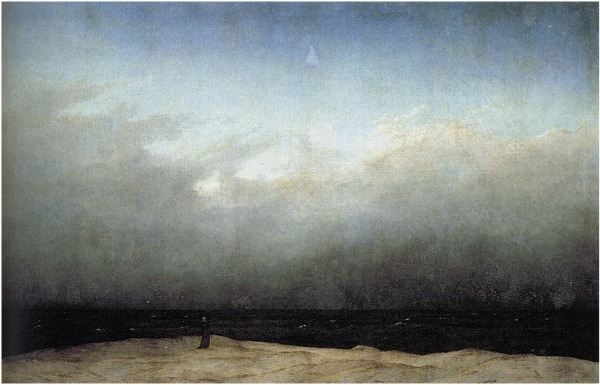 Caspar David Friedrich's "Monk by the Sea" (1809) via Wikimedia Commons. (Click image to enlarge.)
About Caspar David Friedrich and "Monk by the Sea"
Born in 1774 on the Baltic coast of Germany, Caspar David Friedrich was one of the most recognizable and successful landscape painters in Eastern Europe during the early 19th century. His childhood was marked by the death of several members of his family, including his younger brother, who fell through the ice of a frozen lake and drowned when Friedrich was 13.
After his studies, Friedrich moved to Dresden, where he won a prize in a Weimar competition organized by poet Johann Wolfgang von Goethe in 1805. He completed two large and well-received paintings in 1807, including an altarpiece for a wealthy countess's family chapel, and in 1809, he completed "Monk by the Sea," which was exhibited by the Prussian Royal Academy in 1810.
Though the untraditional composition of the piece, with the sky taking up the lion's share of the frame, drew criticism from Goethe (who wrote that the painting would be better viewed upside down), Friedrich's eye for composition and masterful brushwork piqued the interest of the crown prince of Saxony. The prince bought this and another painting of Friedrich's, securing his future financially and professionally.
Some art historians suggest that the figure in this painting is Friedrich himself (the monk's robes nod to his solitary nature), and the painting might either be an acceptance of the human condition in comparison to the immensity of the universe, or a contemplation of mortality that harkens back to his younger brother's drowning in Friedrich's youth.
Outfits Inspired by "Monk by the Sea"
When I'm dressing to combat the elements, looking 100% fashion-forward is not my first priority – staying warm is. That being said, if I'm going on a hike, a date, or Christmas shopping at an outdoor mall, I always try to think of the coat as part of the outfit rather than that thing I throw on to keep warm.
Like the sky in "Monk by the Sea," your coat takes up most of your fashion real-estate in a winter outfit, and since it's generally a versatile investment piece for most college girls, it's not the most interesting thing we own.
The following outfits incorporate a coat as part of the outfit and each one adds important details to spice up the look. However, these outfits work both with and without the coat. This way, you can be cozy and cute whether you're indoors or outside this winter.
Standing All Alone in a Black Coat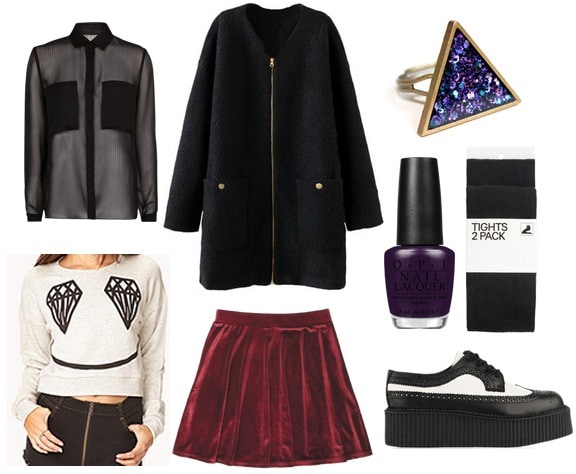 Blouse, Coat, Ring, Nail Polish, Tights, Sweater, Skirt, Creepers
One of my go-to tricks for styling a black coat is to create a chic all-black look with the coat on; though no one would say the monk's robes in "Monk by the Sea" are super-fashionable, he certainly has the right idea! This also adds an element of surprise when you go indoors and take the coat off, revealing your sassy cropped sweater and wine-colored skater skirt. If all black isn't your thing, a sparkly cocktail ring and a coordinating nail polish could incorporate a little bit of color to tide you over.
If it's not so cold that you need a scarf, a sheer collar peeking out of a collarless coat is a coy and flirty way to give the world a hint of the outfit underneath your warm, wooly facade. Thick black tights protect your legs from the cold, while creepers add an unexpected edgy element to the outfit.
It's Too Cold for You Here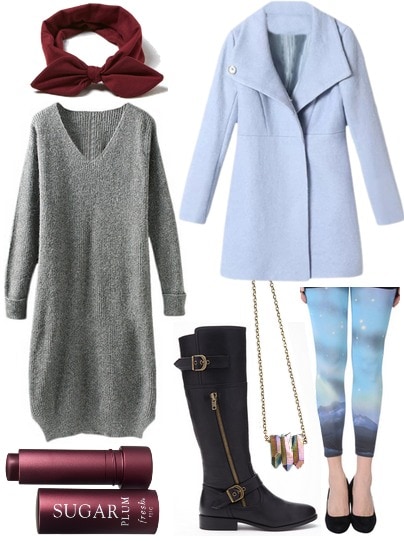 Headscarf, Coat, Sweater Dress, Riding Boots, Necklace, Leggings, Lip Balm
If your winter coat is colored, like this beautiful sky blue beaut here, try to incorporate complementary colors and cozy neutrals into your outfit.
This cozy, oversized sweater dress will peek out just a little bit underneath the bottom of the coat, giving the look a quirky and youthful vibe. When paired with knee-high riding boots, your atmospheric leggings will be noticeable without overpowering the other elements of your look. (They're also a nice nod back to our featured painting.)
A deep tinted lip balm will keep your lips from getting chapped and cracked in the cold. Add an earthy, shiny pendant necklace, braid back your hair, throw on a cute burgundy headscarf, and you're ready to go!
It Takes an Ocean Not to Break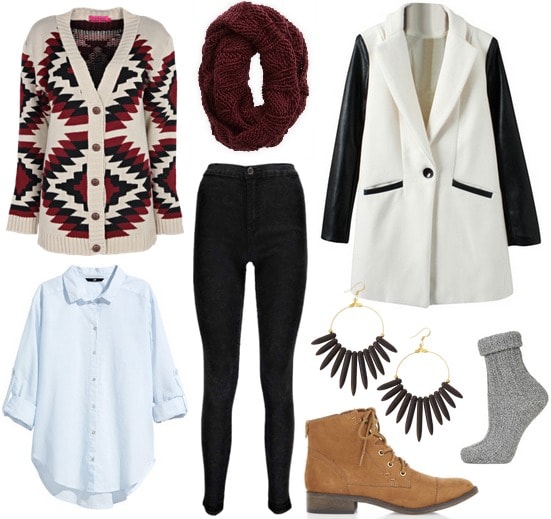 Cardigan, Scarf, Coat, Blouse, Jeggings, Earrings, Socks, Booties
If you have a two-toned coat in neutral colors, wear something patterned underneath your coat that will peek out of the collar, sleeves, or hem. This cozy red, black, and cream cardigan is colorful enough to spice up your coat but subtle enough to play well with the other neutral elements of the outfit, like tan booties, gray socks, black jeans, and a blue cotton blouse.
An oxblood infinity scarf echoes the cardigan and brings a chic dose of color to the coat, but if you wanted to, you could easily choose a patterned scarf in a complementary pattern to your cardigan for an even punchier look. A sleek topknot and spiky hoop earrings add a dose of polish to temper-clashing patterns.
What do you think?
Are you a fan of "Monk by the Sea"? What are your favorite memories of being by the sea/in nature? How do you try to incorporate your coat into outfits? Could you tell I was listening my alt-rock station while I writing this? Let me know in the comments below!