Okay, some real talk? I'm going to be living vicariously through you, dear reader, for the next thousand words or so. Fall is my favorite season, fashion or otherwise, and I LIVE for back-to-school shopping.
TOO BAD I GRADUATED IN MAY. It's seriously just hitting me now. I am a real adult, with a job and a husband and BILLS. (Jenna Marbles link, so, y'know, language.) BRB, I'm going to go watch The Powerpuff Girls and Sailor Moon and drink chocolate milk and eat cereal in my pajamas. Forever.
Anyway.
Today's Fashion Inspired By Art post is all about smart back-to-school shopping. Not only am I going to show you how look sharp and trendy for your first day of fall classes, but I'm going to show you how to pick pieces in hot fall colors that you can buy and wear right now. That's right: we're talking about transitional fall fashion and using Arnold Böcklin's "Die Toteninsel" as inspiration: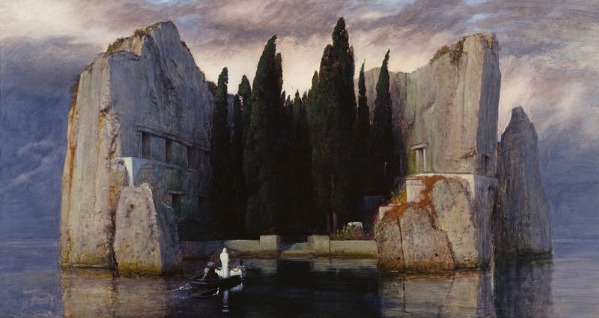 Arnold Böcklin's "Die Toteninsel" (1883) via Wikimedia Commons (Click image to enlarge.)
"Die Toteninsel", or "Island of the Dead" (also "Isle of the Dead"), may look familiar to some PLLfans… the painting was featured briefly in an episode about a month ago, and it miiiightbe a clue or a hint to either who A is or one of the Liars' freaky behavior this season. It also happens to be one of my favorite paintings, ever.
However, I picked this painting because it incorporates many colors that are going to be huge this fall. In fact, it features five hues straight from Pantone's Fall 2014 color forecast: cypress green, cobalt blue, aurora red, aluminum grey, and cognac.
Read on to learn more about Arnold Böcklin and his painting, and to see several outfits inspired by this work of art:
About Arnold Böcklin and "Die Toteninsel"
Born in 1827 in Basel, Switzerland, Arnold Böcklin was a Symbolist painter known for his mastery of light and shadow and his affinity for landscapes and mythological paintings. He studied at the Düsseldorf Academy and was heavily inspired by the Barbizon School, which he discovered while studying abroad in Paris.
He became well-known for his landscapes of the Swiss Alps and for mythological paintings featuring Pan, particularly "Pan Among the Reeds" and "Syrinx Fleeing From the Onslaught of Pan". Far and away, however, Böcklin's most cherished work is the series of five paintings titled "The Isle of the Dead", completed from 1880 to 1886.
The piece featured here is the third in the series, and was completed in 1883. Though he began the series soon after the death of his young daughter, Böcklin never offered a public explanation of the paintings.
Despite this, his poetic, dreamy, and imaginative depiction of death, removed from any mythological, religious, or literary death lore, struck a chord with his audience. The paintings became so beloved that Vladimir Nabokov wrote in his novel Despair that they were "found in every Berlin home."
The legacy of Böcklin and "Die Toteninsel" has lasted into the 21st century. Böcklin inspired artists like Salvador Dalí and Max Ernst, and a popular typeface was named after him shortly after his death in 1901. "Die Toteninsel" has inspired countless composers and musicians (most famously Sergei Rachmaninov, who wrote this beautiful symphonic poem) as well as manyauthors. Hitler (who was also a painter) even owned this painting briefly during WWII.
Outfits Inspired by "Die Toteninsel"
Cypress Green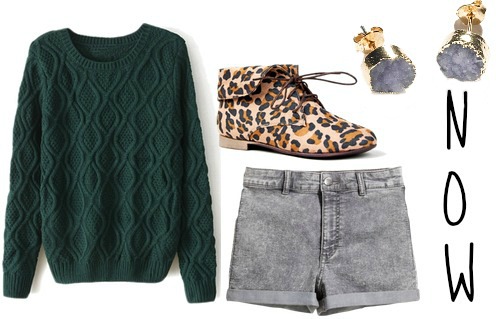 Sweater, Shorts, Shoes, Earrings
When I'm shopping for any season and am on a budget, I tend to avoid super-trendy silhouettes and look for hot colors instead. I feel like colors stay around a little longer than silhouettes (we're still wearing oxblood, right? just me?) and, honestly? If you really like these colors and purchase pieces in timeless silhouettes, you can wear them whenever. Really.
Cypress green, the sophisticated, tea-drinking poet sister of army green, is an ultra-trendy color for fall 2014. Cypress trees represent mourning – Böcklin wasn't a symbolist for nothing, yo – but this subtle, verdant color won't die when snow falls this winter, I promise.
And I know sweaters are a hard sell for summer, but you need something cozy to wear on August's inevitable stormy days, right? Pair this oversize beaut with gray shorts and leopard print ankle boots, and you have a comfy, no-brainer outfit that will help you weather your most aggressively A/C-ed summer seminars. Also, the druzy earrings keep the outfit from being too basic.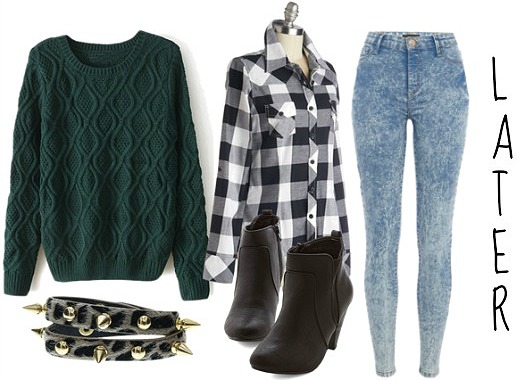 Sweater,Plaid, Bracelet, Booties, Jeans
I'm not gonna lie, this was basically my studio uniform last winter. I love the color of these acid-washed jeans; they match the color of the patches of blue sky in the painting, and that cheeriness (plus the edge of the acid-wash) perfectly offsets the moodiness of the sweater.
A plaid collar peeking out from under the sweater adds just a touch of polish and prep, while the studded bracelet and the BAMF black booties elevate this outfit from comfy to complex.
For a preppier look, swap the flannel for a crisp button down, and the jeggings for a cute plaid skirt. For something a little more artsy-cool, try a pair of awesome printed leggings.
Bright Cobalt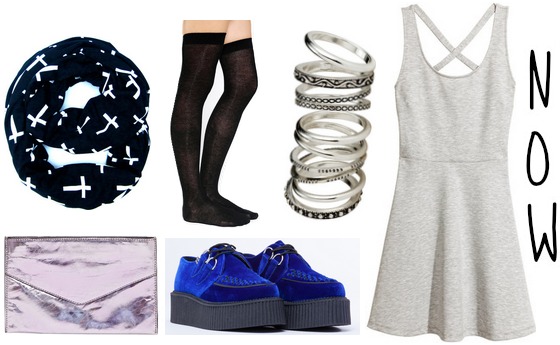 Scarf, Socks, Rings, Dress, Clutch, Creepers
One of the reasons the sea and sky in "Die Toteninsel" seems so vibrant and realistic is the underpainted layers of bright blue beneath slate and heather grays. Cobalt has been a popular hue for colored skinnies for a while now, but you'll see more iterations of it this fall. Also, how perfectly adorable and punky are these blue suede creepers? I die.
Channel the painting by pairing your cobalt creepers with a simple light gray dress and a punky patterned scarf. Sheer socks that hit above the knee add a sweet and sexy layer to this look, while a metallic lilac clutch adds a cool tactile contrast to the blue suede and mimics the water's mirror-like sheen. This outfit would be cool and comfortable for a Saturday spent exploring the city.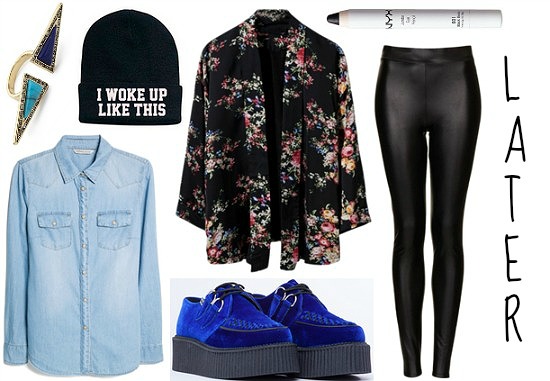 Ring, Beanie, Denim Shirt, Kimono, Creepers, Leggings, Eyeliner
Get more mileage out of your summer kimono by wearing it over a classic denim shirt/leather leggings combo in the fall for a sweet, comfy, and boho-y look. Paired with your creepers, a cool beanie, and an artfully messy smudge of eyeliner, this outfit has so much cool girl edge that it's perfect for your first day of class.
If the weather is cooler, you could forgo the kimono for a chunky cardigan or sweater, or wear some cute patterned socks over your leggings. On warmer days, you could totally switch out the denim shirt for a silky blouse, or the leather leggings for some faux-leather shorts.
Aurora Red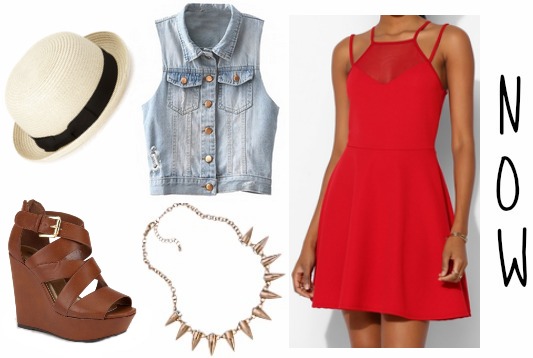 Bowler, Vest, Wedges, Necklace, Dress
If you've never painted before, this may be hard to see at first, but this color is actually pretty important in the painting. The yellowish moss that grows on the rock formations in "Die Toteninsel" has dimension and depth thanks to underpainted layers of bright red. It's also one of the painting's only warm hues, so the spot where it's used is a focal point that helps the viewer's gaze move through the painting.
Aside from that, this super-saturated red will make you feel like a million bucks. For the perfect summer party look, pair this red dress with a cropped denim vest, a comfy pair of wedge heels, and a cool straw hat. A short necklace above the mesh inset will draw attention to your neck and collarbones.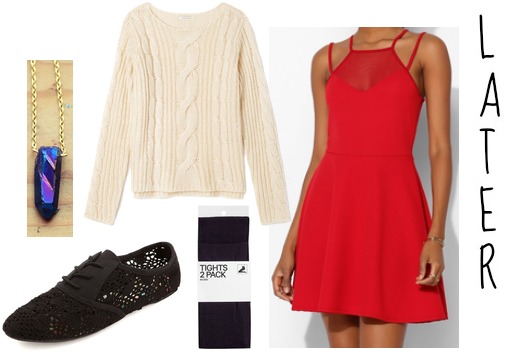 Necklace, Sweater, Oxfords, Tights, Dress
Once fall classes start, give this dress a studious, preppy update with opaque black tights and cute lace oxfords. Throw an oversized cream-colored sweater on over your dress for an easy and cute layered look that will still keep you cozy on blustery days. Finally, a bright blue holographic crystal necklace adds bold contrast to the saturated red.
For an even bolder look, swap the neutral sweater for a dusty pink version, or go big or go home with this cropped lilac beaut. Want an edgier outfit? Swap the cutesy oxfords for buckled moto boots or black creepers.
Final Thoughts
One of the reasons that "Die Toteninsel" is among my favorite paintings? It is somehow so, so striking yet calming at the same time. I am a little obsessed with mythology, particularly creation myths and death lore, and am really fascinated with the ways people try to understand death. You see a ton of overlap in death lore, and yet this piece is like nothing else that I've ever come across. It is beautiful and peaceful, yet powerful and foreboding.
I tried to translate this into the outfits I showed you today. The balance of neutrals and bold colors makes for outfits that are comfortable, familiar, and easy to put-together, but also edgy, fashion-forward, and fresh.
In college, it is so easy to just wear the first thing you grab in the morning, but trust me: you will never have the chance again to wear basically whatever you want, whenever you want, and be guaranteed to have people see that outfit. (Not that you can't wear kimonos to the DMV… because I may or may not have…)
The point is, while you're young and in college, try to find that balance of comfort, ease, trendiness, and edge when you pick your outfit for the day ahead. This is the best time to experiment and figure out your style, so don't be afraid to be bold! But the truly stylish and fashionable have figured out how to update what's most comfortable to them, so they feel at ease and stylish.
What do you think?
What do you think of "Die Toteninsel"? Do you have a favorite PLL fan theory? How do you update your favorite pieces to stay trendy? Do you have any back-to-school shopping tips? Let me know in the comments below!