Fashion, in its essence, is wearable art. And here at CF, we're big believers in that idea. Whether we're gaining inspiration from movies, books, music, or visual art, our posts aim to prove that all creative mediums can influence one's clothing choices.
For this week's edition of Fashion Inspired by Art, we'll be discussing Albrecht Dürer's Rhinoceros. I hope you all enjoy!
An Unknown Creature: About Albrecht Dürer's "Rhinoceros"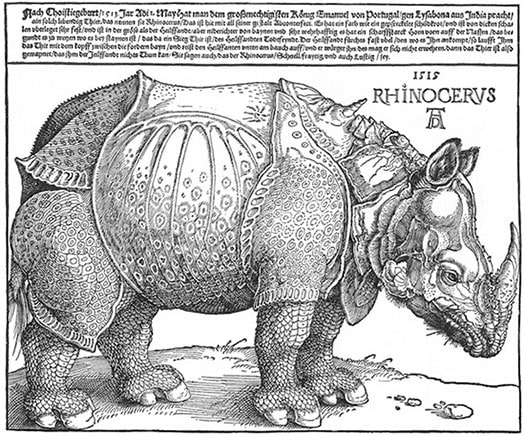 Albrecht Dürer's Rhinoceros (1515) [Public Domain] via Wikimedia Commons | Click to enlarge.
Albrecht Dürer (1471 – 1528) was a German artist, mathematician, and theorist who is most well-known for his incredibly detailed and lifelike woodcuts.
Woodcuts consist of pictures carved into the surface of a wooden block, which is then used as a stamp, transferring the image (flipped horizontally) onto another flat surface. Dürer was a true master of this process. Due to his knowledge of anatomy, as well as his artistic technique, he is now regarded as the most influential artist of the Northern Renaissance.
Dürer's Rhinoceros is an especially unique example of his work, not only because of its richly textured appearance, but also due to its incredible back story. You may have noticed that this woodcut has some inaccurate details, such as the boned plating and the scaly legs — this is because Dürer never actually saw a rhinoceros before creating this woodcut! His depiction is based solely on a written account of the first rhinoceros to be shipped to Europe since the Romans thrived – sadly, the animal died in a shipwreck before making it to its new owner, Pope Leo X. Pretty crazy, right?
Outfits Inspired by "Rhinoceros"
Now that you've heard all about the piece, let's check out some fashion inspired by this fascinating piece of artwork.
A Wonderful Woodcut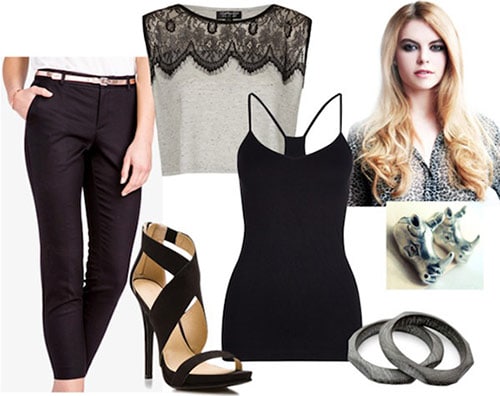 Pants, Shirt, Heels, Cami, Earrings, Bracelets | Hair and makeup photo via ELLE
For this outfit, I chose dressier pieces to reflect the exotic nature of a rhinoceros in the sixteenth century.
I started by creating a basic black base for the look, with simple cropped pants, a racerback tank, and strappy heels. Then, I added visual interest and contrast with a silvery-gray crop top, slate-colored bracelets, and – of course – some rhino earrings. The wooden bracelets and intricate patterning of the lace top reference the detail of Rhinoceros without copying the woodcut exactly.
Pair this look with loose curls and a smokey eye and you're ready for a dinner out downtown!
Scholarly Sweetie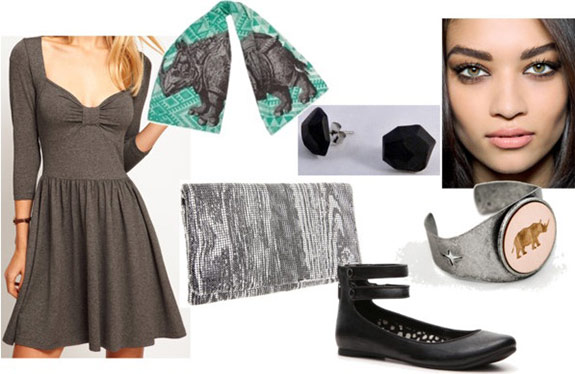 Dress, Scarf, Clutch, Earrings, Flats, Cuff | Makeup photo via ELLE
Here at CF, we are strong supporters of investing your dollars in wardrobe staples — or the pieces that every girl should own. And this look revolves around some basics that can easily be paired with almost anything to create a pulled-together outfit.
I started with a feminine skater dress, and added some cute black flats and geometric stud earrings. Then, to infuse the look with color and pattern, I added a bright patterned scarf, wood-print clutch, and rhino cuff. This is a great outfit for day-to-night transitioning, because you can easily throw on some sexy heels and lipstick and voila! Who knew you were going to start your day at the library and end up on a date at that hot new restaurant?
Textured Temptress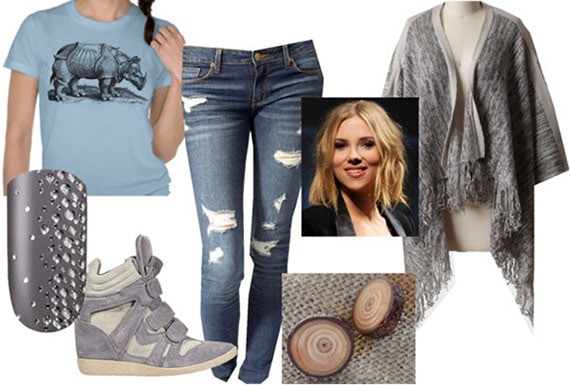 Shirt, Nail Stickers, Sneakers, Jeans, Earrings, Cardigan | Hair and makeup photo via ELLE
If there's only one thing that you take away from looking at Rhinoceros, it should be the beautiful, intricate patterns of the animal. I tried to capture that sense of varying, yet complimenting textures in this look.
The more rigid design aspects of the wooden earrings, rhinestone nail stickers, and heeled sneakers are complemented by the flowing cardigan, distressed jeans, and bedhead-like hairstyle. This is a perfect weekend go-to look, whether you're grocery shopping or hosting game night. Trust me, I know your schedule is already so full with studying and social activities, so never underestimate the power of a cute, yet casual ensemble!
What do you think?
Have you seen or studied a Dürer work before? Do you enjoy his woodcuts? What do you think about the inspired outfits? Which one is your favorite? Let me know in the comments below, I'd love to hear your opinions!