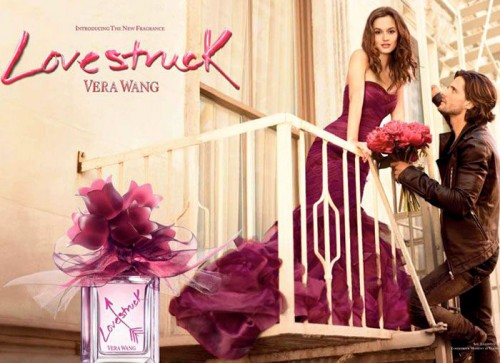 To continue with our fragrance inspiration series (in case you missed them, see the past posts on Miss Dior Cherie, Coach Poppy, and Taylor Swift's Wonderstruck) I've chosen Vera Wang's newest perfume, Lovestruck.
This floral fragrance is exceptionally feminine and romantic, making it the perfect choice for a last-minute Valentine's Day pick. In addition, the campaign features the lovely Leighton Meester as the face of the fragrance. The ad is very Romeo and Juliet-inspired, showing Leighton waiting her lover on a fire escape balcony. The bottle itself is just as gorgeous, with a bouquet of flowers arranged on the top.
The collection itself is perfect to use as a source of fashion inspiration for your own wardrobe. Below, I've created a series of outfits inspired by the fragrance and its campaign. Scroll down to view them all!
Outfit 1.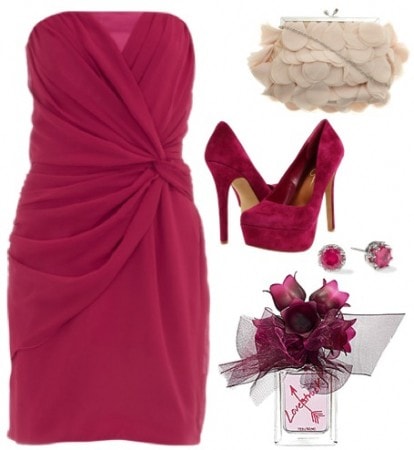 Dress, Shoes, Clutch, Earrings, Fragrance
Capture the fragrance's romantic vibe in this night-out outfit! Wear a pretty strapless dress in a dark pink color with matching pumps. For accessories, wear simple studs and grab a petal-accented clutch in a neutral color. Finish the look off with a spritz of Lovestruck!
Outfit 2.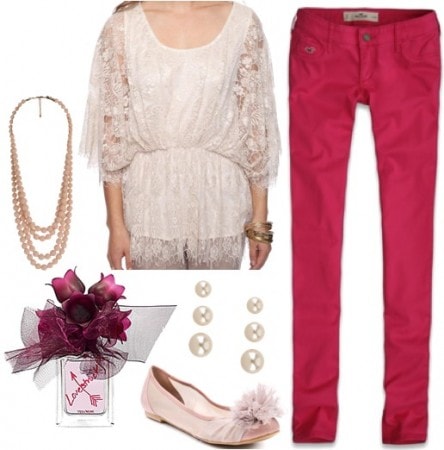 Top, Pants, Shoes, Necklace, Earrings, Fragrance
For a more everyday look inspired by the fragrance collection, wear a pair of dark pink skinnies with a lace blouse. Slip on a pair of floral-accented ballet flats, add a beaded necklace and pearl studs, and put on perfume to complete the ensemble!
Outfit 3.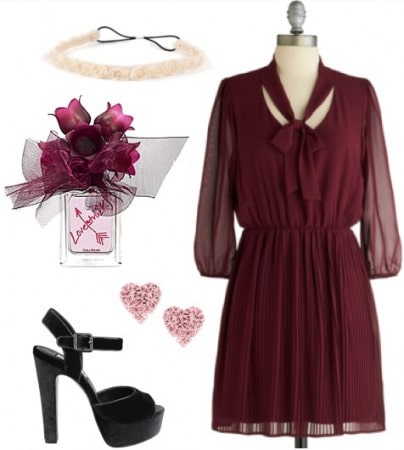 Dress, Shoes, Earrings, Headband, Fragrance
Wear a pleated skirt dress with a pair of platform sandals for a feminine twist. Add heart stud earrings and a floral headband for a look sure to leave you Lovestruck!
Outfit 4.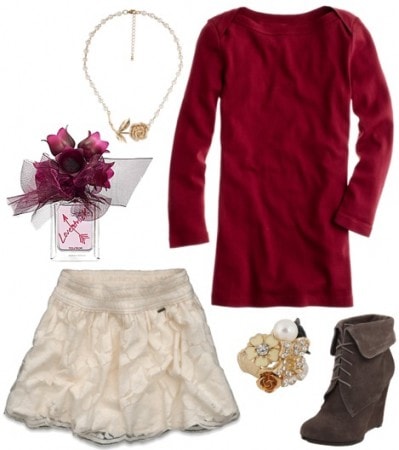 Top, Skirt, Shoes, Necklace, Ring, Fragrance
If you're headed to class, achieve a girly look by wearing a simple red blouse and cream-colored skirt. Ankle booties give it added flair, and a pearlescent necklace and floral cluster ring finish the outfit.
What do you think?
Do you like Vera Wang Lovestruck? Would you wear any of the looks above? Which one is your favorite? Would you like to see more posts like these in the future? Let me know in the comments!