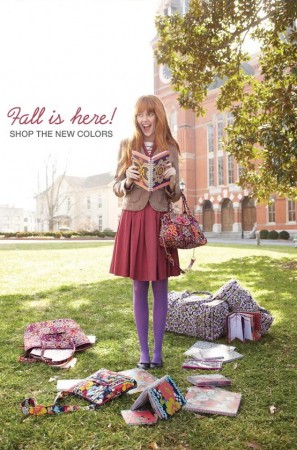 If you're heading back to campus, you'll undoubtedly see Vera Bradley bags all over this fall – the brand is always a popular choice with college students, thanks to their bright, colorful prints and variety of styles. I know I'm personally a fan!
Whether you're obsessed with Vera or are just looking for some wardrobe inspiration for fall, below, I've created outfits inspired by Vera Bradley prints that you can use as inspiration for your fall wardrobe. Each look is inspired by one of Vera Bradley's new prints for Fall 2011. Scroll down to view each pattern description and inspired look!
Also, if you're not a fan of Vera Bradley (I know many CF readers aren't), I've also added a few bags to substitute for the quilted totes.
Mocha Rouge Look

Mocha Rouge is probably the most girly of the new patterns. Shades of pink, cream, brown, and black fill the spaces of large, whimsical flowers for a look that's feminine and a little bit retro.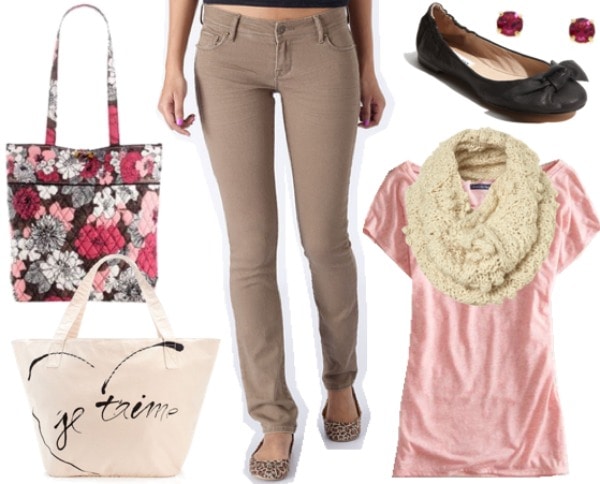 Top, Scarf, Jeans, Flats, Vera Bradley Bag, Earrings, Alternate Tote
Keep it simple but flirty in this look inspired by Mocha Rouge. A light pink tee over a pair of tan skinny jeans with the Vera Bradley bag or the oversized canvas tote is an easy but cute look to throw on for class. Pair with black bow flats and sparkly dark pink studs. Add a cream scarf for when the colder weather arrives!
Happy Snails Look

Continuing with their signature colorful prints, Vera Bradley introduces Happy Snails, a whimsical and playful pattern featuring a deep navy background with various colored flowers in cream, yellow gold, brown, teal, red, and coral.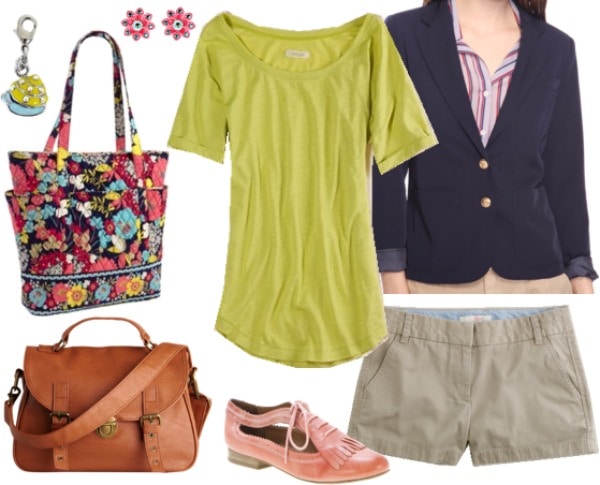 Top, Blazer, Shorts, Oxfords, Tote, Earrings, Charm, Alternate Bag
Inspired by the pattern Happy Snails, contrast the playfully bright tote with a classic navy blazer over a bright yellow-green tee and khaki shorts. Oxfords continue the classic look while hinting at a more fall-appropriate look. Bright floral earrings and a snail charm help to keep up the cheerful and fun vibe. For a more classic look, switch out the Vera tote for a faux leather satchel.
Plum Petals Look

Plum Petals is a fun choice for fall. This new pattern features shades of purple, cream, and green against a dark brown background. If you enjoy the classic florals of spring and summer, this print could be a good way to bring your love of florals into the new season.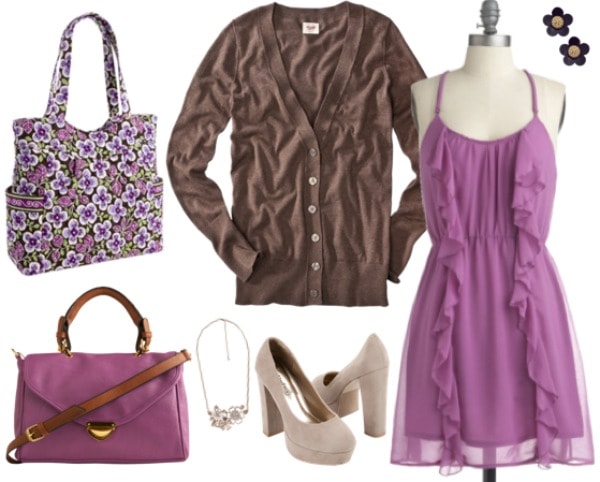 Dress, Cardigan, Pumps, Tote, Necklace, Earrings, Alternate Bag
Create a subtle girly feel with this outfit inspired by Plum Petals. A pretty purple ruffle dress under a brown cardigan with tan pumps creates a feminine look for fall. Flower earrings and a flower necklace channel the petals on the tote. Grab the Vera tote or faux leather bag as you head out the door for class in this chic and stylish look!
Safari Sunset Look

If you prefer a more traditional fall palette, Safari Sunset may be just what you're looking for. A deep burgundy background peeks through a pretty design of swirls and flowers of light brown, orange-yellow, tangerine, and shades of purple and magenta. The fusion of colors creates an eclectic, autumnal pattern.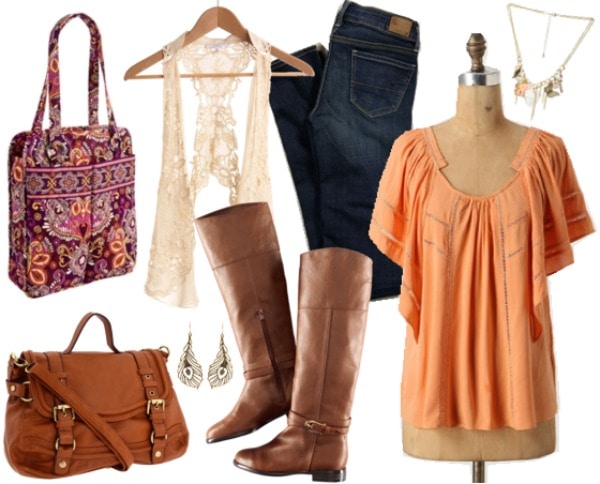 Top, Vest, Jeans, Boots, Tote, Necklace, Earrings, Alternate Bag
Inspired by the Safari Sunset pattern, this look is sure to stand out on campus. This pretty orange flutter-sleeve blouse under a lace vest will give a very soft boho feel when worn with this Vera Bradley tote or faux leather satchel. Pair with dark wash skinnies and riding boots for a classic fall look. Add a pretty statement necklace and feather earrings to finish off the outfit.
What do you think?
Do you wear Vera Bradley? Do you like these new patterns? Which pattern is your favorite? Would you wear any of the outfits? Would you like to see more posts like this in the future?
Let me know in the comments!