Official Film Poster
I recently re-watched The Music Man, the 1962 film based off the Broadway musical, which I loved as a little kid. It's a fun and colorful movie with lots of great songs and dances – if you haven't seen it, you are definitely missing out!
The story follows traveling salesman (and con man)Harold Hill as he makes a stop in River City, Iowa. His scheme? Promise to start a marching band for the town's kids, complete with shiny new instruments and uniforms… and then leave with the townspeople's money, without actually teaching the kids how to play. It's all going according to plan, until the local librarian, Marian, starts to get suspicious…
Here are three outfits inspired some of this film's classic musical numbers:
"Marian the Librarian"
Video Screenshot
Harold is eager to charm Marian, the town's librarian, in order to distract her from his scheme. Marian is considered an "old maid" by the townspeople, and she is something of an outcast. She tries to keep to herself, but Harold manages to break through her prim-and-proper barrier with his infectious song and dance.
To get Marian's look, try this work-appropriate but feminine outfit. Pair a pale yellow lace pencil skirt with a green peplum blouse and nude heels. Accessorize with simple pearl earrings and a polished white handbag. Lastly, don't forget a pair of round tortoiseshell glasses to add a librarian-esque feel.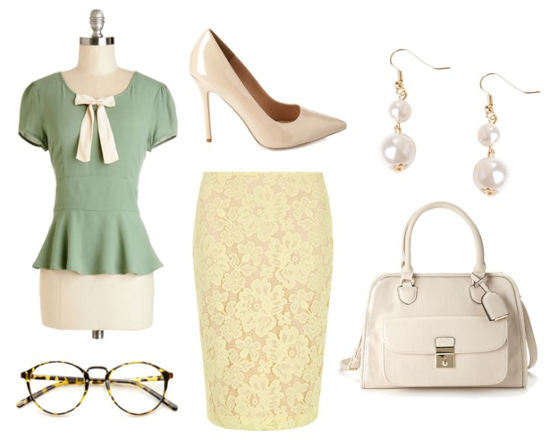 Product Info: Blouse, Skirt, Heels, Bag, Earrings, Glasses
"Till There Was You"
Video Screenshot
In one of the musical's best songs, Marian confesses her love for Harold; her stern, suspicious exterior has been melted by his ability to unite and inspire the community. The scene takes place at the footbridge in the park, on the night of the town's outdoor social dance, and everyone is dressed to the nines for the occasion.
This romantic, feminine look is perfect for a garden party or summer date night. Try a flowy white chiffon v-neck dress with pink lace flats and a matching pink clutch. Keep your accessories simple with a heart pendant necklace, then style your hair into a classic updo with a floral hair pin.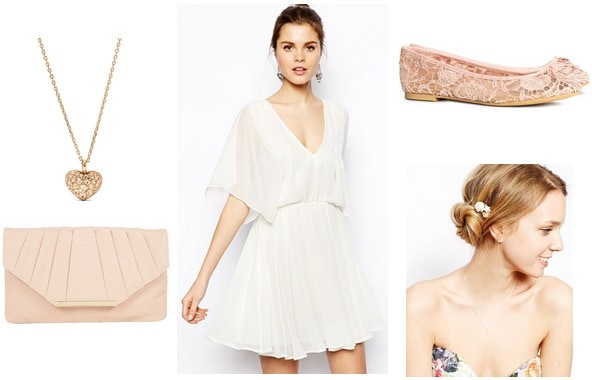 Product Info: Dress, Flats, Clutch, Necklace, Hair Pin
"Seventy-Six Trombones"
Video Screenshot
In the film's most memorable scene, a full-fledged marching band parades through River City while playing the musical's signature song.
To get the crisp and bold look of the band's uniforms without looking like you belong at a football game, try this outfit. Pair white tuxedo stripe jeans with a white tee and modern red blazer. Slip on some flashy gold heels and gold bangles, and add a subtle nod to the movie with gold treble clef earrings.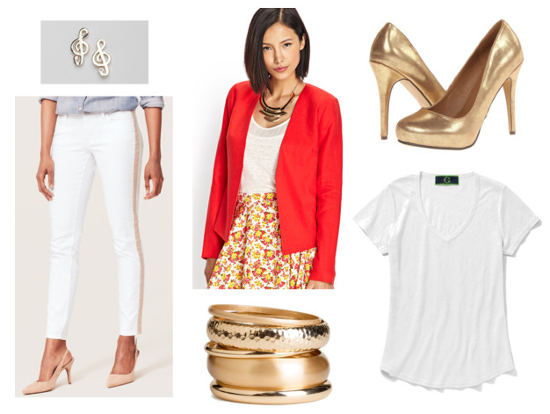 Product Info: Blazer, Jeans, Tee, Heels, Bangles, Earrings
Thoughts?
Have you seen The Music Man? Which song is your favorite? What do you think of these looks? Let us know in the comments!