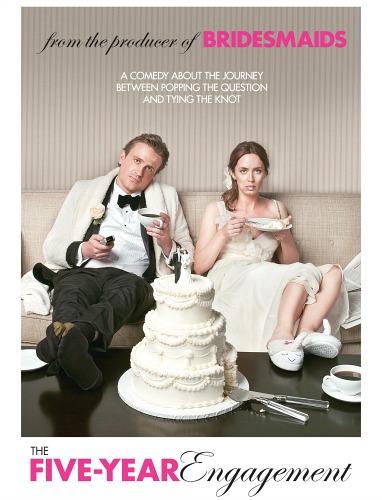 Last weekend I watched The Five-Year Engagement, a 2012 romantic comedy starring Emily Blunt and Jason Segel. It's the story of a happy young couple, Violet and Tom, who have just become engaged. But as they try to plan their wedding, one complication after another trips them up and prolongs their engagement.
Right now, at the start of summer, it seems like weddings are everywhere you turn – I couldn't help but get some fashion inspiration from Violet and Tom's romance. I've put together three outfits inspired by different stages of their (seemingly) never-ending engagement, so whether you're attending a wedding this summer or just planning your future day on Pinterest, be sure to take a look:
The Proposal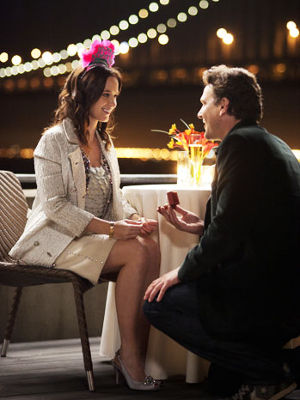 Movie Screenshot
Tom proposes to Violet on New Year's Eve, with the glowing lights of one of San Francisco's bridges in the background. For a glittery, feminine ensemble that's perfect for your own romantic summer evening, pair a ruffled pale pink blouse with a studded white skirt that mimics the lights of the bridge. Add some glitz with gold ankle strap heels, jeweled earrings, and a gold bracelet, then finish the look with gold nail polish and a simple white clutch.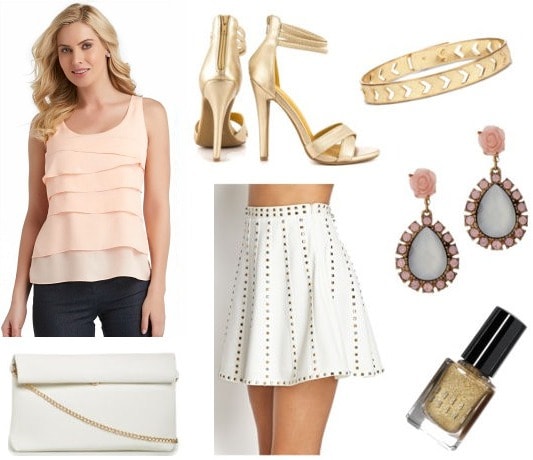 Product Info: Blouse, Skirt, Heels, Clutch, Earrings, Bracelet, Nail Polish
The Engagement Party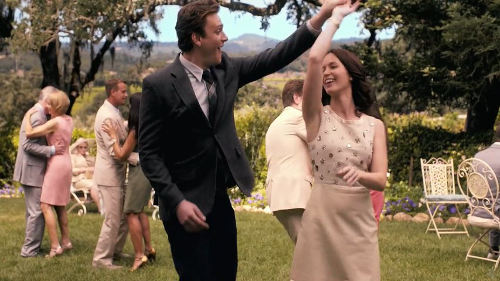 Movie Screenshot
Tom and Violet announce their engagement to their family and friends with a lovely garden party. For a dressy summertime outfit that perfectly fits the occasion, wear a studded, flowy cream dress with mint heels and a floral clutch. Accessorize with a trendy statement ring, and then add some polish to your beauty look with rosy lip gloss and a crown braid.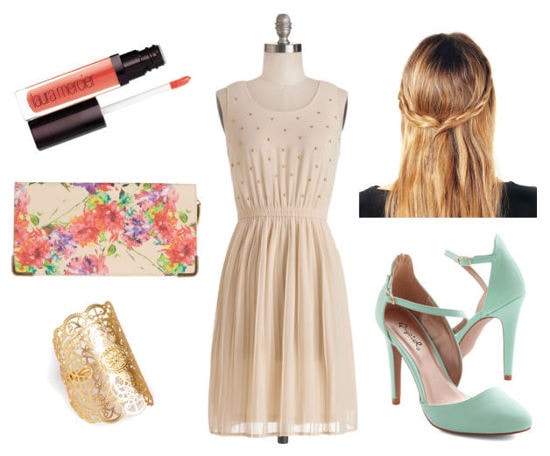 Product Info: Dress, Clutch, Heels, Ring, Lip Gloss | Hair Photo: ELLE
The Rehearsal Dinner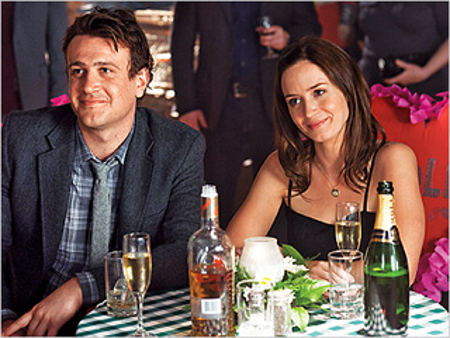 Movie Screenshot
Tom and Violet's casual rehearsal dinner is held on checkered tablecloths in a friend-of-a-friend's BBQ joint. For a fun and simple look that's perfect for dancing the night away with friends, start with a twirl-friendly chiffon LBD. Pair it with sassy red heels, bangles, and a pendant necklace. Keep your beauty regimen easy by leaving your hair in loose, relaxed waves.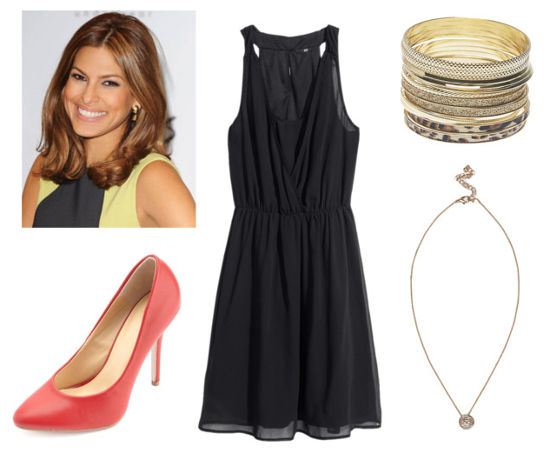 Product Info: Dress, Heels, Bracelets, Necklace | Hair Photo: ELLE
Thoughts?
Have you seen The Five-Year Engagement? What's your favorite scene? What do you think of Violet and Tom's wedding style? Let us know in the comments!