This post may contain affiliate links, which means we may receive a commission if you purchase through our links. Please
read our full disclosure here
.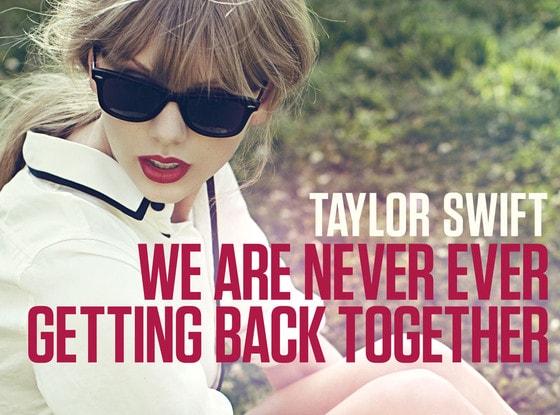 Taylor Swift's latest song happens to be yet another catchy tune, titled "We Are Never Ever Getting Back Together." This song could very well be seen like a case of "Call Me Maybe" gone wrong. Highlighting a toxic break-up/make-up relationship, the song's lyrics are still heavily focused on her romantic life, though its sound is a bit of a departure for Taylor.
Even if you don't like the song, the music video for it is pretty adorable, featuring retro-inspired pieces and fun surprises:
A song as quirky as this one deserves a video to match, right? The video is rumored to have been shot in one take, which makes it pretty remarkable. (I know I wouldn't be able to change outfits that quickly!)
While we may not know who exactly Taylor is singing about or understand the reasoning behind her band's video costumes (woodland creatures, really TSwift??), we do know that this eccentric video is a great source of fashion inspiration. The vintage flair is perfect for those looking to mix their look up a little bit for fall. If you're like me, retro pieces are slowly but surely finding their way into your wardrobe, and Ms. Swift can help you decide how to style them.
Below, I've created a series of outfits inspired by the video for "We Are Never Ever Getting Back Together," and the song itself. Scroll down to view them all!
We Called It Off Again Last Night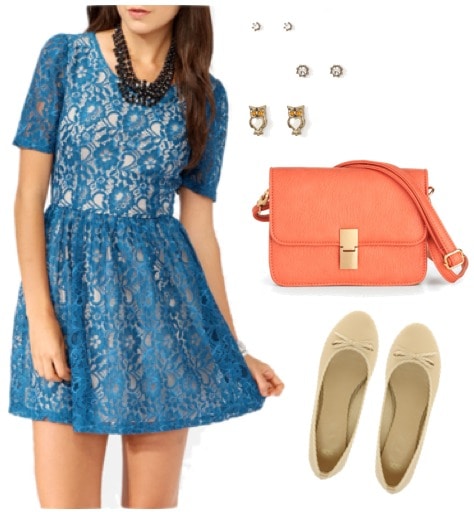 You will look absolutely fabulous for fall in this retro-pop look inspired by Taylor's coral and blue ensemble. Wear a vintage-inspired lace dress with a pair of neutral-colored ballet flats. Grab a coral satchel for fun flair, and put in sweet, whimsical critter earrings for a look that's both cute and unique.
With Some Indie Record That's Much Cooler Than Mine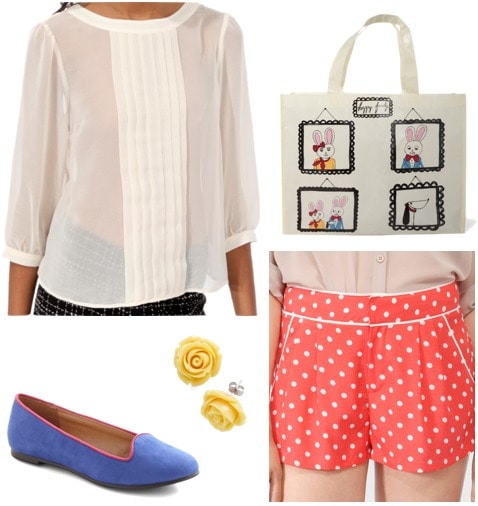 Blouse, Shorts, Loafers, Bag, Earrings
Being single never looked better, especially when you're sporting this cute, quirky outfit! Tuck a sheer blouse into a pair of coral polka dot shorts, then slip on sleek loafers and vintage-inspired floral earrings for some retro flair. Before you head out to indulge in some retail therapy, grab a shopper tote featuring some cute creatures to complete the look.
We Were Forever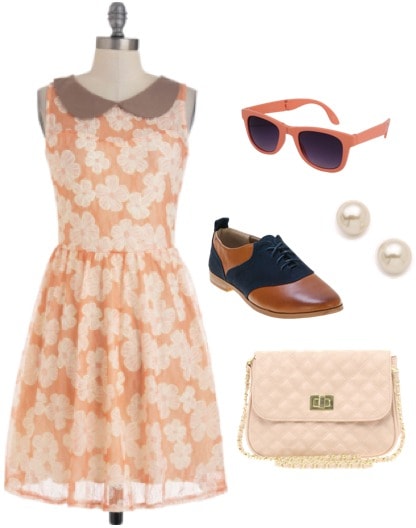 Dress, Oxfords, Bag, Sunglasses, Earrings
It's beyond obvious: Taylor Swift loves her retro floral print dresses! Steal her style with this flowery Peter Pan collar frock in a lovely shade of peach. A pair of oxfords lend a quirky vibe to the outfit, as do some peach-colored wayfarer sunglasses. Wear with pearl stud earrings and a blush-colored bag for a classic look!
Bonus Look: "We Are Never Ever…" Single Cover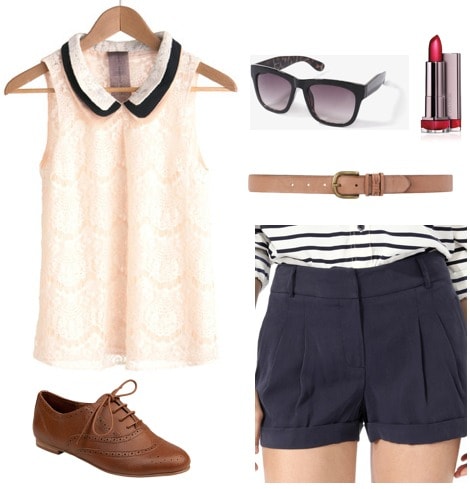 Top, Shorts, Oxfords, Belt, Sunglasses, Lipstick
Inspired by the single's album artwork (pictured at the top of the post), this outfit has a classic aesthetic that matches Taylor's new preppy girl style. Wear a collared lace blouse tucked into a pair of high-waisted navy shorts, and add a simple, neutral-toned belt. Oxford shoes maintain that preppy feel, and Wayfarer shades match the ones Taylor is wearing in the photo. Word on the street is that TSwift's next album is titled Red, so don't forget to seal the deal with bold lipstick in the same color!
What do you think?
Are you a fan of Taylor Swift's latest single? Are you inspired by the quirky, retro vibe of the music video? Would you wear any of the looks above? Which outfit is your favorite? Would you like to see more posts like these in the future? Let me know in the comments!