This post may contain affiliate links, which means we may receive a commission if you purchase through our links. Please
read our full disclosure here
.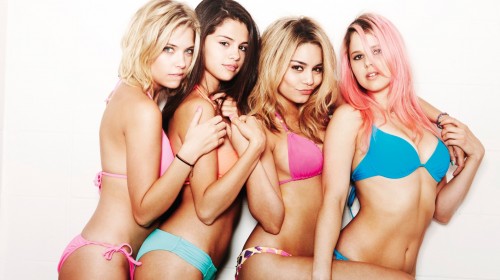 For most of us, Spring Break means a trip to the beach with a group of friends to enjoy the arrival of warmer weather. For Harmony Korine, the director of the new flick Spring Breakers, this meant taking four college students (played by Ashley Benson, Selena Gomez, Vanessa Hudgens and Rachel Korine) and placing them in a borderline "Girls-Gone-Wild" film complete with trippy neon graphics, spontaneous crime sprees, and plenty of Britney Spears references.
I have to say, I will never be able to look at James Franco the same way again after witnessing his character's creepy fake southern accent, grill, and cornrows. Spring break forever, y'all.
While the movie might have slightly scarred me even though I think I enjoyed it, it did definitely get one thing right — the fashion. So, maybe our fab four rocked nothing but their neon bathing suits for a good portion of the film, however their relaxed, beachy style is great casual inspiration for spring! Opening Ceremony even released a fashion line inspired by the film! (I mean, who doesn't need a pink unicorn sweatshirt in their life?)
Below, I've created two outfits inspired by Spring Breakers, creepy James Franco a.k.a. "Alien" not included. Scroll down to see the looks!
Beach Bum
Tank, Shorts, Bikini Top, Bikini Bottom, Shoes, Backpack, Sunglasses
While Spring Break may not last forever, you can definitely carry on the warm-weather look long after the sandy shores are out of sight. Wear a cute purple racerback tank over a pair of colored denim shorts. Pink Converse sneakers, a brightly-hued backpack, and iridescent neon shades are the perfect accessories for this totally beach-ready look. Of course, the outfit is not complete without a mismatched bikini, similar to the ones the girls wear throughout the movie.
Spring Break Forever
Tank, Shorts, Bikini Top, Bikini Bottom, Flip Flops, Towel, Sunglasses
Live like it's spring break every day when you step out in this poolside getup. Pair an ombre tank with colored shorts, then layer both over a fun flamingo print swimsuit top, paying tribute to the now-infamous sunshine state. Grab bright pink swim bottoms and slip on a pair of neon-accented flip flops for a cute twist. Before hitting the waves, don't forget to grab your fab aviators and a fun tie-dye look beach towel to complete the outfit!
What do you think?
Have you seen Spring Breakers? Were you inspired by the looks from the film? Would you wear any of the outfits above? Which one is your favorite? Would you like to see more posts like this one in the future? Let me know in the comments!