This post may contain affiliate links, which means we may receive a commission if you purchase through our links. Please
read our full disclosure here
.
Rock band Panic! At The Disco recently came out with a brand-new song, "Hallelujah". While the rest of the album has not yet been released, they have already put out a music video for the single, and it is so. Freakin'. Cool.
The video is inspired by a video game called "Monument Valley" and features shifting pathways, dangerous cliffs, and of course, the band's lead singer, heartthrob Brendan Urie.
Check out the music video here!
Scroll down to view three looks inspired by the twisting maze of "Hallelujah":
1. Stand Up Sing Hallelujah
Throughout the video, we see shots of Brendan singing the chorus to us in a beautiful wine-hued suit. It definitely makes a statement!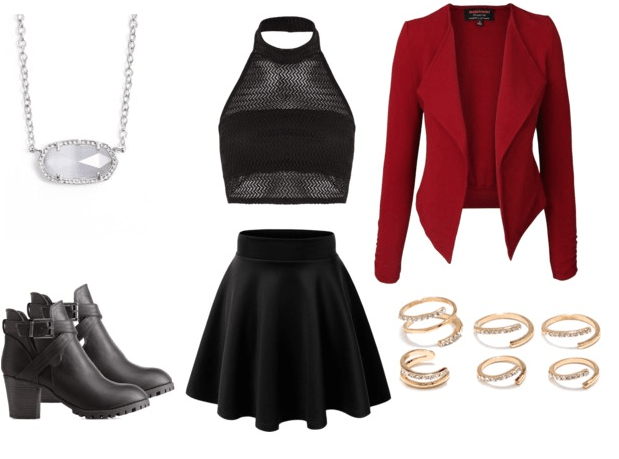 Product Information: Top // Blazer // Skirt // Booties // Pendant // Rings
While you could go all-out with the burgundy like Brendan did, limiting a pop of color to a single piece can be more appropriate for class or work. Pair a red blazer with a basic black skater skirt and rough 'n' tough booties.
For the top, I chose one that's sheer and cropped for a night out, but you could also go for something a bit longer and opaque for daytime wear. Finish off the look with a smattering of (surprisingly neutral) crystal encrusted jewels.
2. Just Finished a Daydream
At the beginning of the video, this gorgeous princess runs away from Brendan– forcing him to go through obstacles and shifting puzzle architecture to finally get to her.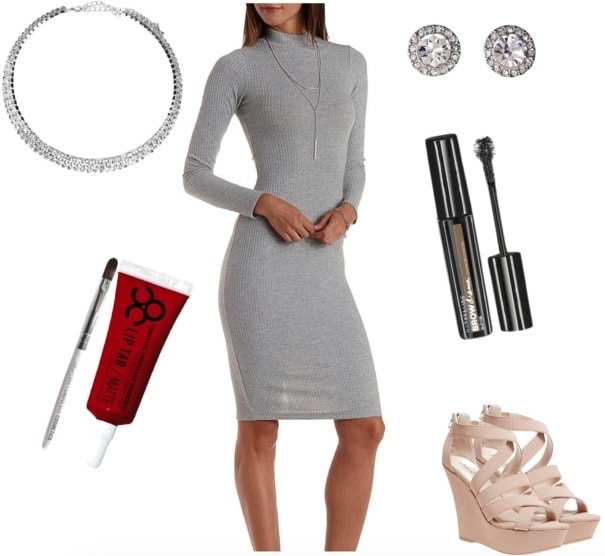 Product Information: Dress // Necklace // Earrings // Shoes // Lip Tar // Brow Gel
This look is perfect for transitioning from summer to autumn back on campus (No! Summer! Don't leave us!). Combine a gray mock-neck midi dress with blush wedges and you've got a killer outfit foundation.
To channel the princess, put on some pewter-tinted jewels, amp up your brows with a swipe of gel, and show that you mean business with a deep red lip tar.
3. You'll Never Know If You Don't Ever Try Again
This final look is based on Brendan's non-singing character in the video, who is trying to get to the elusive princess.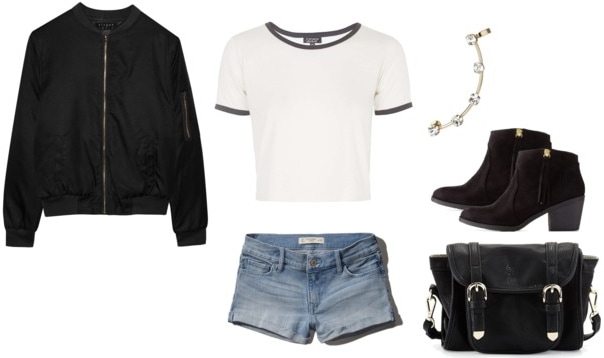 Product Information: Jacket // Tee // Shorts // Booties // Bag // Ear Cuff
Make this outfit work for summer with a lightweight bomber jacket instead of a leather one (Leather? In 80 degree heat and humidity? Recipe for disaster). Layer a classic white-and-navy ringer tee underneath with a pair of cutoffs for a tried-and-true neutral look.
Be sure to keep some of Brendan's character's punky edge with heeled suede booties and a crystal ear cuff. Carry any essentials for saving princesses in a study and chic black bag.
What Do You Think?
Were you a huge fan of Panic! At The Disco back in "the day"? Are you planning on listening to their upcoming album when it's released? Which look is your favorite? Tell me in the comments below!