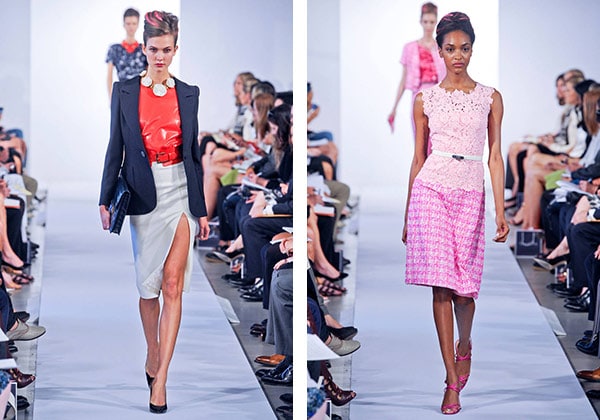 Oscar de la Renta Spring/Summer 2013 | Photos via ELLE
I know it's still fall, but I can't stop thinking about all the wonderful spring looks that graced the runways at New York Fashion Week. And right now, I'm more than a little obsessed with Oscar de la Renta's S/S 2013 collection.
Featuring bold colors, rich textures, and beautiful patterns, plus his signature ball gowns, Oscar's collection wowed at NYFW. While I loved all of the looks, I was most enamored with the playful peach-pink looks that were heavily accented with rosette-style flowers – so dreamy!
While you might not imagine yourself as Karlie Kloss opening and closing for Oscar when you're on the way to that 8am, you can just as easily rock your own outfits inspired by the looks on the runway. Below, I've created a series of outfits inspired by Oscar de la Renta's Spring/Summer 2013 linethat you can use for ideas for everyday wear! Take notes from ODLR's put-together styles and use them to create your own chic looks. Scroll down to view all the outfits!
Rosettes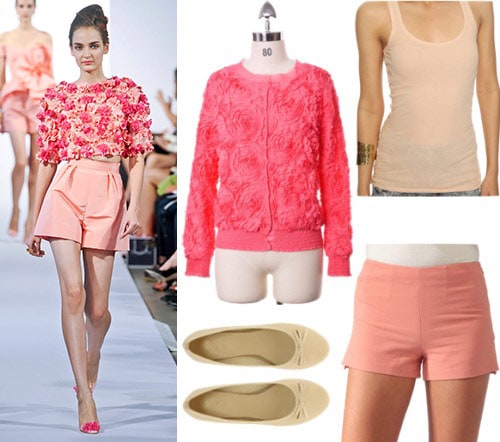 Photo: ELLE | Products: Jacket, Tank, Shorts, Flats
Oscar de la Renta designed a few looks featuring pretty shades of pink and floral details for an updated feminine look. Girly girls like myself will be glad to know that this pretty ensemble is easy to re-create with a few key pieces! Wear a flower-accented jacket (or regular blazer) in a bright pink hue over a blush-colored tank. Pair with peach high-waisted shorts and a pair of ballet flats for a cute look!
Cotton Candy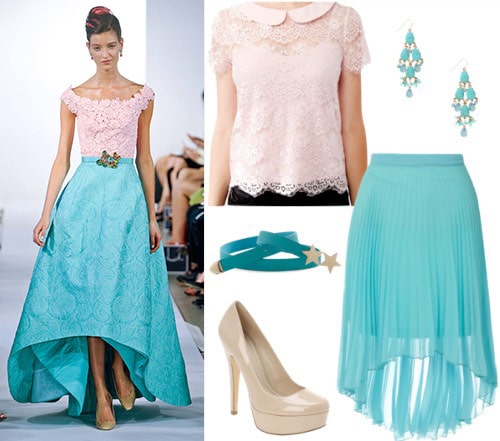 Photo: ELLE | Products: Top, Skirt, Pumps, Belt, Earrings
Draw inspiration from this sweet, candy-colored look with a pretty lace top paired with a blue hi-lo skirt. Slip on a pair of neutral pumps to dress the look up a bit. Cute accessories like a star-accented belt and teardrop earrings add a fun twist.
Classic Stripes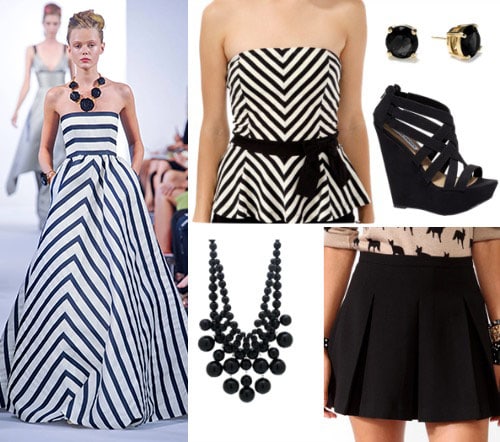 Photo: ELLE | Products: Top, Skirt, Necklace, Earrings
What's navy and white and striped all over? My favorite look from Oscar's Spring 2013 collection, that's what! For an early fall take on this dress, recreate it in classic black and white. Start with a peplum chevron striped top over a pleated black skirt. Accent the look with edgy platform wedges and a super cool statement necklace. Stud earrings complete the ensemble for a look that is absolutely adorable!
What do you think?
What's your favorite collection from NYFW? What trend are you looking forward to wearing for spring? Would you wear any of the looks above? Which one is your favorite? Would you like to see more posts like these in the future? Let me know in the comments!