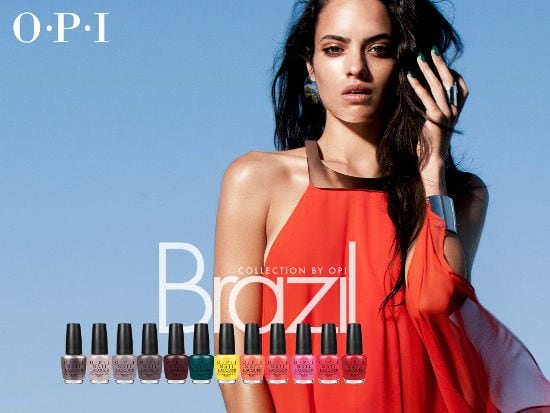 Photo Courtesy of OPI
Though it's still technically winter, there is one way you can start enjoying spring (regardless of the weather) – stock up on bright, colorful nail polishes!
OPI's new Brazil Collection is a great place to start – it includes 12 rich, vibrant colors that range from emerald green to sunny yellow to hot coral. The polishes are for sale individually and in mini kits of four, so you can treat yourself to a little or a lot.
Looking at OPI's collection, I couldn't help but be inspired. Brazil brings to mind flowy fabrics, glamorous metallics, and bold colors – so here are three outfits inspired by OPI's Brazil Collection:
Outfit #1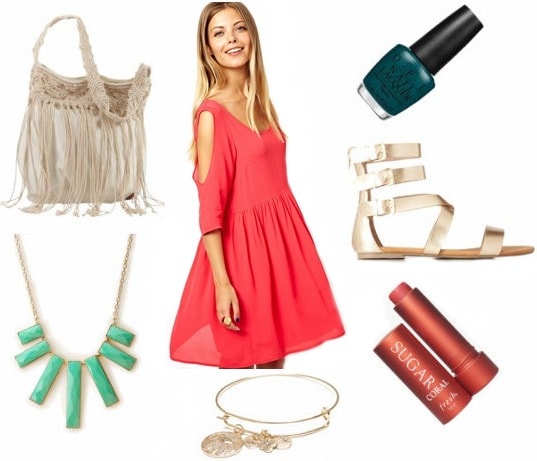 Product Info: Dress – ASOS, Shoes – Forever 21, Bag – Roxy, Necklace – Forever 21, Bracelet – Jeweliq, Lip Balm – Nordstrom, Nail Polish – OPI in "AmazON AmazOFF"
For you soon-to-be spring breakers, this first outfit is perfect for a day of sunny sightseeing (and maybe a stop at the beach!).
A flowy coral dress with shoulder cutouts pairs perfectly with gold gladiator sandals, while a crocheted tote adds a casual, effortless vibe. Some fun jewelry, like a contrasting necklace and gold charm bangle, add a touch of glam. Keep your lips pretty and protected with a tinted lip balm, and don't forget to finish off the look with OPI's deep rainforest green polish.
Outfit #2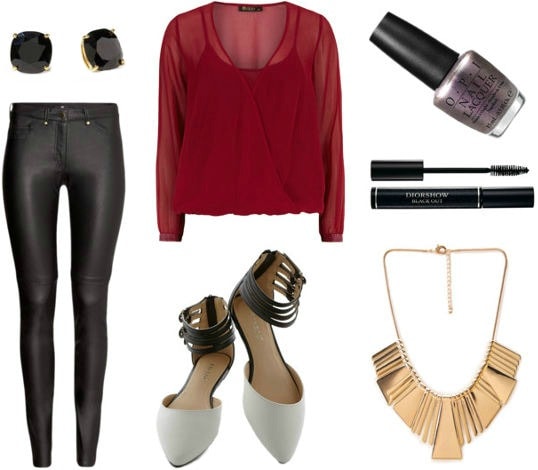 Product Info: Blouse – Dorothy Perkins, Pants – H&M, Shoes – Modcloth, Necklace – Forever 21, Earrings – Piperlime, Mascara – Lord & Taylor, Nail Polish – OPI in "Next Stop.. The Bikini Zone"
If the nights are a little too chilly for bare legs where you are, try this ensemble to capture the sleek and seductive Brazilian fashion vibe.
Pair leather pants with a flowy maroon blouse and a gold statement necklace. Slip on a pair of chic, two-toned ankle strap flats and keep your earrings simple, so they don't compete with the necklace. For your beauty look, try a deep black mascara and OPI's metallic pewter shade (which has a pretty hint of purple).
Outfit #3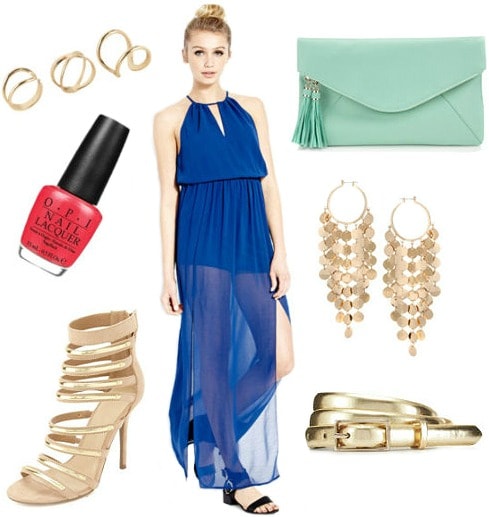 Product Info: Dress – Forever 21, Shoes – Charlotte Russe, Clutch – Accessorize, Earrings – ASOS, Belt – Ann Taylor, Rings – Aldo, Nail Polish – OPI in "Live.Love.Carnaval"
If you want to go all out (and maybe get in the Carnaval spirit) on Spring Break, this final getup is for you.
Pair a shoulder-baring blue maxi dress with strappy stilettos and dramatic gold earrings. Accessorize with a gold belt to highlight your waist, and a mint clutch for another pop of color. Lastly, highlight those digits with a set of gold rings and OPI's festive coral polish.
Thoughts?
What do you think of OPI's new collection? Which color would you wear? Which outfit is your favorite? Let us know in the comments!