This post may contain affiliate links, which means we may receive a commission if you purchase through our links. Please
read our full disclosure here
.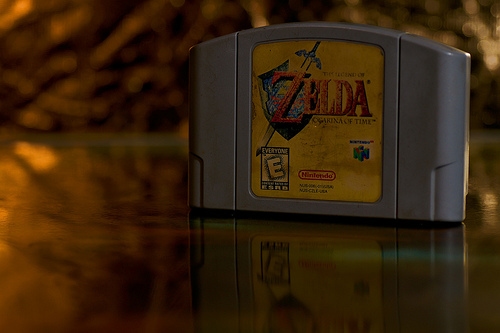 If you're an avid reader of CF, you know that we believe fashion inspiration goes beyond storefronts, magazines and runways. In the past we've found inspiration from Disney characters, books, TV shows and even music. However, until now, we haven't really covered one of the more recent forms of media entertainment, video games.
Many of you requested some outfits inspired by the Zelda series of video games, so this week's post will feature wearable looks inspired by popular characters in the series. There are currently 17 Zelda games (with even more being released this year), which have been available on every console from NES to Wii. For this article, I created four outfits inspired by Link, Princess Zelda, Midna and Ganondorf.
Finally, if you haven't read them already, be sure check out the other articles in the series based on Nintendo's Mario series: Part 1 (Mario, Yoshi, Peach & Bowser), Part 2 (Luigi, Daisy, Toad & Wario) and Part 3 (Donkey Kong, Rosalina, Waluigi & Toadette).
Link
This is the main protagonist of the Zelda series, Link. He has a humble yet very brave personality and is the chosen bearer of the Triforce of Courage. Link is also the holder of the magical Master Sword and is known for his excellent combat skills.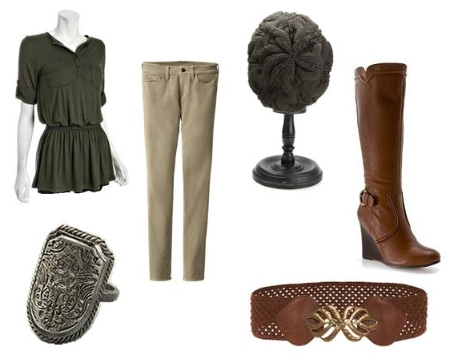 Tunic, Trousers, Hat, Boots, Ring, Belt
For an outfit inspired by Link, I recommend starting with the basics: Match a green tunic with a pair of skinny tan-colored trousers. Use a brown belt to define your waist and add some matching wedge-heeled riding boots. Accessorize with a kitted green hat and a shield-shaped ring to complete this look.
Princess Zelda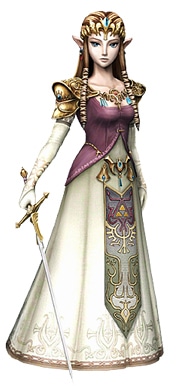 Princess Zelda, a member of Hyrule's royal family, is a kind and generous ruler. She is very self-sacrificing and willing to do anything for the good of her subjects. Since she is the bearer of the Triforce of Wisdom, Zelda is also extremely intelligent and wise beyond her years.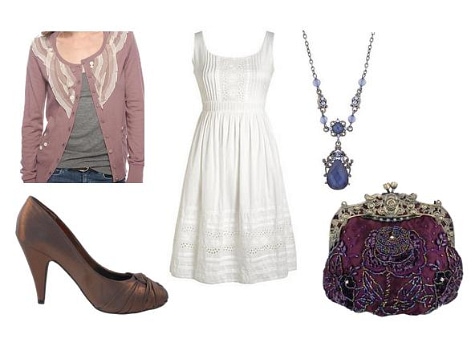 Cardigan, Dress, Necklace, Pumps, Clutch
Channel Princess Zelda's style by wearing a soft white dress with some delicate embroidery. This pretty cardigan is a similar color to the overlay on her dress, while the bronze pumps pick up on the color of the bottom of her dress. Zelda's outfit has lots of detailed elements, so add some ornate pieces like this necklace and clutch to finish the outfit.
Midna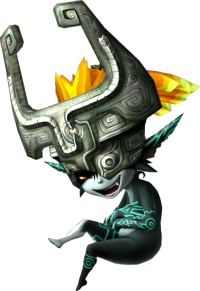 Although she looks sinister, Midna is actually Link's helper and guide throughout The Legend of Zelda: Twilight Princess. She is a member of the Twili race and is portrayed throughout most of the game as an imp. Midna is a little cynical, but has a playful and mischievous sense of humor. She also possesses many magical powers, such as levitation and psychokinesis.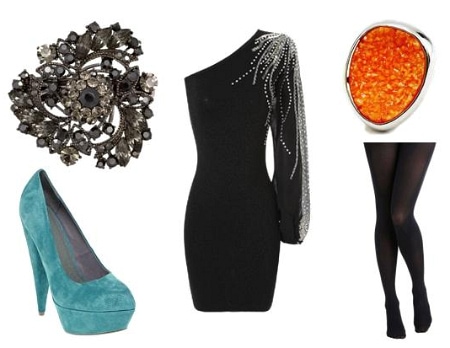 Hair Clip, Dress, Ring, Pumps, Tights
Even though Midna doesn't actually wear clothes, I chose a formfitting dress with a unique shoulder embellishments that reminded me of her markings. This metal hair clip mimics the helmet she wears, while the ring is the same orange hue as her hair. Some simple black tights add warmth while the turquoise pumps are similar to the blue detailing on Midna.
Ganondorf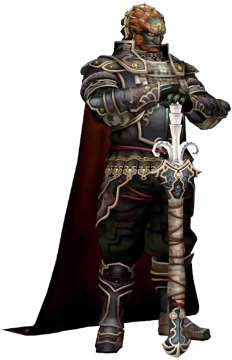 Ganondorf (or Ganon, in some incarnations) is the main antagonist of the Zelda games. Like most other villains, he is ruthless, egotistical and calculating. Ganondorf's desire for world domination is amplified due to his possession of the Triforce of Power. His lust for power causes him to seek out the other parts of the Triforce, which creates conflict throughout the series.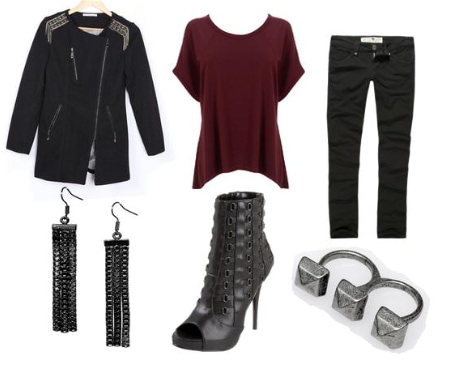 Coat, Top, Pants, Earrings, Booties, Ring
For this Ganondorf-inspired outfit, I chose a warm coat with detailing that reminded me of the armor he wears. Pair the coat with a burgundy top and black trousers which have a slight olive-colored tinge to them. Finish this look with some edgy heeled booties and these earrings and ring, which continue the tough-yet-stylish vibe.
What do you think?
Do you like these outfits? Which is your favorite? Are you familiar with Zelda games? Be sure to leave a comment and let me know your thoughts!