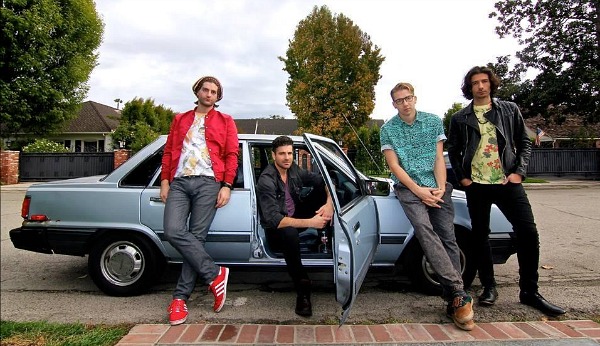 Official Promotional Image
Summer solstice is finally here, and if you're searching for the perfect song to get the season going, look no further than "Rude" by MAGIC!. This fusion of reggae and pop first took off in Australia and New Zealand, but recently it's been blowing up radio stations worldwide.
You can't help but fall in love with this charming sun-soaked tune from MAGIC!, a band comprised of four guys from Toronto. Grammy-winning songwriter Nasri Atweh, who has penned hits for Justin Bieber, Chris Brown, Christina Aguilera, Pitbull and more, is the lead vocalist. MAGIC!'s vibe is indie meets Caribbean – but not of the Rihanna variety. Instead, think The Police or No Doubt.
"Rude" is from their (aptly named) forthcoming album "Don't Kill the Magic," which will be available July 1st. The music video for their debut single follows the storyline of a determined young fiancé asking a father for his daughter's hand in marriage, only to be rebuffed with a – for lack of a better word – rude reaction. Check it out below!
Atweh pledges, "you can't fight the sunshine" in the song and we agree – all hail summer! Play this starry-eyed jam when you're getting ready on a warm day. It'll have you singing, it'll have you dancing, but above all, it'll have you feeling good.
Keep scrolling to see three looks inspired by MAGIC!'s "Rude:"
"Say Yes, Say Yes"
The flags of Ethiopia and Jamaica are synonymous with Rastafarian-inspired clothing. While many color-coded reggae-themed clothes are generally translated into novelty items (goodbye, fake dreads and beanie combo), this outfit is universal enough that you can wear it whenever the sun is out.
We focus on Pan-African hues in this breezy look by pairing yellow patterned shorts with a silky blouse. Add a pop of red with a nail polish, aviator shades, or both! Tie it all together with gorgeous black sandals and a matching satchel. If you're going to be out at all, don't forget a bronzer with SPF to get that subtle beachy glow.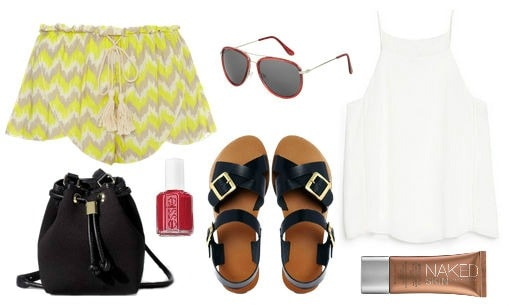 Product Information: Shorts, Polish, Top, Glasses, Bronzer, Sandals, Bag

"I'm Human Too"
MAGIC!'s attitude is the antithesis of the "rude" father's. Atweh and his group describe their jamming process as laid-back, with no rules or regulations, just the "collective muse" of wanting listeners to let loose and have a good time.
Consider this idea with the outfit below: jelly sandals, a light crochet top, a patterned skirt and woven bag shows style while evoking a totally casual vibe. Top off this '90s-esque ensemble with a necklace and crisp nail polish, and you're ready for an outdoor brunch!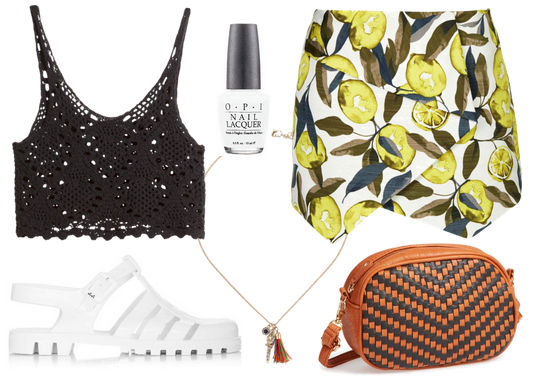 Product Information: Top, Purse, Necklace, Sandals, Polish, Skirt
"With Heart in My Hand"
Isn't it refreshing that a romantic song doesn't need to revolve around a boy-meets-girl love story? When you realize the lyrics are intended for an aggravated father, as opposed to a moody significant other, it amplifies the feelings. Not to mention, the endearing "Marry that girl/Marry her anyway" echoing throughout the chorus can warm the coldest of hearts.
Nasri puts on his "best suit" to meet his future in-law, but if you're dressing to impress, try the silhouette below! Wear a tropical chiffon maxi with a textured tie-waist tank top. Class it up with a pretty straw clutch, neutral sandals and a statement necklace.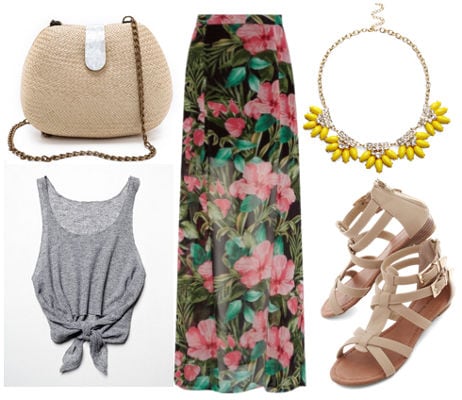 Product Information: Skirt, Top, Sandals, Necklace, Clutch
What Do You Think?
Are you into the song "Rude"? How do you like the outfits? What's your take on the island-fresh style? Let me know in the comments!