This post may contain affiliate links, which means we may receive a commission if you purchase through our links. Please
read our full disclosure here
.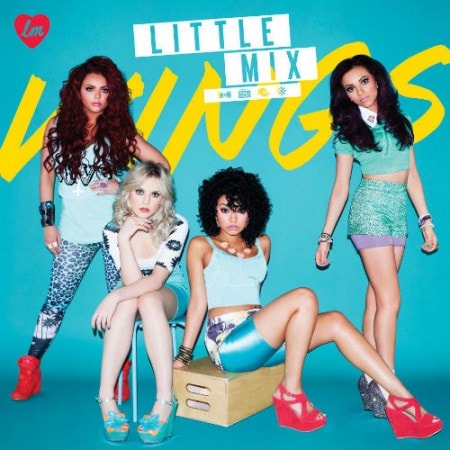 As if we all couldn't get enough of One Direction, there's more where they came from: Yet another British pop band has surfaced in the states. This time, it's an all-girl group with fierce vocals and catchy tunes. That band is Little Mix, and don't be surprised when they start topping the pop charts – like 1D, the group made their debut on the X Factor UK and are working to take America by storm.
Their latest single, "Wings" has been released on U.S. radio, and is a perfect song to drive around and sing along to with your best gal pals. Not to mention, the video is super cute. Check it out below!
No, you're not the only one who suddenly feels the need to dance. "Wings" has an upbeat vibe that we all know is much-needed during midterms. Not only does the song have a super positive message, but Little Mix has a great sense of style throughout the video. The '90s-inspired crop tops and denim have a sweet feel while high-top sneakers and stud accents give a more grunge aesthetic to create the perfect mix of edgy and girly!
With the right pieces, you too can achieve Little Mix's trendy British flair. Below, I've created a few outfits inspired by the song and video for "Wings." Scroll down to see them!
Too Fly To Care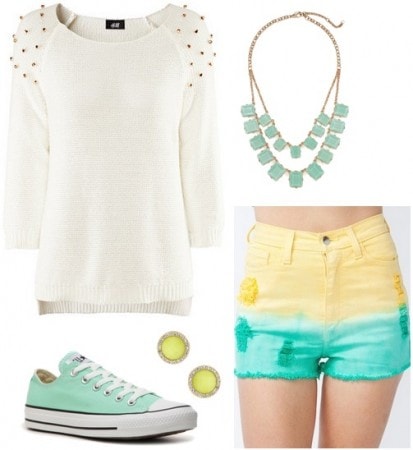 Top, Shorts, Shoes, Necklace, Earrings
If you want an outfit that's comfy but on-trend, look no further than this chic ensemble! Combine color and texture with destroyed ombré shorts and a stud-accented sweater. Mint green Converse sneakers add a classic twist, while a jeweled necklace makes a fun statement. Finish off the look with a pair of colored stud earrings.
Spread Your Wings, My Little Butterfly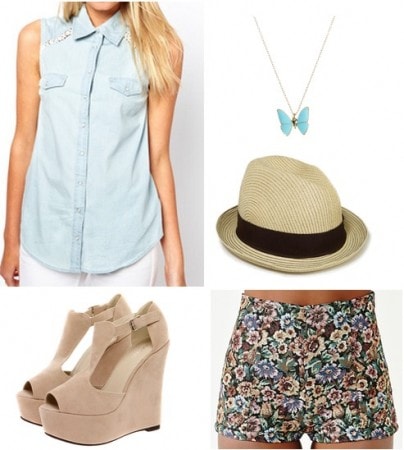 Top, Shorts, Shoes, Hat, Necklace
For a more subtle charm, try for an outfit that has a vintage feel. Wear a cute chambray top over a pair of floral shorts for a feminine flair. Then, slip on a pair of neutral-tone wedges for a fierce twist, and sport a butterfly necklace stands as a reminder that "wings were made to fly." Complete the look with a fun fedora hat, similar to the one Perrie Edwards is seen wearing in the video!
Firing Up On That Runway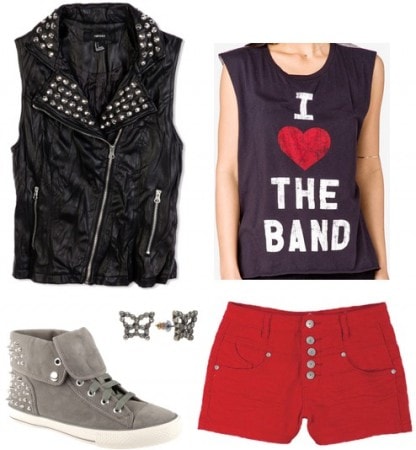 Top, Vest, Shorts, Shoes, Earrings
Achieve an effortless and carefree appeal with this edgy ensemble! Pair a graphic tee with red high-waisted shorts. Layer on a studded faux-leather vest for a total rockstar look. Stud-accented sneakers keep things casual, while butterfly stud earrings pay tribute to the song's fun theme.
What do you think?
Are you a fan of all-girl bands? Are you inspired by music and music videos? Would you wear any of the looks above? Which one is your favorite? Let me know in a comment below!