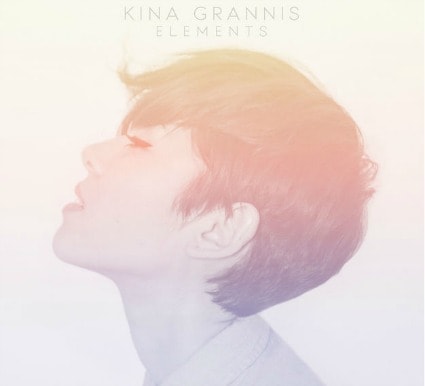 Official Elements Album Cover
Though she may not be a popstar on the radio, The New York Times has recognized Kina Grannis as one of the top Asian Americans making an impact in the world of music, and you've probably listened to her awesome YouTube cover-songs on loop. The indie pop darling has been lighting up the Internet with her delicate voice and melodies for years, and recently, her music has reached beyond the scope of her famous YouTube channel.
Back in 2008, she won the public vote for the Crash the Super Bowl contest, and Grannis' video (which aired as a commercial) landed her a contract with Interscope and launched her into the public eye. Like our last artist, Jhené Aiko, Grannis eschewed from her big time record deal in favor of preserving the freedom to write and record her own music.
She released a self-funded album called Stairwells, named after her retreats to the quiet staircases during her college years at USC (she graduated summa cum laude – awesome!) where she wrote music. The single "Valentine," awarded Grannis the Sirius Radio Coffee House Singer/Songwriter Discovery Award, and in 2011, she won Best Web-Born Artist by MTV.
Kina is currently working on the release of her second full-length studio effort, Elements, which is set to drop May 6th. Check out the video below for "Dear River," the single from her forthcoming album:
Her soulful music is ideal to listen to while studying or driving on a Sunday morning, as her angelic voice is flawlessly paired with acoustic sounds and minimal instrumentation. From "Valentine" to the recent cover of Bastille's "Pompeii," her songs inflect a light sense of optimism that's perfect when you're feeling down or need a pick-me-up. This is not to say Grannis isn't great during a break-up after you've exhausted T. Swift – have you heard her cover of "Say Something"?
This singer/songwriter's fashion sense is similar to her music: sweet, simple and unadorned. It allows for true natural beauty to radiate from beneath – not to mention, it's perfect for springtime. Scroll down to check out fashion inspired by Kina and her music below!
The River Comes the River Goes
Kina typically wears muted colors with simple silhouettes, so the beauty in the outfit often lies in its details. Don a sweet-as-can-be dress with a Peter Pan collar, canvas peep toe booties, a beautiful mint nail polish, and a musical note bow. Top it off with some hair-sculpting product, then go with the flow in this adorably breezy look!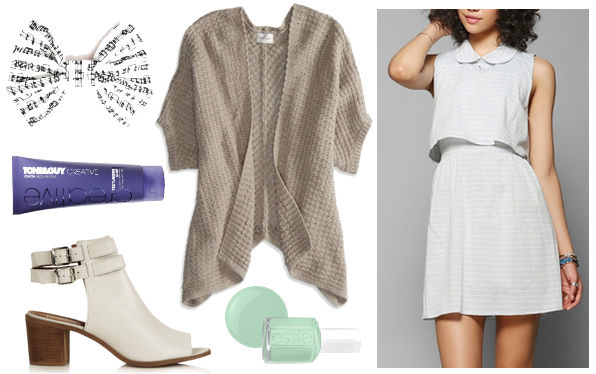 Product Information: Dress- Urban Outfitters, Booties- TopShop, Hair- Target, Bow- Etsy, Nail Polish- Essie, Cardigan- American Eagle
But You Stopped Here for Me
Similar to Tegan and Sara, Kina layers her harmonies over gentle strains (or her sister's voices). What's more, with her brand new cut, Grannis' fashion and music is growing more comparable the indie pop sisters. Rock a dotted button-up with black shorts and studded loafers to channel Grannis' menswear-inspired style. Add charming touches, like a wooden music note iPhone case, a soft pink polish, and a unique watch, to look just like Kina at a coffee shop!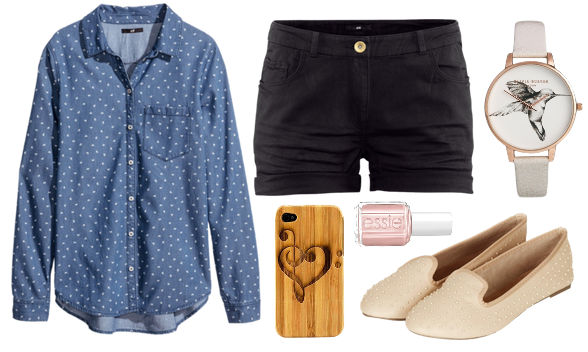 Product Information: Blouse- H&M, Shorts- H&M, iPhone Case- Amazon, Watch- ASOS, Shoes- TopShop, Nail Polish- Essie
I Doubt Anyone Can Keep Up with You
In this outfit, we paired a floral dress with tights and sturdy cognac booties. You can't go wrong with a cross-body satchel, so add one to the ensemble. Be sure to accessorize with some cute jewelry, like daisy earrings or a lucky ring.
As mentioned before, Kina is all about keeping things modest and natural, so she hardly wears makeup. When she does, it's kept minimal and light with flecks of bronze, pink and hi-beam highlights, similar to the palette pictured below. Now, take off and chase your dreams like Grannis tells her fans (or "Kination" as they're referred to)!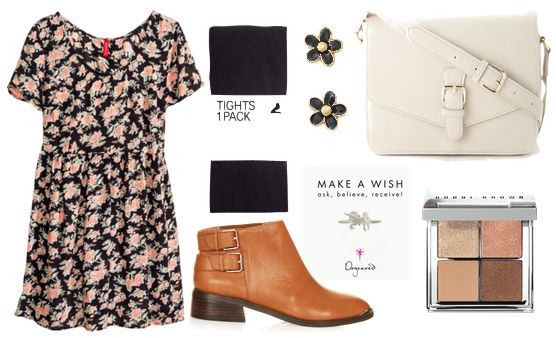 Product Information: Tights- H&M, Dress- H&M, Earrings- ShopBop, Makeup- Nordstrom, Bag- Forever 21, Ring- ASOS, Shoes- TopShop
Bonus!
Here is the latest project from Kina's channel, an awesome collaboration between some famous fellow YouTubers of "Safe and Sound" by Capital Cities. I am loving her sweater-dress combo!
https://www.youtube.com/watch?v=sG3oBe2ArDA
What Do You Think?
Do you have a YouTube Channel and does Kina inspire you? How do you like her laid back style? Do you prefer her original music, her covers or both? Let me know in the comments!