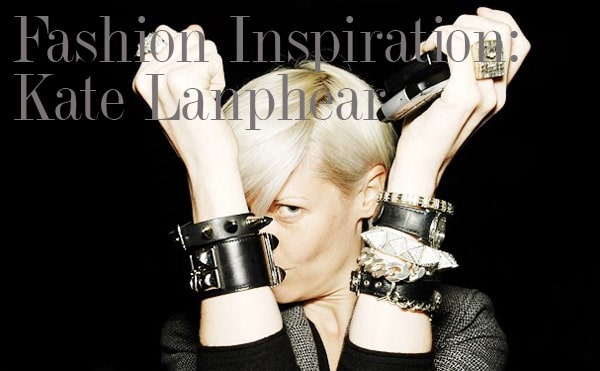 A few days ago, I had an interview at the ELLE Magazine offices for a possible fashion closet internship. (Exciting, I know!) So it's safe to say that ever since, all I've been thinking about is ELLE, ELLE, ELLE.
In line with this train of thought, I've decided to focus this post on the sartorial choices of ELLE's Style Director, Kate Lanphear.
Kate Lanphear has a unique, highly inspiring sense of style. She is widely regarded as a fashion icon, and has even inspired a blog dedicated to her sartorial choices! Being ELLE's Style Director, her taste is obviously very fashion-forward, but also tends towards the edgy, androgynous, and avant-garde. With those elements in mind, here are two ensembles inspired by Kate and her unique look:
Outfit #1: Back to Black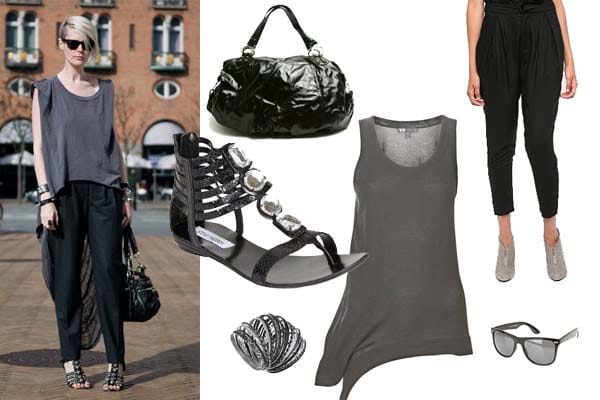 Product Information:Shoes, Handbag, Bangles, Top, Pants, Sunglasses.
Think slouchy pants aren't wearable? Think again. As Kate's look demonstrates, fashion rules (like "don't wear loose pants with a loose top") were made to be broken, rendering these loose pants easier than ever to pull off. With the addition of some trendy accessories like Ray Bans and gladiator sandals, a basic pair of harem pants and a loose tank are transformed from shapeless and sloppy to effortlessly stylish.
Outfit #2: Statement Tee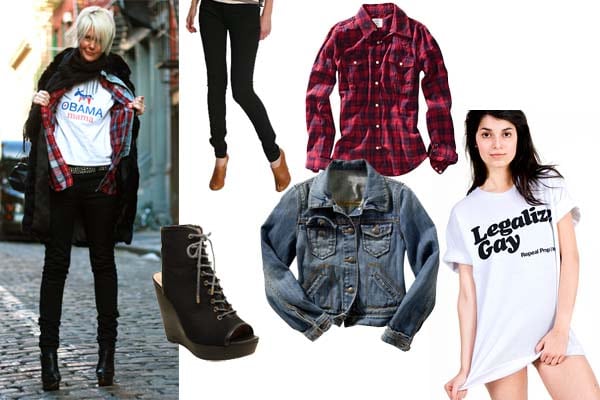 Product Information:Shoes, Pants. Jean Jacket. Plaid Top. Legalize Gay tee.
Once again, Ms. Lanphear shows us how to pull off a tricky item (in this case, the "message tee") in a fashionable way. Her look above is all about layering to the extreme: she piles a long coat on top of a denim jacket, a plaid button-down shirt, and finally, the Obama tee. Yet instead of appearing haphazard and messy, all that layering somehow looks balanced and chic, offset by skinny black pants and sky-high black wedge booties. This look is just more proof that it's not WHAT you wear, but HOW you wear it that really counts.
What do you think?
What do you think about Kate Lanphear's style? Do you find her look inspiring? Are there any elements of her style you would consider adopting yourself? Let us know with a comment.
* All photos from fearlanphear.blogspot.com.