Justin Bieber's ultra-popular fragrance "Girlfriend" has made an appearance in the beauty department with a new take on celebrity perfumes. Whether you're a Belieber or just want to smell amazing, this fragrance is one to check out. If you haven't heard of it, here's the description (it's only a little cheesy!):
Get close with Justin Bieber's new fragrance, Girlfriend and never let go. Flirty, personal, inviting, Justin's new fragrance draws you in with an exciting splash of crisp mandarin and juicy blackberry. From there, things heat up with exotic floral notes of pink freesia and star jasmine, before striking a flame in your heart with warm vanilla orchid and sultry musk.
Along with fragrance, Justin released a video ad with a romantic, girly color scheme that's a fun source of fashion inspiration:
Even if you're not a fan of the Biebs, Girlfriend and its romantic ads can provide a lot of fashion inspiration – especially with Valentine's Day quickly approaching! Below, I've created a few looks inspired by the fragrance and its ads. Scroll down to view them all!
Never Let You Go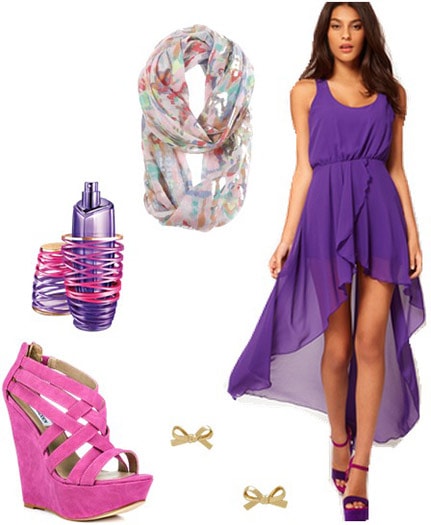 Dress, Shoes, Scarf, Earrings, Fragrance
Pretty and feminine, Justin Bieber would have a hard time letting you go in this flirty number! A gorgeous high-low dress in a deep purple color makes a statement all on its own, so complement the already fierce look with a pair of colored wedge sandals and some cute accessories, like bow earrings and a floral scarf. This outfit would be perfect for spring break or, if you live somewhere warm, a fun date night!
Girlfriend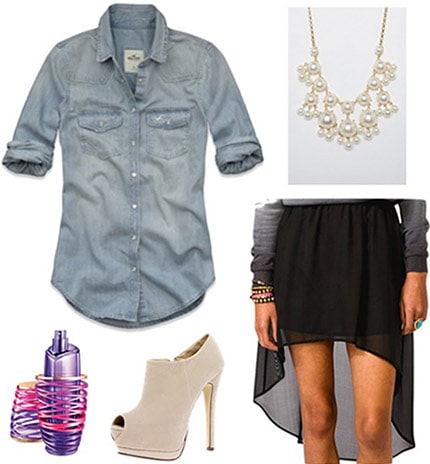 Top, Skirt, Shoes, Necklace, Fragrance
This look is cute and casual with a trendy twist. Wear a denim shirt tucked into a high low skirt for an edgy look, then add neutral ankle booties and a pearl statement necklace to dress the outfit up a bit.
Take A Chance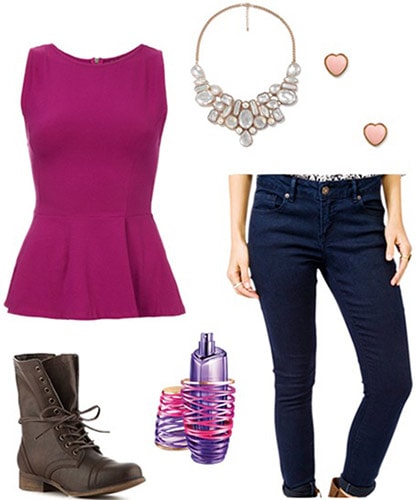 Top, Jeans, Shoes, Necklace, Earrings, Fragrance
Take a chance and wear a flirty peplum top with skinnies that will surely make a statement. Edgy combat boots contrast with the feminine color palette, and a jeweled statement necklace adds a glam appeal. Dainty heart stud earrings add the perfect finishing touch for this girly-meets-edgy outfit!
What do you think?
Are you a fan of Justin Bieber? Would you wear his latest fragrance? Are you inspired by celebrity perfumes? Would you wear any of the looks above? Which one is your favorite? Would you like to see more posts like this in the future? Let me know in the comments!