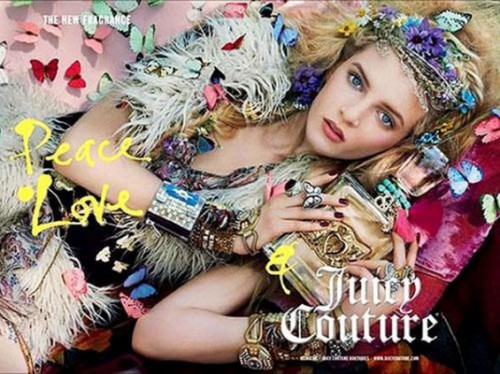 Juicy Couture is known for fun, girly, glam looks. However, with one of their newest fragrance lines, they went in a slightly different direction. Peace, Love & Couture by Juicy Couture still captures Juicy's signature feminine vibe, but with a more carefree, bohemian-inspired twist. The campaign features boho-themed ads that match the bottle's overall look.
The whimsical fragrance collection is perfect to use as a source of inspiration for your own wardrobe. Below, I've created several looks inspired by the fragrance and its ads. Scroll down to see them all!
Outfit 1
Dress, Shoes, Scarf, Necklace, Earrings, Perfume
For a simple and pretty look inspired by the fragrance, wear a soft colored day dress with a pair of metallic-strap sandals. Layer a yellow scarf with a long beaded necklace and put in a pair of feather earrings for accessories. To complete the ensemble, spritz on Peace, Love & Couture before heading out the door!
Outfit 2
Top, Jeans, Shoes, Earrings, Perfume
Achieve an edgy yet boho-chic look with this outfit. Wear an oversized graphic tee with a pair of colored skinny jeans (these mint ones are hot for spring). Suede wedges help to dress the outfit up a bit while teardrop earrings give an added flair. Juicy Couture fragrance finishes the look!
Outfit 3
Dress, Cardigan, Shoes, Necklace, Earrings, Perfume
Slip on a pretty blush-colored lace dress for a girly but relaxed aesthetic. Layer with a light teal cardigan and wear coral wedge sandals. A beaded statement necklace and drop earrings with tassel accents give the look some cute decoration directly inspired by the fragrance bottle.
What do you think?
Do you like Juicy Couture's Peace, Love & Juicy Couture fragrance collection? Would you wear any of the looks above? Which one is your favorite? Would you like to see more posts like these in the future? Let me know in the comments!