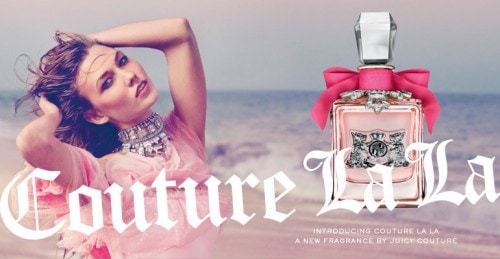 Photo credit: JuicyCouture.com
Juicy Couture has a new fragrance to add to their popular perfume collection. The Southern California-inspired brand, known for their brightly-colored tracksuits and girly flair, recently released Couture La La, a fragrance inspired by the ultra-feminine side of the brand.
"Couture La La blends bright sparkling mandarin with bold white florals for a fragrance experience that captures the essence of femininity and daring allure of the unexpected."
Doesn't that sound lovely? Even the bottle (pictured above) is adorable, featuring peach tones, a jeweled accent, and a bright fuchsia pink bow.
Even if you're not a fan of Juicy perfume, the fragrance can give you a lot of fashion inspiration! Below, I've created a few looks inspired by Couture La La. Scroll down to view them all!
Couture du Jour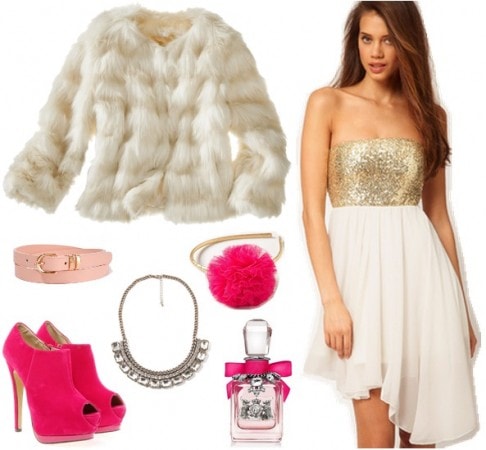 Dress, Jacket, Shoes, Belt, Necklace, Headband, Fragrance
Ooh la la! Looking for a luxe look without the price tag?This outfit will give you the best of both worlds! A pretty, flowing, cream and gold sequin dress provides a super feminine aesthetic, while bold fuchsia ankle booties offer a bit of an edge. A faux fur jacket makes the outfit extra glam, while a blush-colored belt, a jeweled statement necklace, and a pom pom headband add the perfect accents to this super fun ensemble!
La La Lovely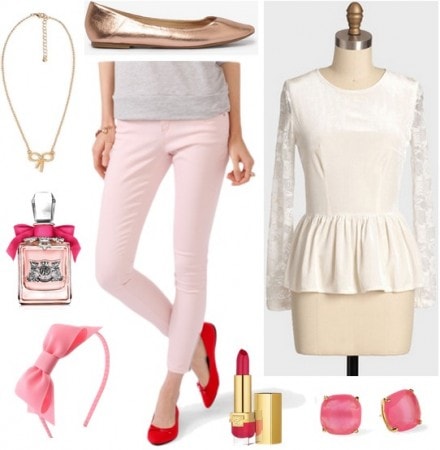 Top, Jeans, Shoes, Necklace, Earrings, Headband, Lipstick, Fragrance
For a sweet, romantic, and ultra-girly look, wear a lovely cream-colored velvet and lace peplum top with a pair of pale pink skinnies. Rose gold metallic flats add a bit of shine, while a dainty bow charm necklace, pink stud earrings, and a bow headband add a girly twist! If you're feeling adventurous, try out a bright fuchsia lip to complete this adorable look.
Simply Sparkling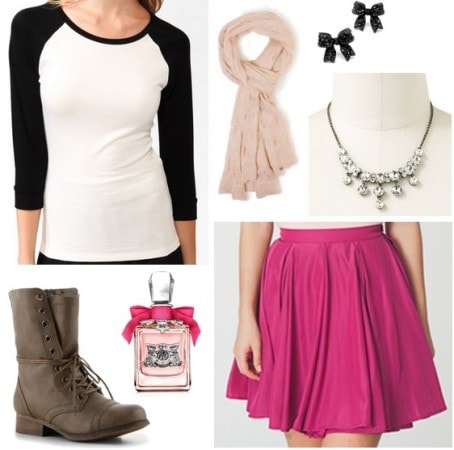 Top, Skirt, Shoes, Scarf, Necklace, Earrings, Fragrance
Girly with an edge, this look is the perfect mix of cool and casual. Start with a classic baseball tee tucked into a bright pink circle skirt. Feeling a bit fierce? Slip on some edgy combat boots. Finally, layer a metallic scarf with a jeweled bib necklace, and put in a pair of cute bow studs to finish off the ensemble.
What do you think?
Do you wear any of Juicy Couture's fragrances? Are you inspired by fragrances in general? Would you wear any of the looks above? Which one is your favorite? Would you like to see more posts like these in the future? Let me know in the comments!